Bimbo's face is so expressive that sometimes you would just burst into laughter just by looking at her face, she has not uttered a word, but she is speaking so much with her face. It is interesting to note that she just joined Nollywood in 2014, barely 6 years ago and has already established herself as a force to be reckoned with in the industry.
Bimbo Ademoye was born on was born on February 4, 1991 and raised by her single father. Despite her talent and skills, she did not study drama or theatre. She studied Business Administration at Covenant University. Graduates of Covenant University are known to be versatile and industrious in their chosen professions. Bimbo played the role of Bola Sugar in Sugar Rush. She was the over-pampered youngest sister of the three sisters who could not keep her mouth shut and was always getting them into more trouble at every opportunity.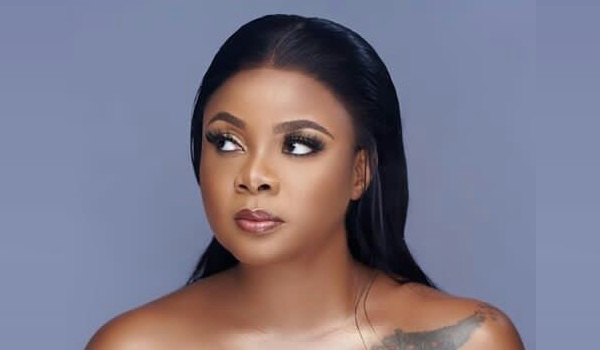 Before her role in Sugar Rush, Bimbo Ademoye was largely known for her comedic and dramatic roles in movies like Backup wife and Searching for Baami. Below is a list of some of the movies she has appeared in.
Bimbo Ademoye Movies and Shows
Gangs Of Lagos (2023)
Anikulapo (2022) Arolake
Gone 2021
Ayinla 2021
Breaded Life 2021 Todowode Comedy
Tanwa Savage 2021
Introducing The Kujus 2020 Ebi

Sugar Rush

2019

Bola Sugar

Crime Comedy

Looking for Baami

2019

Ajindeife

Comedy Drama

Girlfriends

2019

Ivie

Crime Drama

The Family

2019

Toke Ogunyemi

Drama

Kamsi

2018

Ije

Action Drama

Getting Over Him

2018

Comedy

Light in the Dark

2018

Ifeoma

Drama

Personal Assistant

2018

Desperate Housegirls

Omolola

Series

Gone

2018

Last Days

The Backup Wife

2017

Wura

Romantic Comedy

Diary of a Crazy Nigerian Woman

It's About Your Husband

Charmed

Rofia Tailor Loran

This Is It

2016

Where Talent lies

2014
Join Our Tribe on Twitter: For updates on new Nollywood movie reviews, cinema reviews, and Nigerian movie personalities, join our tribe on Twitter @NollyRated.