Tanwa Savage (2021) Synopsis: After his long years of marriage to his beloved wife failed to yield him a child that he desperately desires to have, a man decides to fire on all cylinders outside of his marriage with three different women who intrude his matrimonial home with news of his "first child".
Tanwa Savage (2021)  Movie Cast
Bimbo Ademoye
Joseph Momodu
Linda Osifo
Nkechi Blessing Sunday
Segun Arinze
Timini Egbuson
Uzor Arukwe
Joseph "Joromi" Momodu
Tanwa Savage 2021: The Crew
Geshin Salvador – Director/Producer/Executive Producer/Screenwriter/Scriptwriter
Adewale Babalola – Executive Producer
Tairu Olorunleke – Executive Producer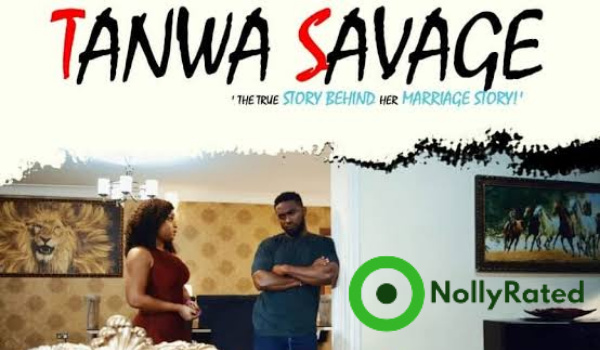 Tanwa Savage 2021 Movie: The Review
Tanwa Savage is supposed to be a slapstick comedy that addresses what happens when a man is under pressure to have a baby. The comedy did not slap, and the punchlines were weak and too tepid to elicit laughs from the audience.
I really looked forward to seeing the movie because it has Bimbo Ademoye as headliner, but even her role could not redeem the movie for me. She has a certain spark and energy that I could not feel in this movie.
The plot was totally unrealistic and it was all over the place. The editing, especially with flashbacks, was disjointed, leaving the viewer confused. There was a lot of shouting in the movie, sometimes making it difficult to hear and understand the actors, not to mention that the shouting was pointless.
Segun Arinze's role in the movie was confusing. He was a father, but he appeared more in a cameo than as a real role.
The transitions in the movie left a lot to be desired, and the resolution of the issues appeared half hearted. The movie tried to use suspense to depict some of the issues, but they were not properly executed.
The sound quality of the movie was not crisp, and that contributed to the less than desirable experience. The story could have been better executed with better laughs, as unrealistic as it was. This could have made up for everything else it lacks, but even that was too much to ask for in this production.
NollyRated Score: Sub-Par Movie (2/5)
Join Our Tribe on Twitter: For updates on new Nollywood movie reviews, cinema reviews, and Nigerian movie personalities, join our tribe on Twitter @NollyRated.