Synopsis of Gangs of Lagos: Best friends, Obalola, Ify and Gift, were born and raised in Isale Eko where politically affiliated gangs rule the streets. When rival gangs paint the streets red with blood, Obalola, Ify, and Gift get caught up in gang wars that lead to the uncovering of secrets that shake the very foundations of Isale Eko and, ultimately, bring the trio to the realization of their destiny.
Table of Contents
The Cast
Tobi Bakre – Obalola
Adesua Etomi-Wellington – Gift
Tayo Faniran – Nino
Funke Williams – Blessing
Temidayo 'Zlatan' Omoniyi – Kash
Chike Ezekpeazu Osebuka – Ify
Olarotimi Fakunle – Kazeem
Bimbo Ademoye – Teniola
Debo 'Mr Macaroni' Adedayo – Wemimo
Alabi 'Pasuma' Odetola – London
Yvonne Jegede – Ninalowo's Girlfriend
Chioma Chukwuka Akpotha- Mama Ify
Iyabo Ojo – Mama Oba
Toyin Abraham – Mrs. Bamidele
Ayo Lijadu – Alaye
Yinka Quadri – Senator
Damilola Ogunsi – Ekun
Eniola Badmus – Isale Eko Woman
Pamilerin Ayodeji – Young Teni
Black Kamaru –
Oluwanifemi Lawal – Young Ify
Ashafa Salamot – Young Gift
Maleek Sanni – Young Obalola
Idowu 'Yemolee' Adeyemi – Muri
Demi Banwo
The Crew
Produced by: Akin Omotoso
Directed by: Jade Osiberu
Written by: Kay I. Jegede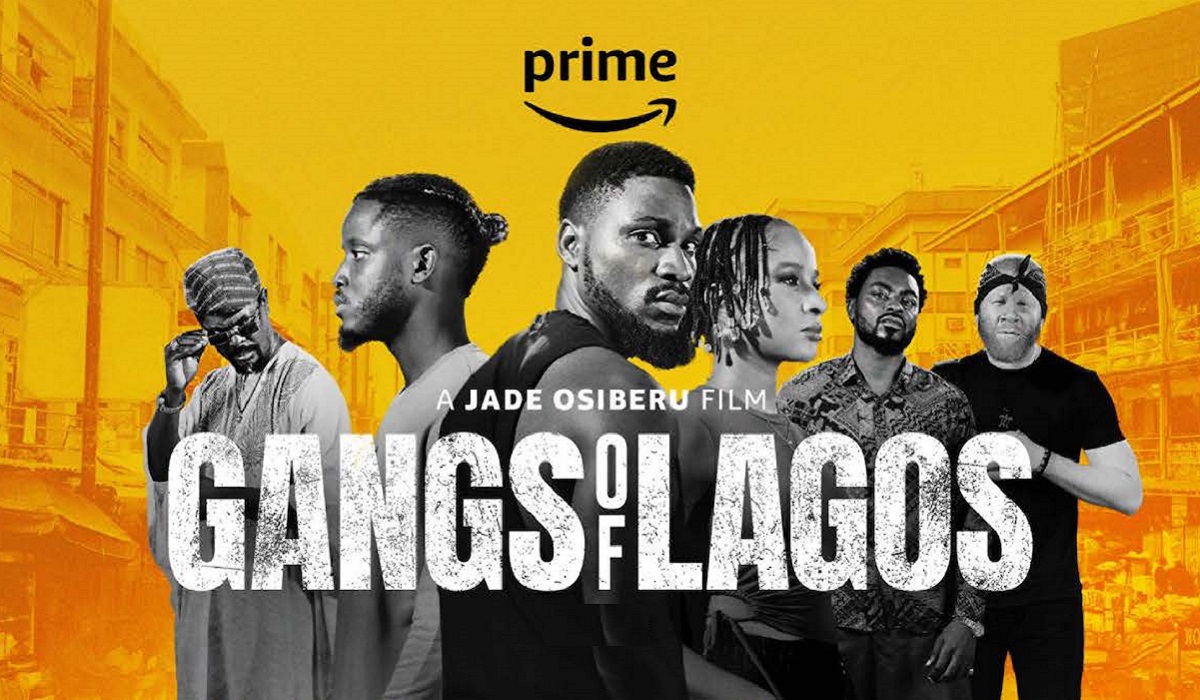 The Review
Gangs of Lagos is all it thinks it is and more – much more. There is no movie to compare it with. The opening montage is the kind I have never seen, and it tells me what an exciting ride I am in for. The movie has action, grit, humour, and raw emotions that give goose pimples. I dare you not to shed a tear in some of the scenes.
The casting director does a fantastic job for every role, and the actors left everything on the screen, blood, sweat, and life. The story and screenplay demand a lot of energy, deep emotions, and method acting, and every actor, including the children, do a fantastic job. The story and plot are not novel, but the telling of it is refreshing, and the director's vision is brought to life in technicolor.
Let us talk about some of the actors. Tobi Bakre has already shown us he is a great actor in his past movies, but in Gangs of Lagos, he goes to another level. His expressions and delivery fit every scene and you just want to hear him speak. In this movie, he is a man of few words and more action, and the young actor that portrays his younger self delivers. Adesuwa Etomi is a sight for sore eyes, and the way she handles her actions is sublime. We have seen her as the rom-com queen, and she is telling us she is also the queen of action. She handles weapons in a way that reminds you of Hollywood superheroes.
Chioma Chukwuka Akpotha is an actor's actor, a veteran of Nollywood, yet always fresh in every movie. Chike is a revelation as an actor; he is given a role to be the gentle and quiet part of the trio, and he delivers in spades. Tayo Faniran as Nino still needs to get some acting classes done, but he did his best. He appears forced for most of his scenes, but his colleagues cover up his shortcomings.
I have known Olarotimi Fakunle as the king of stage acting and he is a darling of the Africa Magic series. He is an excellent actor on those platforms, but with what he delivers in Gangs of Lagos, he clearly crosses all platforms. He was born for the role of Kazeem and he is in action till his last breath.
In most Nigerian action movies, the fight scenes never look real, and you hear a lot of drum sounds, usually added in post-production. Whoever handled the fight scenes choreography deserves an award, Gangs of Lagos has some of the best-choreographed fight scenes I have ever seen in Nollywood movies. The fights look real, the emotions are raw, the injuries are realistic, and the blood flow matches the intensity of the fights.
The cinematography in the movie is top-notch, and the establishing shots, and long shots show us a view of Lagos that we don't usually see. The real nightlife of Isale Eko is something to see.
Gangs of Lagos shows the best and worst of Isale Eko as we have never seen it before. The story is realistic and believable, even relatable. Everyone living in Lagos has a story to tell about Isale Eko. It is a refreshing take on Lagos life.
Nollyrated Score for Gangs of Lagos
5/5 – Outstanding movie
NollyRated uses a 5-level scoring system, as follows:
Poor
Sub Par
Good
Great
Outstanding
Join Our Tribe on Twitter: For updates on new Nollywood movies, series, reviews, cinema reviews, and Nigerian movie personalities, join our tribe on Twitter @NollyRated.