Synopsis: Anikulapo tells the story of Saro, a man seeking for greener pasture in the kingdom of Oyo, but unfolding events and his affair with the Alaafin's wife lead to his untimely death and a new life beyond his dreams.
Anikulapo: The Cast
Kunle Remi as Saro, the weaver
Bimbo Ademoye as Arolake
Sola Sobowale as Awarun
Taiwo Hassan as Alaafin Ademuyiwa
Eyiyemi Afolayan, as Princess Omowunmi
Adebowale Adedayo (Mr Macaroni) as Akanji
Adebayo Salami as Oyo Chief
Hakeem Kae-Kazim as Oba Aderoju
Ropo Ewenla as Asohun Oba
Faithia Balogun as Ojumo Queen
Kareem Adepoju as Ojumo Chief
Moji Olayiwola
Aisha Lawal
Dele Odule
Yinka Quadri as Hunter
Anikulapo: The Crew
Kunle Afolayan – Director
Segun Akintunde – Producer
Seun Soyinka – Producer
Shola Dada – Writer
Anikulapo: Detailed Review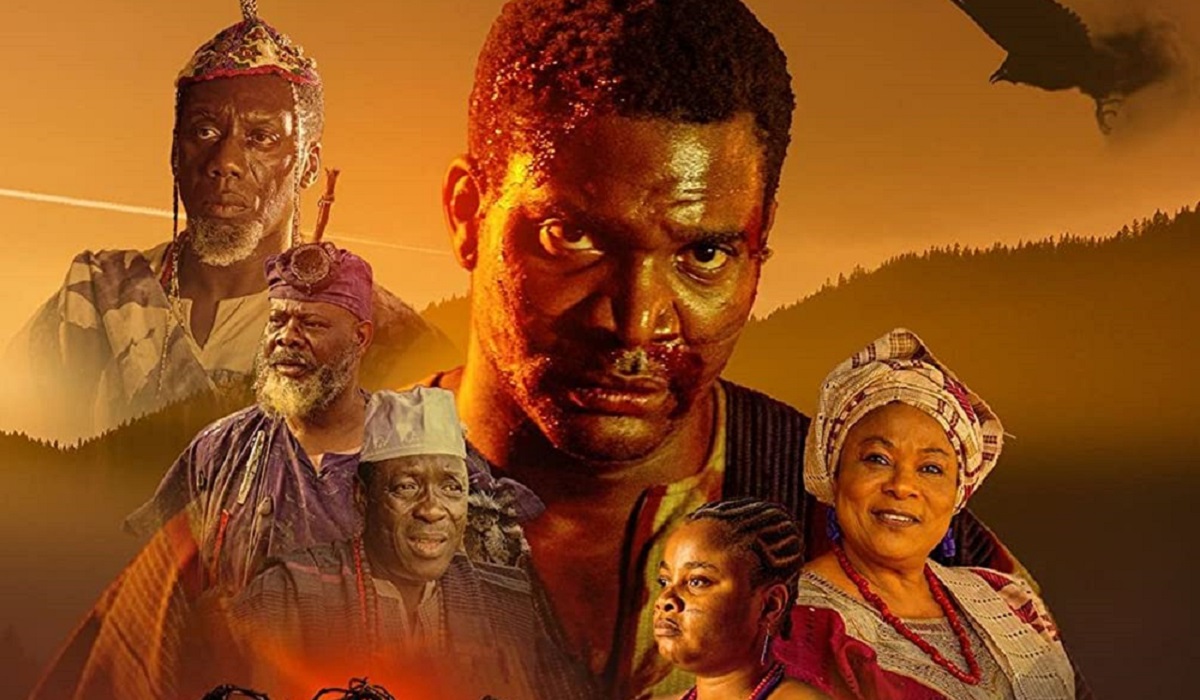 Anikulapo has a very simple storyline, with a simpler subplot that allows for fantastic acting and cinematography. It is time to tell our own stories, and I daresay Kunle Afolayan is a master in doing this. The movie weaves mythical elements into a story of love, betrayal, scheming, and the lives of our ancestors.
The chemistry between Kunle Remi and Bimbo Ademoye is a beauty to behold, and the way they both speak Yoruba with the right accent is very impressive. Bimbo is such a great actress that all she needs to express something is to open her eyes; her body language is fantastic on the screen. Kunle Remi's first foray into Yoruba movies is good for his acting profile and it shows he is a versatile actor. Baba Ifayemi Elebuibon is a true living legend whose knowledge of history needs to be captured for future generations, and it is beautiful to see him here.
Kunle Afolayan's tribute and respect for the legends of the Yoruba movie industry is apparent in this movie. He puts everyone in the right roles and they all play to their strengths, forming a beautiful synergy of acting that evokes nostalgia. This must be the largest gathering of extras for a Yoruba movie that I have ever seen, and it gives the true feeling of what the villages must have been like then, a true portrayal of the village life.
Casting the king of Ojumo as a non-speaking king is a stroke of genius by Kunle Afolayan. This took away the need for the actor to learn Yoruba or murder the language, and it also built a cloud of mystery around him.
The movie does not try to take modernize the issues in the story. It portrays polygamy in its true light, both in a palace, and a regular household, women giving their men preference, and all the other challenges of such a living arrangement.
The makeup, props, and costumes in this movie are top notch and unrivaled. it is a Master course in film making. Anikulapo is one of the best portrayals of Yoruba mythical stories. It is told in a simple way, in the class of Hollywood telling mythical stories from other lands.
NollyRated Score: 5/5 (Outstanding Movie)
NollyRated uses a 5-level scoring system, as follows:
Poor
Sub Par
Okay
Great
Outstanding
Join Our Tribe on Twitter: For updates on new Nollywood movie reviews, cinema reviews, and Nigerian movie personalities, join our tribe on Twitter @NollyRated.