Synopsis of Gone (2021): Ani leaves his wife, 2-year-old daughter and an unborn son back in Nigeria in search of a better life in New York as a boxer. He gets entangled with the mob in New York and is jailed for 25 years, but his family thinks he is dead. He returns to Nigeria to reclaim his family, only to discover that a lot truly can happen in 25 years. However, he is determined to get his family back, even if his wife is in the arms of another man.
The Cast 
Sam Dede – Ani 
Gabriel Afolayan – Ayochukwu
Stella Damasus – Ngozi
Bimbo Ademoye – Anu
Gbenga Titiloye – Philip
Bimbo Manuel – Coach Samson
Jumoke Aderounmu – Clara
Sophie Alakija – Zainab
EmmaOhMaGod – Femi
Moses Akerele – Tope
James Jibunma – Ogaga
Tomiwa Savage – Darlinton
Nobert Young – Okwi (Ngozi's father)
Ngozi Ezeonu – Gloria (Ngozi's mother)
Adedayo Davies – Briggs
Ada Ameh – Ani's Aunt
Kunle Remi – Stockbroker
The Crew
Written and Directed by Daniel Ademinokan
Produced by Joy Odiete, Daniel Ademinokan and Oluseyi Asurf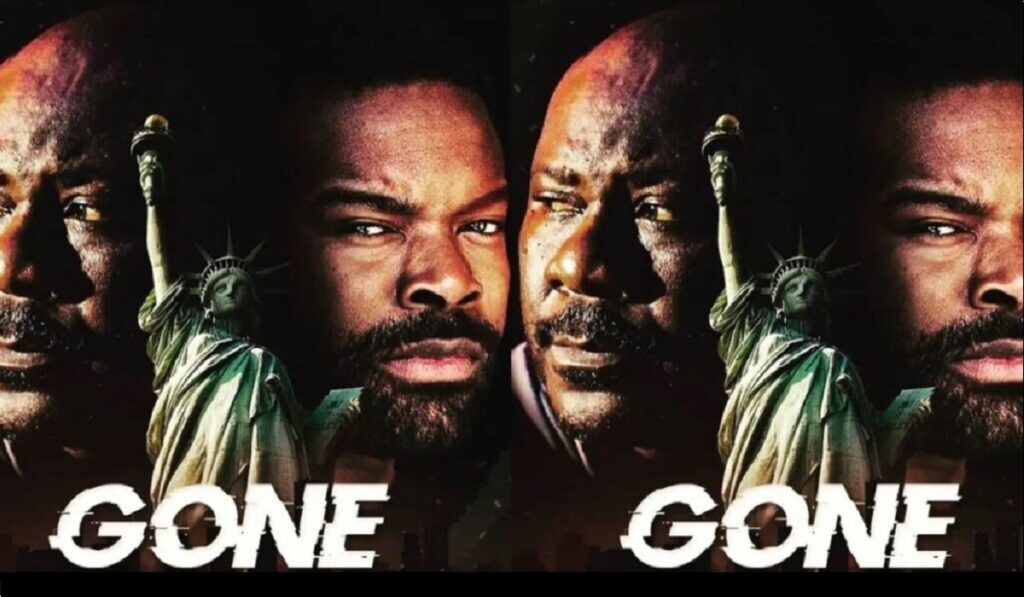 The Review: Gone
Gone is a story of love, betrayal, waiting, pain and redemption. It is your regular romcom, but the process is awesome. The story is told in a gentle manner that draws you in slowly, but surely, with comedy and drama. It takes us from the streets of New York, straight to the backwaters of FESTAC town, showcasing the lost glory of the town, where boys now have proper role models and girls are afraid to walk freely. 
Daniel Ademinokan does not do any special effects, but the simplicity of the story matches the beautiful and crisp cinematography. The costumes match each character, except perhaps Ngozi whose wigs do not match the supposed income she makes from what she sells in front of her home.
It is beautiful to see Sam Dede on our screens again, and to see he is still a master of his craft, giving us a stellar performance. Where there is Stella Damasus, you can be sure to see some genuine tears, with emotional scenes, and she seems ageless. I have always loved Gabriel Afolayan, he is truly dedicated to his craft, and he does not disappoint in Gone. The chemistry between him and Bimbo Ademoye as siblings is so beautiful to see, you would think they are true life siblings. 
The only thing that gives me pause is how Ani comes out of the prison, still on parole and the next day he is on a plane to Lagos, is that not a violation of parole, and how is he able to come back to the US without being in trouble with the law? This is a major loose end. I find it hard to wrap my head around. Apart from this, this movie is a good offering in the genre.
NollyRated Score: 4/5 (Great Movie) 
NollyRated uses a 5-level scoring system, as follows:
Poor
Sub Par
Okay
Great
Outstanding
Join Our Tribe on Twitter: For updates on new Nollywood movie reviews, cinema reviews, and Nigerian movie personalities, join our tribe on Twitter @NollyRated.