Ayinla (2021) Synopsis: Ayinla is a film that tells the story of Nigerian musician, Ayinla Omowura, who used Apala music to address issues of contemporary society – commending and criticizing various governmental and individual acts.
Cast
Lateef Adedimeji
Omowumi Dada
Bimbo Manuel
Ade Laoye
Kunle Afolayan
Mr Macaroni.
Crew
Directed by Tunde Kelani
Produced by Jadesola Osiberu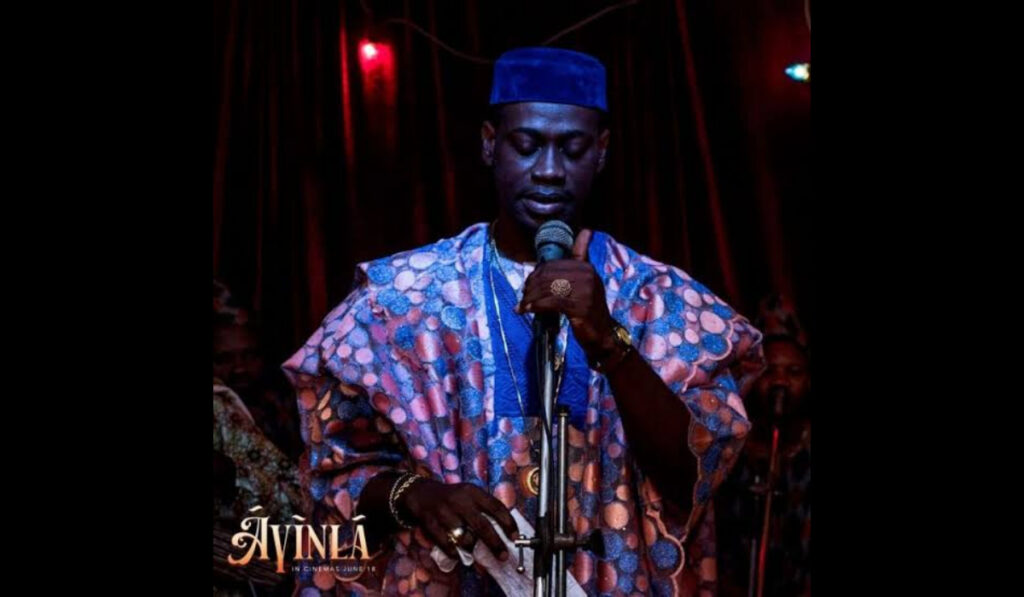 Ayinla: Review
If you are in your mid-forties and upwards, Ayinla would give you such a sense of nostalgia. As an Egba woman who grew up in Egbaland, this is a complete throwback for me. The memories invoked by the scenery, the parties, the language, and the music, all brought good tears.
Tunde Kelani is known for not churning out lots of movies in short cycles, but his movies are always brilliantly researched, with casting on point, and costumes and props always fitting. But the casting of the lead role here seems off. First off, Ayinla's Egba accent made me want to weep. It did not look like Lateef immersed himself in the language, but was relying on residual knowledge.
Ever since I saw Lateef in Sugar Rush, I had been looking forward to seeing him perform a lead role on the big screen. However, his performance in Ayinla leaves me dissatisfied. It seems he feels intimidated by the person he is acting, or by the other brilliant cast members. Yes; he displayed the arrogance Ayinla was known for, but he gave 80% to this role, not 150% he is known for in other roles.
The movie is as much about the musician as it is about Egba land – the parties, the life, the societal challenges, and how they lived their lives. Musicians are known for having people flock around them, women more so, and Ayinla lived the life. He had multiple wives, yet other women still wanted him. Despite his many women, including the social climbers, he is seen as a responsible family man who demonstrated his love for his family.
I love Ade Laoye in this movie, she portrays the role of the hot-blooded young journalist who eventually becomes immersed in the culture and befriended Ayinla. Ade's Yoruba needs polishing, but that takes nothing away from her brilliant performance. Omowumi Dada is the favourite woman, who is eventually exposed as the social climber, the catalyst of the tragedy. She is brilliant in this role. Bimbo Ademoye has very few scenes, yet she gave 150% as usual. I wish she had more screen time in this movie.
In a nod to Stan Lee, the creator of the Marvel franchise, Tunde Kelani made a cameo appearance. Debo Macaroni gives a good performance, totally away from his usual comic role, and I look forward to him giving us more of himself as he finds his feet in the industry.
There were two older men in the band that the cameras regularly focuses on. They are very likely Ayinla's original band members, it is beautiful to see Tunde Kelani involve these men who truly knew Ayinla. One of my favourite parts of this movie was the lip-sync. In most movies where the actor does a lip sync, it is usually so badly done and comes off as fake. Lateef Adedimeji did good in that regard, barring a few minor misses.
The movie authentically gives us the feel of the eighties, up to how parties were organized, the talk about bleaching, the clothes, and the generous use of damask and adire.
One thing Tunde Kelani does that I love is his use of professionals, not just those who would do pedestrian work, for every part. His stories are written by professors, his movies subtitles give us the meaning and essence of the conversation, and Ayinla was well done in this aspect. I am glad to know Molara Wood handled the subtitles, though I wish the English conversations were translated into Yoruba, to help people who love to follow subtitles.
In spite of the less than satisfactory parts of Ayinla, the movie, it is an excellent work of art, and Lateef Adedimeji's less than brilliant performance did not take away from the overall satisfaction derivable. It is beautiful to see Tunde Kelani and Kunle Afolayan work together again, after Saworo Ide and Agogo Eewo.
NollyRated Score: 4/5 (Great Movie)
NollyRated uses a 5-level scoring system, as follows:
Poor
Sub Par
Okay
Great
Outstanding
Join Our Tribe on Twitter: For updates on new Nollywood movie reviews, cinema reviews, and Nigerian movie personalities, join our tribe on Twitter @NollyRated.