Richard Mofe-Damijo, fondly called RMD by all and sundry, must have been the subject of many a Nigerian girl's fantasy. Our introduction to him was in the 90s television series, Checkmate. He is suave, so well-spoken, and the quintessential bad boy you would want to take home to mama. He recently confirmed this when he got two ear piercings to celebrate his 60th birthday on the 6th of July 2021, and tell the world he is his own man.
One of the major controversies to trail Richard Mofe-Damijo was his marriage to the late popular journalist, May Ellen Ezekiel, popularly known as MEE. The society felt scandalized that such a young man would marry a woman much older than him, and a divorcee at that. But RMD wasn't one to budge at society's pressures. When she died in 1996, it was an uproar. The grapevine insisted that she had multiple fibroid surgery because she married a much younger man, and RMD took the heat.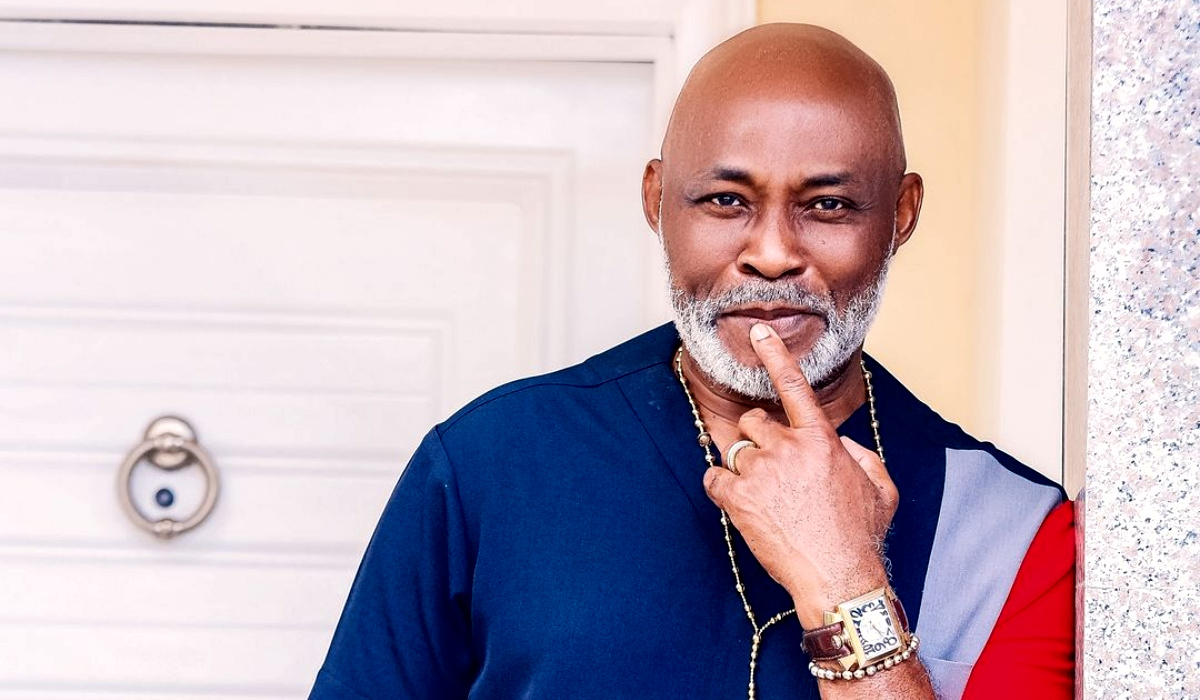 All these did not take away from his skills as an actor, he's a prolific actor, who kept ageing like fine wine. RMD had his first degree in Theatre Arts from the University of Benin. He is also a qualified lawyer, having returned to school to study law at the University of Lagos in 1997. He graduated in 2004 with a Master's Degree in Law and was called to the Nigerian bar in 2005. RMD was appointed as the Special Adviser of Culture and Tourism to the then Delta State Governor Emmanuel Uduaghan in 2008, then became the commissioner for the Culture and Tourism of Delta State, Nigeria in 2009. His term ended in 2015.
It would appear Richard Mofe-Damijo has a thing for journalists and media personalities as life partner. After MEE passed on in 1996, he later went on to marry Jumobi Adegbesan, who was a journalist with African Independent Television, (AIT). They have two children together, in addition to the two he already had with MEE.
RMD's law degree is evident in a role he played recently on TV, as the managing partner of Castle and Castle, a fictional law firm on the same series with the same name. He also featured in Chief Daddy as the law partner handling the legal affairs of the deceased patriarch, a crossover role. Both Chief Daddy and Castle and Castle are owned by EbonyLife TV.
Some of the Nollywood classics he featured in include: Violated, Out of Bounds, and Diamond Ring. Here is a list of some of the more recent popular movies and televisions series that has RMD featured in (and he is the lead character in most of them).
Fine Wine (2021). as Mr. George. Romantic Comedy
Namaste Wahala (2020). as Ernest. Romantic Comedy
Love is War (2019). as Dimeji Phillips. Political Drama
Gold Statue (2019). as Mr. Esho. Comedy Drama
Zero Hour (2019). Romantic Thriller
Seven (2019). as Ejiro. Drama
Merry Men (2018). as Chief Alesinloye. Comedy
God Calling (2018). as Sade's Father. Thriller
Chief Daddy (2018). as Tega Castle. Comedy.
10 days in Sun City (2017). as Otunba Williams. Comedy
The Wedding Party 2 (2017). as Felix Onwuka. Comedy
The Wedding Party (2016). as Felix Onwuka. Comedy
Three Wise Men (2016). as Irikele. Comedy.
Oloibiri (2016). as Gunpowder. Thriller.
Join Our Tribe on Twitter: For updates on new Nollywood movie reviews, cinema reviews, and Nigerian movie personalities, join our tribe on Twitter @NollyRated.