Fine Wine (2021) The Synopsis: A lonely but rich older man genuinely falls in love with a younger woman and finds himself in the crossfire of society and in competition with a younger man for her heart.
The Cast
Richard "RMD" Mofe Damijo

Demola Adedoyin
Ego Nwosu
Segun Arinze
Zainab Balogun
Keppy Ekpeyong Bassey
Bofie Itombra
Tina Mba
Baaj Adebule
Belinda Effah
Kameel Audu
Joy Nmezi
McCoy Adesina
The Crew
Seyi Babatope – Director

Neville Sajere – Executive Producer
Diche Enunwa – Screenwriter/Scriptwriter
Temitope Bolade – Screenwriter/Scriptwriter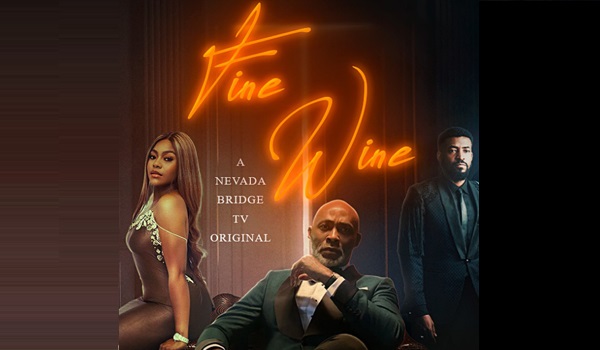 The Review 
With a title like Fine Wine, I knew it was a word play on the phrase, "aging like fine wine", but I still expected to see some more wine than I saw in the movie. For a movie about dating older men and wine business, there was little wine business to see. It has so much untapped potential, and it took too long to make its point.
The pace was slow, the acting appeared to be in slow motion, the dialogue had a languid pace, with the actors conversing slowly. It was no surprise that I actually heard someone snoring in the hall. 
The lead actress did her best, but I did not feel a lot of energy or spark from her acting. RMD was fitting for the role of a 55-year old divorcee looking for love, but his dyed beard was off putting for me; it did not give me the rich old man vibes I expected. Keppy Ekpeyong, on the other hand, was the perfect alter ego to RMD's prim and proper character.
Demola Adedoyin, the dismissive boyfriend, could have had some more pizazz, but he was mostly laid back in his inattention and maltreatment of his girlfriend. Tina Mba as the girl's mother was a good casting, but I felt she could have played a more active role than she did.
It was sweet to see Zainab Balogun, as RMD's daughter, not only approving of the relationship but actually encouraging it and pushing them towards each other. That was an unusual twist to the plot and a deviation from this kind of story.
Baaj Adebule  appeared only once, and that was in a video call. It seemed more like a cameo role. I am not sure if I was totally on board with Nse Ikpe-Etim appearing only on video calls as the overbearing ex-wife. 
While the pictures were crisp, the camera angles were all predictable and normal. The sound was not very sharp.  The audio volume of the movie was quite low in the beginning. That could have been the fault of the cinema equipment though, but it made me strain to hear the conversations, resulting in a less than pleasant experience.
The movie had no subplots that we could follow. Also, One thing that could have provided some authenticity was to see RMD in an actual winery to provide backing for his 200 Million Naira loan for the business. The only place he talked about wines was at the dinner table. That is like having a Fast n Furious movie in which there is talk about cars but no car shop scene or something of the sort.
Fine Wine could have been more exciting, but the potential of the story was not fully explored and it was further marred by a very sluggish pace. If this movie were a bottle of wine, it has some maturing to do. 
NollyRated Score: Sub Par Movie (2/5)
NollyRated uses a 5-level scoring system, as follows:
Poor
Sub Par
Okay
Great
Outstanding
Join Our Tribe on Twitter: For updates on new Nollywood movie reviews, cinema reviews, and Nigerian movie personalities, join our tribe on Twitter @NollyRated.