Gold Statue (2019, now on Netflix) Synopsis: Two young men, Wale (Gabriel Afolayan) and Chike (Kunle Remi), go in search of a treasure of "Gold Statue" which is believed to have been a deity inherited by their generation. They witness and go through a series of unimaginable, unprecedented, and unexpected ordeals when attempting to locate where the item is located.
Gold Statue: The Cast
Gabriel Afolayan – Wale
Ali Baba – Mr. Manuel
Richard Mofe-Damijo – Mr. Esho
Sola Sobowale – Mrs. Esho
Norbert Young – Antar
Kunle Remi – Chike
Motunrayo Adeyemi – Lola
Kemi Afolabi – Capone's Wife
Rycardo Agbor – Capone 
Agatha Amata – Professor
Segun Arinze – Zonal Commander
Kingsley Arole – Aro 
Judith Audu – Christie
Bisola Aiyeola – Samira
Lanre Bamgbose – D.I.G.
Vanessa Brown-Ajise – Defence Counsel
Jibola Dabo – Uncle Femi
Sani Danja – Jato
Femi Durojaiye – Dotun
Peter Fatomilola – Grandpa Esho
Olakunle Fawole – Banjul
Jason Hurter – Dubai Gold Merchant
Etinosa Idemudia – Preke
Kalu Ikeagwu – Bryan
Kevin Ikeduba – Hammer
Yvonne Jegede – Aliya 
Adeniyi Johnson – Poison
Tina Mba – Magistrate
Robert Meijer – London Gold Merchant
Gregory Ojefua – Rambo
Jerhiton Okpan – Gogo
Francis Onwochei – D.P.O.
Remi Oshodi – Woman
Tunde Shogaolu – China
Gold Statue: Crew
Tade Ogidan – Director
Tade Ogidan – Writer
Adeyeloye Lipede – Executive Producer
Yanju Lipede – Executive Producer
Tade Ogidan – Producer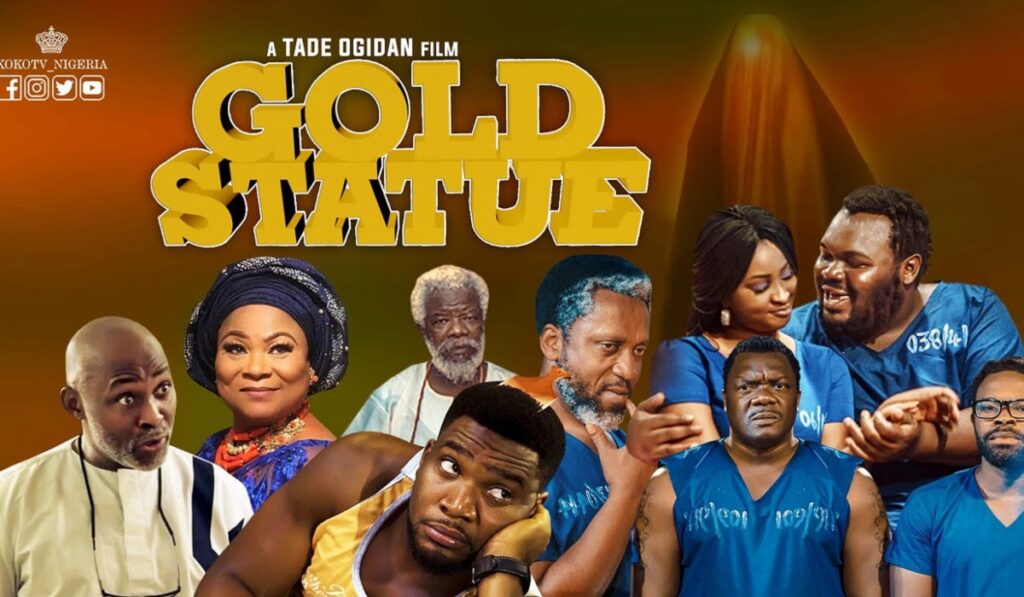 Gold Statue: Review
One of the first things that strikes you in the Gold Statue is the level of research that went into the fictional work. The next is the number of stars who partnered with Tade Ogidan in this movie. Most of them had worked with him at one time or the other. 
The drama is fast-paced and well apportioned; the comedy is natural and connects well with the viewers. The story line leans more towards fantasy than just drama. It is a story of family history, wayward and spoiled children who want to gain wealth the fast way, and an indulgent mother.
Tade Ogidan is a master storyteller, and his hiatus of eight years has not dimmed his skills. He has aged like fine wine and added the sweetness of modern technology. He weaves the story around ancient history, modern day challenges, futuristic technology and endemic corruption in the society.  
Gabriel Afolayan is in a class of his own as an actor; he always understands the task. While there is no obvious romance in this story, the chemistry between himself and Kunle Remi is the stuff of bromance: dedication and loyalty, the willingness to go all the way with and for a friend, good or bad. 
Richard Mofe-Damijo is the quintessential strict dad, and his pairing with Sola Sobowale, the indulgent mum, makes for an authentic African home. I wish Sola Sobowale would shout less to get her points across. Perhaps, less could be more. 
Some plot holes leave me wondering if those parts are necessary. Where in the world is a prison cell pimped up the way the female prison cell is pimped up? How are they able to dig for so long without being detected? The Computer Generated Images (CGI) look too artificial and toy-like; they could be much better. 
The conclusion of the story also appears rushed. I expected there to be a bit more action and drama; not the actors telling the story, but acting it out. Overall, it is a great movie from someone whom we know to be a great storyteller. Gold Statue may not be one of Tade Ogidan's best works, but it ranks high up there. 
NollyRated Score: 4/5 (Great Movie)
NollyRated uses a 5-level scoring system, as follows:
Poor
Sub Par
Okay
Great
Outstanding
Join Our Tribe on Twitter: For updates on new Nollywood movie reviews, cinema reviews, and Nigerian movie personalities, join our tribe on Twitter @NollyRated.