Chief Daddy Movie Cast:
Taiwo Obileye as Chief Daddy
Nkem Owoh (Osuofia) as Shoffa Donatus
Patience Ozokwor (Mama G) as Madam Pat
Joke Silva as Lady Kay
Folarin Falana (Falz) as Femi Beecroft
Shaffy Bello as Nike Williams
Dakore Akande as Remi Castle
Zainab Balogun as Ireti Beecroft
Bisola Aiyeola as Simbi
Richard Mofe-Damijo as Tega Castle
Linda Ejiofor as Justina Akinwale
Mawuli Gavor as Damilare Kofi mensah
Funke Akindele as Madam Tinu
Kate Henshaw-Nuttal as Madam Teni
Ini Edo as Ekanem Obong
Rachel Oniga as Aunty Ajoke
Chief Daddy Movie Director:
Niyi Akinmolayan
Chief Daddy Movie Synopsis: '
Chief Daddy' tells the story of billionaire industrialist, Chief Beecroft, a flamboyant benefactor to a large extended family of relatives, household staff, and assorted mistresses. Chief lives large, like there's no tomorrow, until the day he dies suddenly and the 'bullion van' stops. What's in his will and who gets all that money? What happens next will surprise you, as Chief Daddy has the last laugh from beyond the grave.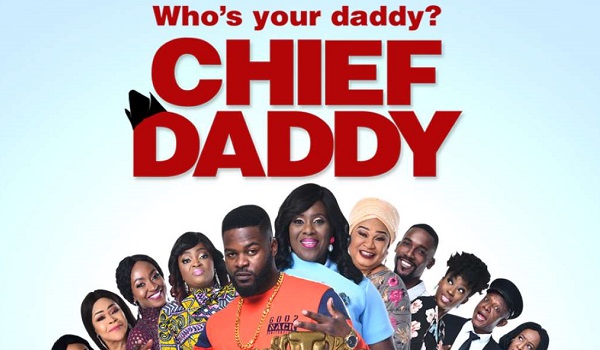 Review:
Chief Daddy is a hilarious representation of what happens when a man of means, who has sowed oats everywhere in the world, dies suddenly and the chickens come home to roost. The movie does not promise anything but a-laugh-a-minute representation of the Nigerian society in terms of the death of a very wealthy man and the drama that ensues when such men die, especially in term of funeral rights and what he leaves behind for his family.
Niyi Akinmolayan appears to have created a niche for himself in directing big budget movies that showcase the beauty and the extravagance of the Nigerian high class society. Depending on the audience, it could be viewed as a hedonistic representation of our people, or a celebration of our lives.
He directed Wedding Party 2, the highest grossing Nigerian movie of all time, according to Wikipedia, and Elevator Baby, which may not have the razzmatazz of Chief Daddy and Wedding Party, but nevertheless showcases the lives of the rich and famous in Nigeria, who mostly reside in the city of Lagos.
Chief Daddy opens to the serene view of a joyful family, their back views and how they exude happiness in seeing one another. The opening sequence belies the drama that awaits the audience for the rest of the movie. In the next scene, we are treated to the gateman getting slapped by the revered house keeper, Madam Pat (Patience Ozokwor), as he slept on duty. He was apparently dreaming up the previous scene, and was subsequently fired on the spot, giving us a taste of what was to come.
The high contrast between the two opening scenes was refreshing and hilarious. In addition, the camera perspectives of this movie are beautifully presented in unusual and interesting manners, utilizing the mirrors in the home, providing the viewer multiple, engaging angles of each scene. The aerial shots of Lagos are so beautiful, both day and night, and almost made me wonder if it's the same Lagos I live in.
Still talking about scene sequences, the scene connections are beautifully done, cutting to the person mentioned in the preceding scene. We see Lady Kay (Joke Silva), in a phone call to Madam Pat, asking for her son, while being waited on hand and foot, literally, by a retinue of beauticians, and the next scene cuts to Femi (Falz Falana) in the studio.
The movie boasts of the best comedic actors Nollywood has, and they all brought their A game. There was hardly any unnecessary scene or dialogue, except for a few with Shoffa Donatus (Nkem Owoh AKA Osuofia), who is generally known to sometimes overact his comic actions. They are not unforgivable though.
The scene to revive Chief Daddy from an apparent heart attack after a hearty meal (pun intended) was both hilarious and sad. It was hilarious that they were looking for an oxygen mask in a small first aid box, and it is exactly what the character Donatus would do, based on all his previous roles.
It was sad though that neither Madam Pat nor Shoffa Donatus thought of calling an ambulance. If our movies are designed to present the flashy life and affluent life styles, I believe the least they can do is dictate a narrative on how a society should be. The simplest they could have
done was call 767, the Lagos Emergency line, as the movie was situated in Lagos.
The family also looked wealthy enough to have subscribed to private ambulance services. When we later saw the ambulance, it was used to take the dead body away, with the siren on, which was unnecessary. This particular scene left a lot to be desired, and had too many loose threads. It showed no real effort to save the life of a dying man. With Ebony Life's track record with big budget movies, overlooking such details leaves a sour taste in the mouth.
Sister of chief, Aunty Ajoke (Rachel Oniga), is the quintessential Yoruba auntie who wails and mourns more than the wife and kids. This wailing and mourning is understandable, though, as they have probably known the deceased longer than the wife and children, but it is mostly because the person who is their meal ticket is gone.
This scenario played out in the next scene, as we immediately see Auntie Ajoke, Madam Tinu (Funke Akindele), and Madam Teni (Kate Henshaw), the latter ladies being Chief's two oldest daughters, already talking about the will, same day the man made his exit. It highlights the issues of the polygamous home, especially for the rich and famous in the Nigerian society.
It appears most of the people who are related to a man of means are only there to have their share of his property as soon he dies. And, yes; they are mostly men. We are hardly ever given a picture where the properties of deceased women are subject to such issues.
One interesting feature of the movie is how every single one of chief's women has a unique story of how they became his wife or baby mama:
Lady Kay, also known as Kemi, the current legal wife, was Chief's secretary who warmed her way to become a wife after his first wife died, but had started an affair with him while the wife was alive. She is detested by Chief's oldest daughters and auntie Ajoke. She seems to have defaulted in training her son properly.
Nike Williams (Shaffy Bello) was an apprentice tailor, who was asked to deliver clothes to her madam's client, then found her way to become not just a baby mama, but a wife, to the husband of her madam's client. She has a full grown daughter who is well read. In her first scene, we see her as a well established woman in a tailoring establishment, apparently set up for her by Chief Daddy.
Ekanem Obong (Ini Edo) is the mother of young twin boys who stole her friend's sugar daddy while they were on a job as red carpet hostesses. Her being a mother of twins is a nod at the propensity of people from her tribe, Efik or Calabar, for having twin children.
Justina Akinwale (Linda Ejiofor) calls herself Sisi Ice cream and says she is the favourite, leaving everyone to add the suffix of their choice. It turns out she was just an adopted daughter of Chief, the first child in chief's orphanage, but she chose not to deny being called a concubine, because being seen as Chief Daddy's concubine brought her more respect than being seen as an adopted daughter.
The 5th woman. We do not see her. She is not named. But the presence of Damilare Kofi Mensah (Mawuli Gavor), the successful footballer, is proof. For he is her son. Damilare is older than Femi, and that is seen as a threat, Femi had prided himself as the only son and heir apparent to chief's fortune, though he has barely had a music career there. We only see Dami speaking to his mother on the phone, but the last scene of the movie, we see a beautiful woman alight from a luxury car and stand in front of the house. Speculations may point to her being Dami's mother.
In the manner of men of means, Chief Daddy still sought to control his family from the grave, when he was the cause of the rancor and bad blood. In a funny twist, he insisted everyone who is connected to him is family, and would have a specific part to play in the planning of his funeral. The funeral must happen within a week, and they all must live together in the home till the date of funeral.
Cue the worst polygamous home drama, with all the attendant hilarity. Scheming, fighting and jealousy displayed, alliances formed, budgets padded, just to ensure they get the perceived inheritance.
The funeral party is a full on drama on its own, with all the attendant scenes and issues that happen at the regular Nigerian party, popularly known as Owambe: caterers not paid, event planners going crazy, some guests not getting food, and family members wanting their time on the dance floor with their friends.
The party ended in a massive fight. This means the will would not be read, as the condition in the codicil is that there must not be a quarrel at his party, else the will would be read after 70 years.
Apparently, Chief Daddy still had another joker in the will, because the will was still read, and everyone – including Shoffa Donatus and Madam Pat – got hundreds of millions of naira and properties each. But the celebration of their millionaire status was very short lived, as it turned out no funds could go out of the company until the Initial Public Offering was completed. It was a hilarious twist, and Chief Daddy had the last laugh. The family came together and even had an apology for Lady Kay, seeing how she was treated shabbily at her husband's funeral.
It was refreshing to see an intersection between the movie and another production of Ebony Life TV, Castle and Castle series. It was a beautiful collaboration, and Remi Castle took a jab at her husband, asking who would make such calls he was making to concubines, when he died.
I did not understand what exactly Madam Pat's daughter, Adaora, was doing at the reading of Chief Daddy's will. She is not a family member, arrived for the funeral as a guest, and so should not have been sitting in that meeting like a family member.
In all, Chief Daddy promised drama and comedy. It delivered these in spades. It did not set out to moralize or sermonize. It was merely a hilarious portrayal of a section of our society.
NollyRated Score: Great Movie (4/5)
Join Our Tribe on Twitter: For updates on new Nollywood movie reviews, cinema reviews, and Nigerian movie personalities, join our tribe on Twitter @NollyRated.