Synopsis: In Ijakumo, Ashabi is hell-bent on destroying the life of her former lover, Jide, a renowned pastor of a mega-church. With the help of Sharon, she plans and executes her revenge.
The Cast 
Toyin Abraham    
Kola Ajeyemi    
Ololade Okunsanya    
Lilian Afegbai    
Olumide Oworu    
Eso Dike Okolocha      
The Crew
Directed by: Adebayo Tijani
Produced by: Toyin Abraham Films Productions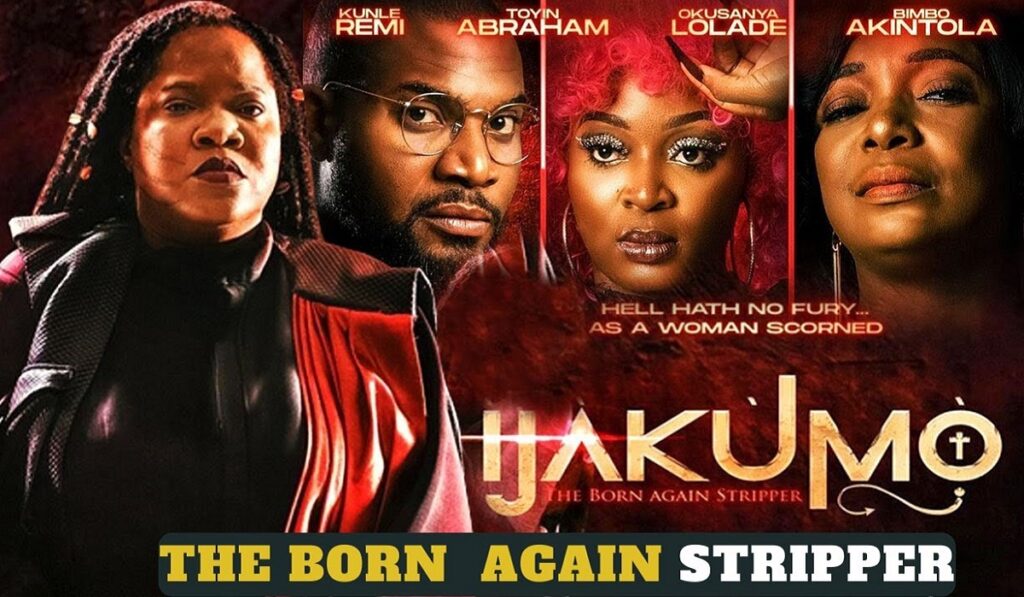 Ijakumo: The Review
Ijakumo is your regular soured romance that translates into a revenge mission. This time, the movie maker treats us to some elements of the supernatural and some fight scenes. I think the producer and director focused too much on giving great make-up, costumes, and the use of special effects. The storytelling and plotting of the movie is watery at best.
I admire Toyin Abraham; she is grown in Nollywood and has pushed the envelope with her movie making, but a good script is the first rung on the ladder of making a great movie.
Kunle Remi has shown some versatility, and in 2022/2023, he has been a bad boy (remember his role in Anikulapo?) – the villain in the lead roles. He gives a good report of his skills, and here, he is mostly the shining light, while the others manage to follow him through.
We see new faces, and they do their best. The movie has a good crowd, and that showcases the church scenes very well. A good number of the scenes appear to be fillers, though; they do not add to the story line, and we get a subplot that is told to us, instead of acted out.
I give kudos to make-up and costume, but this is not a movie I will be seeing a second time. However, Kunle Remi's acting compels me to give Ijakumo a "3" rating.
Nollyrated Score: 3/5 (Okay Production)
NollyRated uses a 5-level scoring system, as follows:
Poor
Sub Par
Okay
Great
Outstanding
Join Our Tribe on Twitter: For updates on new Nollywood movies, series, reviews, cinema reviews, and Nigerian movie personalities, join our tribe on Twitter @NollyRated.