The Plan (2023) Synopsis: A young widow asks her two best friends to help hide her late husband's stolen cache of gold from authorities, but can they be trusted to protect it?
The Plan: Cast
Rahama Sadau
Rosaline Meurer
Onyinye Ezekwe
Ali Nuhu
Yakubu Mohammed
Mofe Duncan
Paul Sambo
Victor Dekka     
The Plan: Crew
Directed by Dimbo Atiya
Produced by Rahama Sadau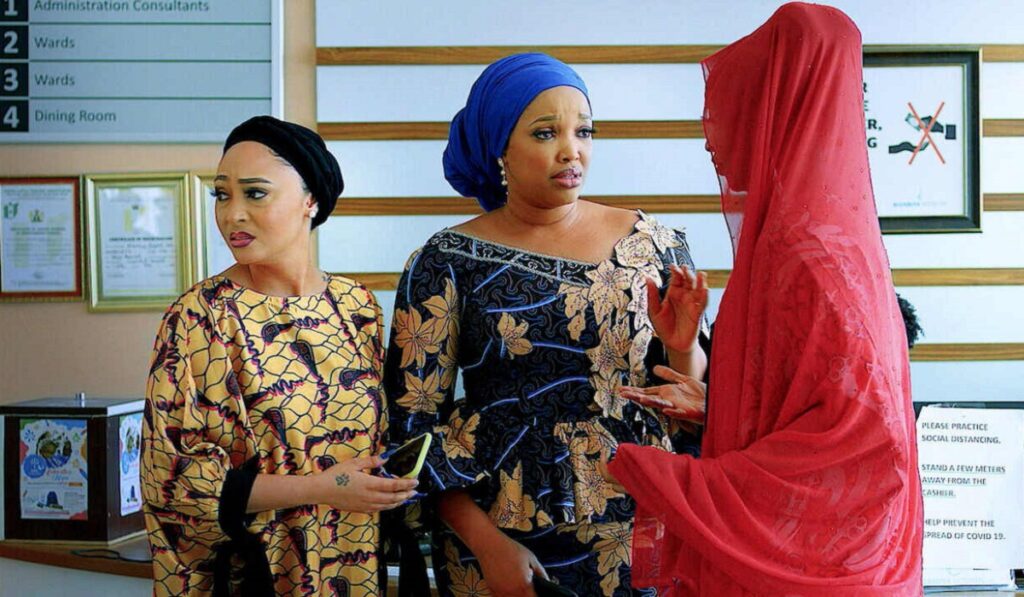 The Plan: Review
This is one of the most boring limited series I have seen on Netflix. It is also confusing and has too many threads, too many subplots, and too many scenes that have no connection to the show. It appears they are committed to the five-part series and decided to just throw everything in and fill up.
The production tries to do too much, it tries to be a thriller, action and romantic drama – and fails woefully at all of them. The dialogue and acting in the show are so slow paced that it is like watching paint dry. I understand that Kannywood (a section of Nollywood) is not known for noisy and active acting, but this show is too slow.
A lot of the actors are known. We have seen them in other movies and shows, but this show does not do justice to their acting skills. The unknown faces act even worse; they act in a staccato manner, as if they are reading directly from the script.
Some of the premises in the show are totally unbelievable, even for fiction. How does a woman carry a false pregnancy for nine months, living every day with her husband, even goes into labour, and the husband has no hint? The plots and premises make the viewers look stupid. In another scene, the three lead actors have a glamorous photo shoot while one of them is pretending to be five months pregnant, but she is dressed flat stomached in the shoot, and we find no connection of the photo shoot to the rest of the show.
The conflicts in this limited series are all over the place. We see one character with a lot of screen time at the beginning of the show but eventually has no place in the resolution. The resolution is read to the audience instead of acted out. The timing portrayed in the story are all over the place, and continuity is bad.
The lead actors have great costumes, but there is no consistency in their dressing. In one scene, they are all covered up as northern women. In another scene, there is a lot of show of skin which does not match what they are portraying. One of the vehicles in the series still has the plastic covering on the seats and this is supposed to be someone's car that they regularly use. It is distasteful.
The Plan is a show that makes a lot of promises but does not fulfil any and it should have been a one-hour long movie.
Nollyrated Score: 1/5 (Poor Production)
NollyRated uses a 5-level scoring system, as follows:
Poor
Sub Par
Okay
Great
Outstanding
Join Our Tribe on Twitter: For updates on new Nollywood movies, series, reviews, cinema reviews, and Nigerian movie personalities, join our tribe on Twitter @NollyRated.