A remake is a production of a film, television series, video game, or similar form of entertainment that is based upon an earlier production. A remake tells the same story as the original but uses a different cast and may alter the theme or target audience. 
When done right, the people who saw the original enjoy the story again with the updated cast, modern costumes and improved technology. The younger generation get to enjoy the classics the older generation had been raving about. 
Nollywood has started down this path in the last two years, and we love to see it. Living in Bondage was not an exact remake, but a sequel of the original story. With Rattlesnake and Nneka the Pretty Serpent, they were remakes. These two left out a lot of the original story, or they were not as interesting as the original, but they brought modern elements to play.
We have come up with a list of some of the Nollywood Classics we would truly love a remake of, with new cast and updated screenplay.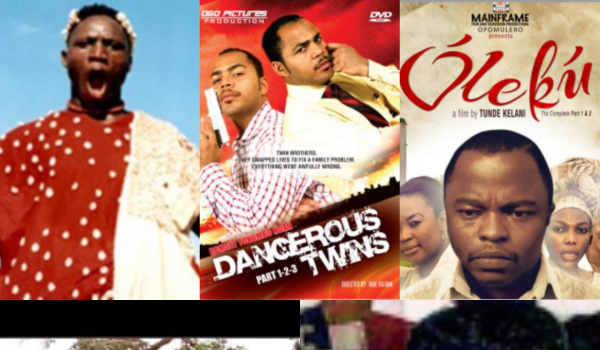 1. Violated: (Directed by Amaka Igwe/1996)
Plot: This is the story of Tega, a rich boy who falls in love with Peggy, a poor girl. Their romantic story is hit with complications from the past. It is your regular "rich boy, poor girl" romantic comedy and it would be nice to see how the story can be repackaged.  
Starring: Richard Mofe-Damijo, Ego Boyo, Kunle Bamtefa, Joke Silva, and Funlola Aofiyebi-Raimi.
2. Glamour Girls: (Directed by Chika Onukwufor/1994)
Plot: In a departure from the prevailing themes of the 90s Nollywood flicks, this movie focused on the themes of sex and money, and it became an instant hit. The movie earned a notorious reputation because it explored sexuality, which was largely a taboo in the Nollywood of that time.
Starring: Eucharia Anunobi, Zack Orji, Liz Benson, Dolly Unachukwu, and Gloria Alozie (Young).
3. Karishika: (Directed by Ifeanyi Ikpoenyi/1996)
Plot: Karishika explored a theme that was not mainstream but only found in Christian movies at the time – the supernatural and spiritual warfare. The story was set in the end times, during which Lucifer sends the lust demon known as Karishika, a.k.a Queen of Darkness, to steal the souls of men with sex. The movie was one of the scariest of that time and featured the use of special effects.
Starring: Bob Manuel Udokwu, Becky Okorie, Sandra Achums, Obi Mmadubugo, Amaechi Muonagor, Sunny Mc-Don, Adaora Ukoh, Ifeanyi Ikpoenyi, Andy Chukwu, and Steve Eboh.
4. Diamond Ring: (Directed by Tade Ogidan/1998)
Plot: A spoilt brat, Chidi, is sent to the university quite early by his wealthy and indulgent parents. On campus, he joins a gang who later rob a mortuary. Unknown to Chidi and his gang members, the booty from the heist would bring grave consequences.  The movie was very popular and there was hardly a bad word said against it. Teju Baby Face acted so well that I wonder why he did not continue in the movie sector. 
Starring: Liz Benson, Richard Mofe-Damijo, Bimbo Akintola, Bukky Ajayi, Tunji Bamishigbin, Sola Sobowale, and Teju Gbade-Oyelakin. 
5. Koseegbe (Directed by Tunde Kelani/1995)
Plot: In "Koseegbe," Mako, a very intelligent custom officer has just been appointed to the top post in his department. As a clean, diligent, and principled officer, he decides to wage war against corruption, fraud, and all other forms of illegal acts. That decision sets him on a collision course with certain redoubtable enemy groups.
Starring: Kola Oyewo, Wole Amele, Jide Kosoko and Toyin A Babatope
6. Checkmate: (Directed by Amaka Igwe/1991-1994)
While not a movie, it is a remake we would love to see. On Thursdays, from April 1991 to 1994, from 8pm to 9pm, the roads were always empty, as everyone would be in their homes, glued to their TVs, watching Checkmate. It was a phenomenon. The story focuses on the Haatrope family, the enemies determined to destroy their business and legacy, and their friends and associates. In the show's opening credits, a chess player's king is directly attacked by an opponent's pawn, making escape impossible. One of the story lines in the sitcom became a spin off, Fuji House of Commotion, a much beloved comedy sitcom. 
Starring: Ego Nnamani, Yomi Davies, Francis Agu, Bob-Manuel Udokwu, Edyth-Jane Azu, Richard Mofe Damijo, and Kunle Bamtefa
7. Women's Cot: (Dickson Iroegbu in 2005)
Plot: A widow is being treated badly and decided to join the widows' cot as the threat from her late husband's family had become unbearable for her. This movie may not be as old as the others in this list, but it deserves a mention, as it was very popular and dealt with major issues in the society. 
Starring: Bukky Ajayi, Rita Edochie, Chidi Ihesie, Bimbo Manuel, Onyeka Onwenu, Zack Orji, and Joke Silva
8. Suicide Mission:(Directed by Fred Amata/1998)
Plot: A seductress named Monique comes in between Austin and his wife, Winnie. Monique uses spiritual means to control Austin. This movie is memorable because a Nollywood playboy was locked inside a small bottle, something which many women would love to do to him. 
Starring: Richard Mofe- Damijo, Regina Askia, Ameze Imarhiagbe, Obot Etuk, Patrick Doyle, and Peter Bunor Jr.
9. Domitilla: (Directed by Zeb Ejiro/1996)
Plot: It is the story of young and single women who are lured into the big, bright city lights and turn to prostitution to survive. It will be interesting to see what new spin can be put on this movie to connect with the current times. 
Starring: Sandra Achums, Enebeli Elebuwa, Maureen Ihua, Charles Okafor, Ada Ameh, Kate Henshaw, Basorge Tariah Jr, and Anne Njemanze.
10. Owo Blow: (Directed by Tade Ogidan/1997)
Plot: Owo Blow highlights the erosion of the middle class in Nigeria in the 90s and an upright man's struggle to fight corruption. Seeing as the country is still struggling with more economic challenges, a remake of a movie with this theme and plot would resonate. 
Starring: Prince Leke Ajao, Bimbo Akintola, Adewale Elesho, Lanre Hassan, Sam Loco Efe, Binta Ayo Mogaji, Kayode Odumosu, Rachael Oniga,and Adebayo Salami. 
11. Issakaba: (Directed by Lancelot Oduwa Imasuen/2000)
Plot: The Issakaba boys led by Ebube have to fight against armed robbers who terrorize their society. The armed robbers possess certain mystical powers that they deploy during their robbery activities. Because of this, Ebube and his team of Issakaba boys have also acquired powers that enable them to go up against the robbers. The movie is full of action, horror, and drama. 
Starring: Sam Dede, Chiwetalu Agu, Pete Eneh, Amaechi Muonagor, Susan Obi, Mike Ogundu, John Okafor, and Andy Chukwu.
12. O le ku:  (Directed by Tunde Kelani "TK"/ 1997)
Plot: Oleku is an adaptation of  Prof. Akinwumi Ishola's novel, written in 1974. It is a love quadrangle of Asake, Lola, and Sade, who get entangled in a circular relationship with AJANI, a final year university student seriously looking for a life partner due to pressures from his mother. What would be nice to see is the same story set in modern times, instead of the 70s feel and costumes as the classic was. 
Starring: Yemi Shodimu, Pauline Dike, Omolola Amusa, Feyikemi and Chief Lere Paimo.
13. Thunderbolt, Magun: (Directed by Tunde Kelani "TK"/2001)
Plot: The movie, Thunderbolt, centers around the life of a young, married woman who is struck with an unorthodox African illness and has to find a cure before it claims her life. It touched on issues like trust in marriage, intertribal marriage, and peer pressure.  A remake with a  younger cast would make the beloved movie resonate with today's audience. 
Starring: Buki Ajayi, Larinde Akinleye, Lanre Balogun, Wale Macaulay, Ngozi Nwosu, and Uche Osotule. 
14. Sakobi (Directed by Zeb Ejiro/1998)
Plot: This is a classic Nollywood spiritual thriller that tells the story of Francis. who sacrificed his daughter for wealth. This move would cost him and his wife dearly, as a certain seductress/snake girl by the name of Sakobi became a part of their lives.
Starring: Saint Obi, Princess Akor, Dusty Edet, Mimi Ejiro, and Emmanuel France. 
15. Forever (Directed by Amaka Igwe/1997)
Plot: Forever is one of the biggest tear-jerkers in Nollywood history. The story is about the love of a mother. A young boy is separated from his mom and goes to live with his father and step mum. Years of neglect and lack of love turns the son into a drug addict despite his amazing musical talent. His mother's love helps bring him back from the point of destruction. It is one of the most dramatic stories ever told on film. 
Starring: Justus Esiri, Hilda Dokubo, John Nwaobi, Ohi Alegbe, and Jaiye Aboderin (late) 
16. Sango (Directed by Obafemi Lasode/1997)
Plot: This is the movie adaption of the Yoruba story of the life and times of Sango, the fourth Alaafin of Oyo who ruled in the 15th century. It chronicles the rise of the quick-tempered god of thunder and his tragic end.  
Starring: Wale Adebayo, Bunmi Sanya, Wale Ogunyemi, Jimi Sholanke, and Antar Laniyan 
17. Out of Bounds (Directed by Tade Ogidan/1997)
Plot: Pastor Voke is the target of two women who are hell-bent on sleeping with him. The Pastor succumbs to their machinations and finds himself in a web of lies and deceit which ruins him. 
Starring: Richard Mofe Damijo, Bimbo Akintola, Rachael Oniga, and Steve Rhodes. 
18. Aya mi Owon, Madam Dearest (Directed by Tade Ogidan/2005/2006)
Plot: This is the story of Biodun, whose hot temper landed him in prison for something he knew nothing about. When the culprit finally confessed, he got home to find his wife has had a child – for the houseboy who is from Ghana. The houseboy eventually kidnapped the boy and took him to Ghana.  The movie was shot in three countries – Nigeria, Benin Republic and Ghana. It was one of the biggest budget movies, in line with Tade Ogidan's reputation. 
Starring: Akin Lewis, Deji Adenuga, Yemi Solade, Sola Sobowale, Opeyemi Ayeola, Lere Paimo and Gabriel Afolayan. 
19. Dangerous Twins (Directed by Tade Ogidan/2004)
Plot: Dangerous Twins narrates the story of identical twins, Taiye and Kehinde. Kehinde is based in Lagos with his wife and his three children, while Taiye is based in London. The agony of a marriage without children, after several years frustrates Taiye, who convinces Kehinde to trade places with him in order to impregnate his wife. However, more problems result. Kehinde betrays his twin brother's trust and violence follows. The movie was a hit and we still speak of it fondly. Is there a way to improve on the story? 
Starring: Ramsey Nouah, Stella Damasus-Aboderin, Bimbo Akintola, Sola Asedeko, Nobert Young, Sola Sobowale, and Anna Fiertag.
What do you think of these possible Nollywood remakes? Which of them will you like to see happen?