Mercy Johnson Okojie is one of the goddesses of the Nollywood Small Screen. She started her career in Nollywood in 2004 and she has made her mark in the English section of the industry, earning several awards along the way.
She is known for her ability to embody her characters, both serious and comedic. Mercy earned the Best Actress award at the 2013 Africa Magic Viewers Choice Awards for her role in the comedy movie Dumebi the Dirty Girl. In January 2020, she released an epic movie with her as the producer and acting the role of Queen Omelve.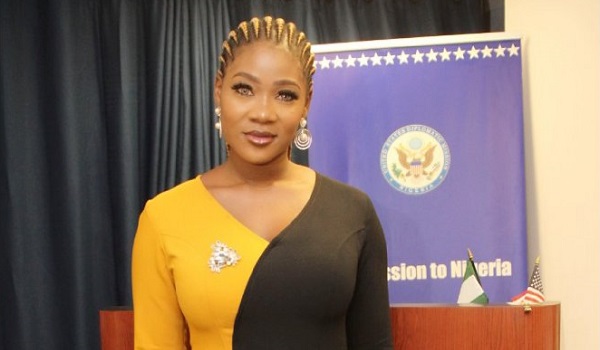 In addition to her bag of awards, she has been nominated for many more. Mercy Johnson was born on the 28th of August, 1984 in Nigeria, and is married with 4 children.
Mercy has acted in over 100 movies. Below is a list of some of the movies she has featured in. 
Mercy Johnson Okojie: Movies and Shows
The New Normal

(

2020), as

Jadesola Olurin.

Comedy Drama

The Legend of Imkpi (

2020), as

Queen Omelve.

Epic Drama

Mmasi: the Arrogant Preacher (2019).

Drama

Seven and Half Dates (

2018), as

Bisola.

Romantic Comedy

Thy Will Be Done (

2015), as

Lucy.

Drama

Hustlers (

2014), as

Vicky.

 

Drama

Baby Oku in America (

2013), as

Baby Oku.

Comedy

Mercy the Bus Driver (

2012), as

Ada.

Drama

Sins of the Past (

2012), as

Wendy.

Drama

Deep Water (2012)
Painful Victory (2011)
The Code (

2011), as

Susan.

Drama

A Cry for Justice (

2010), as

Ella.

Drama

Clash of Twins (

2009), as

Mildred/Melisa.

Drama

Guilty Pleasure (

2009), as

Boma.

Under The Sky
Under Control
Kill The Bride (2005)
Women In Power (2005)
Lost To Lust (2005)
The Maid (2004), as Jane.
Into temptation (2004)
House Party (2004)