Synopsis: After Ahanna Okolo's life as he knows it ends, he decides to steal the life he always wanted. He has just one rule – no bloodshed. He assembles a group of men with various skills, carrying out a series of spectacular heists, always ten steps ahead of the police. However, when their biggest heist takes an unexpectedly deadly turn, the gang suddenly find themselves with bitter enemies on both sides of the law.
Rattlesnake: The Ahanna Story (2020): The Cast
Stan Nze

Osas Ighodaro
Omotola Jalade-Ekeinde
Bucci Franklin
Efa Iwara
AY Makun
Emeka Nwagbaraocha
Brutus Richards
Odera Adimorah
Elma Mbadiwe
Chiwetalu Agu
Sonny McDon
Nobert Young
Gloria Young
Chinyere Wilfred
Cassandra Odita
Fred Amata
Ejike Asiegbu
Director: Ramsey Nouah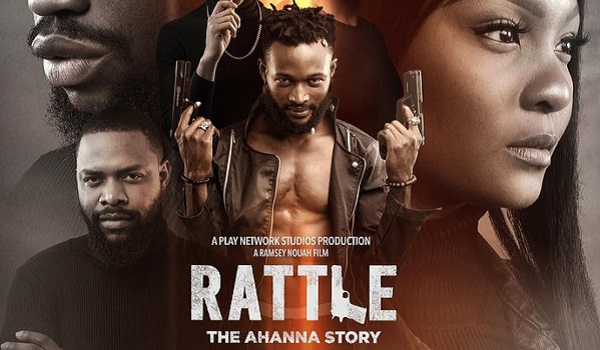 The Review
Rattlesnake the Ahanna story is a remake of the 'RattleSnake',  a 1994 Nollywood classic directed by the late Amaka Igwe and produced by Austin Awulonu. It told the story of a young boy named Ahanna Okolo, who got into the life of crime as a result of unfortunate events in his childhood.  This remake is a modern version of the 1994 movie produced by Charles Opaleke.  The first thing that hits you is the quality of the cinematography of the movie, it is excellent, sharp and clear pictures. 
You could also see the producer had a big budget that was not available for the classic. At the end of the movie, you wonder, is that all there is to it? Did this movie actually stay true to the original or it left holes in the plot of the original.  A remake is a production of a film, television series, video game, or similar form of entertainment that is based upon an earlier production. It tells the same story as the original, but uses a different cast and may alter the theme or target audience. A comparative review would enable us to see if this is the case.
The movie begins with the voice of a narrator, Ahanna, we see him as a child witnessing jungle justice meted out on a thief.  Then we see him as a teenager as part of his family, a family that appears to be a happy one. Then his father dies suddenly, and in a twist of fate, his mother leaves him with his grandmother in the village, while she returns to the city with his uncle and the younger kids.  We later see him as a graduate, and his grandmother giving him the address of his uncle and mother in Lagos.  
He heads to Lagos, he is robbed of his possessions, makes friends with a bookseller who eventually gave him some money that helped him to find his way to his mother. 
He couldn't stay with his mother, they quarrelled, he went to look for his friend, who was in trouble with a mafia lord.  Ahanna decided to help his friend by robbing his uncle and mother, which led to both his mother and uncle being shot. 
He eventually decided to lead a life of crime, supposedly using his brain to strategize and rob wealthy people, but there must be no bloodshed, though they carry weapons.  
I did not see much of Ahanna's superior brain power displayed in the movie beyond regular thinking.  You would expect that a gang formed based on strategic robbery would display more intellectually planned and executed heists, but all we saw were your regular run of the mill robberies.  The one robbery that was intellectual was that of the Idia Mask head, but even that one left a lot of loose ends. The beauty of such heists in movies is to see the actual planning that goes into such and enjoy the execution, and this was lacking here. 
Ahanna eventually left the gang, though he shared the loot with them. The team was unfortunately caught by law enforcement and they went to prison while he went to South Africa to enjoy the loot with a totally new woman, different from Amara, his original love interest. His nemesis caught up with him, Ali Mahmoud, the drug lord his friend owed, and he had to plan and execute a final heist as a ransom for his wife and son, using the team he had double crossed. 
The movie is less than two hours, unlike the classic, which is 1 minute shy of three hours.  The length, perhaps shortened for cinema, may have been responsible for leaving out a lot of the story from the classic. The movie left me feeling, Is that all? There was not a lot of depth explored.  We saw Ahanna's back story, but there was minimal story arc or background information for the rest of the Armadas.  The story gave a staccato feeling and felt rushed towards the end. 
The time gaps were not well executed, and there were a lot of loose threads that were not tied together properly.  For example, we suddenly saw that Amara had disappeared from the group, only to reappear much later with a set of twins and as a bank worker, but we never saw a sense of regrets or remorse in Ahanna. He quickly moved on to the new girl whom we had no idea of previously. Usually, one of the things that makes action movies interesting would be one or two subplots of romance, to show the humanity and vulnerability of the protagonist and the antagonists. These subplots were lacking in this movie. 
The actors gave a good interpretation of their roles, and it was beautiful to hear the effortless switch from Igbo to English back to Igbo, even Osas who is not Igbo spoke Igbo when she was required to. 
The locations in these movies were beautiful, though I would have expected them to vacation somewhere in Nigeria, if we were showcasing Nigeria. The movie showcased more of South African tourism; none for Nigeria. I expected better dexterity in handling weapons, we did not even see any scenes indicating they got lessons in how to handle weapons. 
It was good to see Omotola Jalade-Ekehinde as the art curator, but her costume could have been better, what she was given was not flattering to her body. There was also a misrepresentation of historical facts, as far as we know, the head of Idia Mask is not in any art museum in Nigeria, another artefact could have been the focal point of the heist. 
The movie tried to give a modern remake of the classic, but it left a lot of the plot and cultural nuances out, which left a lot to be desired, the ending also makes us wonder if there would be a sequel to the movie.  We do not expect a 'happily ever after' movie, but the ending could have been better executed. 
NollyRated Score: Okay Movie (3/5)
Join Our Tribe on Twitter: For updates on new Nollywood movie reviews, cinema reviews, and Nigerian movie personalities, join our tribe on Twitter @NollyRated.