Omo Ghetto the Saga, produced and directed by Funke Akindele-Bello and her husband, opened in Cinemas nationwide on Friday, 25 December, 2020.
It is a story about Lefty who, together with her squad from the ghetto, was always getting into one trouble or the other. As luck would have it, fortune smiled on Lefty and she was adopted alongside her twin sister, Ayomide, by the lovely Mrs Benson and moved to an upper-class neighborhood.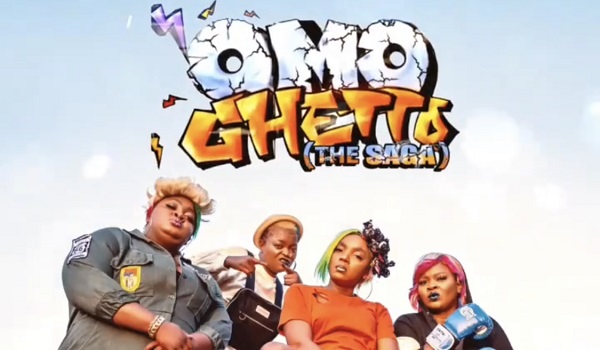 Despite the affluence and the new luxurious change in environment, Lefty still finds herself going back to the ghetto, falls in love in the ghetto and keeps getting in trouble. Eventually, she gets into one very big trouble with which she tries very hard to get out of.
Will Lefty succeed? The movie is a sequel to the 2010 Omo Ghetto produced by Funke Akindele. It has an expanded cast and updated screenplay. Some of the original cast were given new roles to play. The movie seemed to have received a lot of good recpetion by cinema patrons, and in some cinemas, tickets were sold out.
We sampled the conversations around Omo Ghetto The Saga that are happening on Twitter and bring you a round up.
Great movie of the year this one no be over hype 🤲🤲🤲🤲🤲🤲best movie of the year #omoghettothesagamovie

— Nifemi (@nifemi63609521) December 26, 2020
OMO GHETTO THE SAGA

Great picture,wonderful acting and the comedy wasn't forced at all unlike some other movies. Everything is just superb. This is why you do not compare @funkeakindele to nobody! #OmoGhettoTheSaga #omoghettothesagamovie @JJCSKILLZ @_deyemi @Omoghettosaga pic.twitter.com/cVMl8zg6Vk

— Loba For The Soul (@thisisloba) December 26, 2020
So I went to the cinema with my siblings and few friends to go see #omoghettothesagamovie , budgeted 1500 per ticket but ended up spending double of it per ticket 😭 but after seeing the movie I had no regrets. @funkeakindele you really bursted my head with this one 👍👍👍💪💪

— Smith ❤️ (@THANKGODSMITH50) December 26, 2020
@funkeakindele Aunty Funke…You nailed it again as usual…You're the Best out of the best!…Big shoutout to Askamaya bees…Everyone in the movie killed it…#omoghettothesagamovie it worth the hype💃💃💃

— Hamdallah (@OluwhaTohyeen) December 26, 2020
https://twitter.com/DavidUgochukwu_/status/1342770376053575680?s=20
@funkeakindele did a good job with her movie omoghettothesaga 🤙🤙…God bless the work of your hands ma'am #OmoGhettoTheSaga

— Ayomide Of Ijebu🌟 (@AYOMIDEAYOOLA08) December 26, 2020
So I just saw #OmoGhettoTheSaga and it was worth it…from the way Aunty @funkeakindele delivered her roles perfectly,you'd know she did her research properly before acting💯@yemialadee did an Amazing job..in fact everyone's acting was perfect 🤩 it's a MUST watch🤩

— Éso🤍 (@Eso_hee) December 26, 2020
@funkeakindele omo ghetto saga was 🔥🔥abeg I want to meet lefty real real…..They got the perfect quip,all the cast and crew delivered 💯.God bless everyone that contributed to the movie big time.#OmoGhettoTheSaga @funkeakindele

— itz_Amor (@OlayinkaIfeol16) December 26, 2020
Well, I Watched #OmoGhettoTheSaga yesterday and I must say I like chummy choko

— Sugar mama of Akure (@Bukolami_sungir) December 26, 2020
@chiomakpotha @BadmusEniola @_deyemi are the real motivator with ginger in this movie #omoghettothesaga No cap 🎖️🧢🧢 for them all ❤️❤️❤️❤️

— Ade Adewale@ Omo OBA 👑🤴🎺✨ (@AdewaleDeFirst) December 26, 2020
#OmoGhettoTheSaga the best movie I have watched this year, my ticket was not in vain and am glad am ending this year on a happy note. Funke Akindele finished work in this one and so many beautiful actors. If you have not watched it you are wrong. #SeasonsGreetings

— missrita042 (@ChibunduRita) December 26, 2020
Please if anyone should see @funkeakindele tell her God will bless her for #omoghettothesagamovie….ahh, opor

— Sheyo Becks (@sheyo_becks) January 1, 2021
https://twitter.com/Itzdanielblack/status/1344720519942307843?s=20
Overtaken is allowed, but over speeding dey kill 👌🏿 #omoghettothesaga #omoghettothesagamovie

— 𝚁𝙴𝙰𝙻𝚂𝙰𝙼𝙼𝚈𝚆𝚄𝚁𝙻𝙳™️ || 𝐌𝐔𝐅𝐂 🇾🇪 (@Realsammywurld) December 31, 2020
The fight scenes in #omoghettothesagamovie >>>>>>>>>>
And then the beautiful mixture of languages was awesome…

— kessi's hot husband. (@ErhaborEsosa) December 30, 2020
Mehn!!

Omo ghetto was worth the hype
The movie is a must see#omoghettothesagamovie #omoghettothesaga

— big igboboy (@ifeanyi5956) December 30, 2020
In case you have forgotten how good @funkeakindele is as an actress, watch her display
in the old movie Maami…The movie made me cry sha and I'm a hard dude oh… Then she has blown us away with #omoghettothesagamovie.. There's no role that's too hard for Funke to play..

— Charlay (@Charlay_Cane) December 30, 2020
Men are scum! Femi Stone in Askamaya is more scum though! #omoghettothesagamovie

— MARAMA (@JallohMariam1) December 30, 2020
Omo ghetto is 🔥🔥🔥🔥😁@funkeakindele really tried.

Well done ma😁#omoghettothesaga #omoghettothesagamovie

— Simi (@OlulankeSimi) December 30, 2020
I had mixed emotions,laughing hard then almost moved to tears ,that movie was amazing !!! And it's a must watch !!! #omoghettothesaga #omoghettothesagamovie

— fefe:) (@fii_fie) December 30, 2020
Big shoutout to the entire cast of #omoghettothesagamovie i watched last night I most say no dull moment honestly. @funkeakindele @_Timini @BadmusEniola @NancyIsime @_deyemi @bcchuks 👏👏👏💪🏿

— Eta Lloyd (@Lloyd_HBMG) December 30, 2020