Namaste Wàhálà (2021) Synopsis: This is the love story of an Indian boy (Ruslan Mumtaz) and a Nigerian girl (Ini Dima-Okojie). Considering their different cultural backgrounds, will they be able to overcome the barriers that come their way and get hitched?
The Cast
Ini Dima-Okojie – Chidinma

Ruslaan Mumtaz – Raj
Richard Mofe-Damijo – Ernest
Sujata Segal – Meera
Ajoke Silva – Shola
Koye Kekere Ekun – Emma
Anee Icha – Angie
Hamisha Daryani Ahuja – Leila
Osas Ighodaro – Preemo
Ibrahim Suleiman – Somto
Imoh Eboh – Jane
Annu Papa – Raj's Dad
Chukwuemeka Okoye – Raymond
Sailesh Ahuja – Tarun
Cindy Okafor – Leila's PA
Twani Okereke – Tosin
Uche Obunse – Hotel Receptionist
Broda Shaggi – Taxi Driver
MI Abaga – Himself
The Crew
Director: Hamisha Daryani Ahuja

Producer: Tiencepay Lawal
Music Director: MI Abaga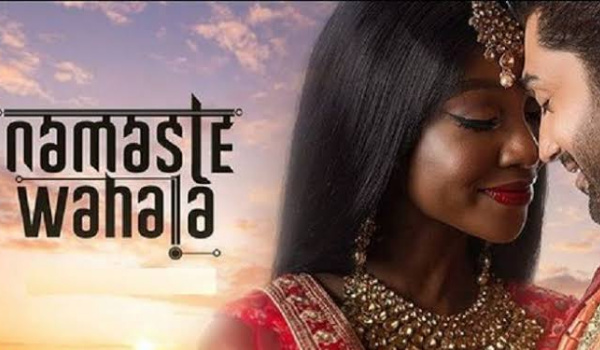 The Review
Namaste Wàhálà has all the features of the regular rom-com. This Indo-Nigerian collaboration follows the script of all rom-coms. It follows it so well that it is cheesy enough for me to top my pizza with it.
Chance meeting: check. Long looks that ignore all others: check. Unexpected connections: check. Singing and dancing on the beach and at restaurants: check. Cliche lines: check. The voluptuous female friend: check. The funny male friend: check. The nasty female rival: check. And the appropriate male that the family prefers: check.
For a romantic comedy, the cheesiness is expected and it is delivered in spades.
The movie tries to address intertribal and interracial marriages, and all the issues that come with them, including how parents can oppose their children's love interest based on cultural and racial differences without considering the similarities and points of connection. It also tries to examine the cultural expectations of a man leading a company, even if the daughter is well qualified.
While the movie is a beautiful story with a good plot, the execution left a lot to be desired. How do we go from two minutes of musical dating and we are ready to meet the parents? The pace and jump of the movie is so fast, we don't experience a proper build up to the romance that was to take place. But perhaps the romance is not the main crux of the movie, but the cultural issues. Still, that lack of a build up made my head spin, and not in a good way.
I enjoyed the onscreen chemistry between Joke Silva and RMD. Thanks to how they have been casted in Nollywood over the years, you would be forgiven to think Joke Silva is much older than RMD. In reality, they are peers and their pairing here is beautiful to see.
The chemistry between Ini Dima-Okojie and Ruslaan Mumtaz was okay, considering they are from different cultures and Ruslaan is coming to the Nollywood screen for the first time. He gave a good showing of himself. Anee Icha seems to be getting typecast as the voluptuous best friend, but her awesome talent needs to be better explored.
I enjoyed the conversations and dialogue. The punchlines were also great and elicited laughter. There was a line in the movie that I found inappropriate – about how nobody would buy the cow if they get the milk for free. Likening a woman to a cow felt off for me.
The colours were beautiful and the costumes lovely. Most of the interior conversations seemed off, but the mouth movements and sound were in sync. The sound was too clean, antiseptic, and much louder than the scenes depicted.
Apart from the wedding scene, which closed the movie, there was not much showcase of the cultures except in the conversations, and confrontations between the children and parents.
We understand that sponsors need their products seen in a movie, but the product placement in this movie was too obvious and blatant.
In all, Namaste Wàhálà tried to show us we are more alike than different in our expectations and challenges, no matter our culture or race. It was a good and funny movie.
NollyRated Score: Just Okay Movie (3/5)
NollyRated uses a 5-level scoring system, as follows:
Poor
Sub Par
Okay
Great
Outstanding
Join Our Tribe on Twitter: For updates on new Nollywood movie reviews, cinema reviews, and Nigerian movie personalities, join our tribe on Twitter @NollyRated.