Synopsis: The Ghost and the Tout Too tells the story of a young lady who grew up in a ghetto and meets with a ghost after an unfortunate incident takes place. Soon after, her life is thrown into one drama after another in a chain of events that only she can see and understand.
Cast of The Ghost and the Tout Too
Toyin Abraham
Mercy Johnson 
Osas Ighodaro
Destiny Etiko
Ali Nuhu
Lateef Adedimeji 
Iyabo Ojo 
Chinedu Ikedieze
Ini Edo 
Odunlade Adekola
Crew
Directed by Michael Akinrogunde, aka Ama Psalmist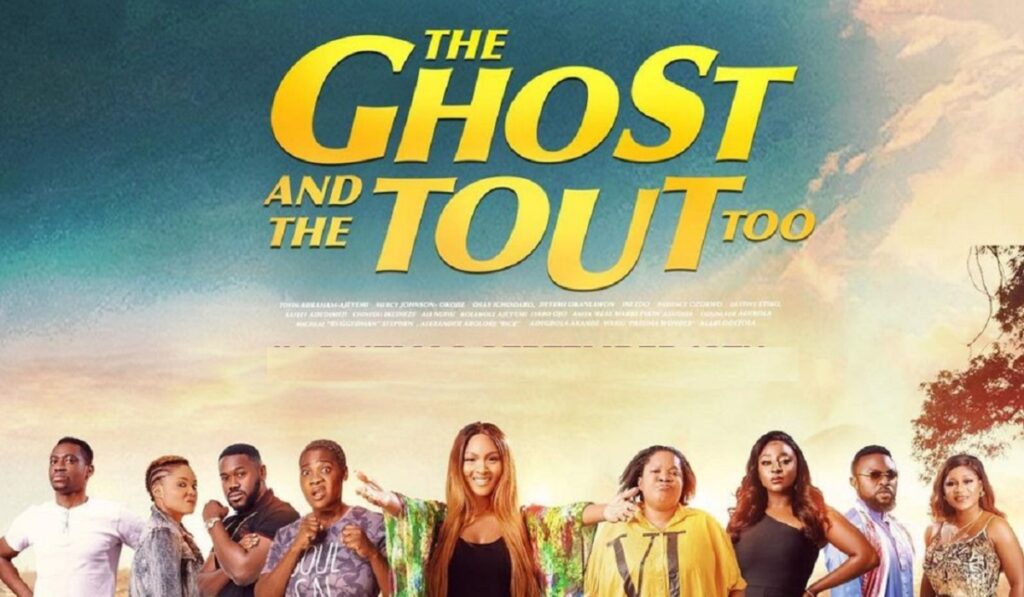 Review
This is a movie sequel that goes the way of most Nollywood sequels; they are usually unnecessary and lack any substance of story line to build on the previous offering. The Ghost and the Tout was an okay movie at best, but this sequel is not a good follow up. I am of the opinion that it ought not to have been made.  
I respect Toyin Abraham and her growth in Nollywood, and how she is able to move from Yoruba Nollywood to be a crossover actor. She has some particularly good movies, but this is not one of them. 
The cast of The Ghost and the Tout Too reads like a compendium of who-is-who in Nollywood, and could be used for the invitation list of a Nollywood award show, but their star quality is lacking in this movie. At least 50% of the movie consists of needless shouting, 30% of aimless movement, and 20% of social media and ghetto slangs thrown around. 
The movie tries too hard with the slapstick comedy genre; it just makes me roll my eyes. The dialogue has no real direction, and the acting seems to be a mishmash of disjointed scenes that leave a lot of loose ends. The resolution of the conflict is, frankly, an insult on the intelligence of the viewers. 
Mercy Johnson's character as a sidekick to Toyin's provides a bit of redemption to the movie – just a bit – and she provides the few and far between smiles. 'Deyemi Okanlawon has more of a cameo appearance, and he portrays his character well. He is the exception; the others need a bit more work. 
Continuity leaves me reeling. The lead character, Isla, has the same hair on throughout the movie, which would not a problem, as the movie appears to take place within a few days. However, there are two scenes in which the hair is changed, and instead of us seeing the changed hair after those scenes, we see her with the previous hairdo in the scenes that follow. 
Transitions in the movie are haphazard and staccato: you are left wondering what the connection is between scenes. Almost all the characters lack a well-developed story arc, and the movie tries to put a band-aid on this by giving us some flashbacks. A lot of the scenes are fillers, and they add absolutely nothing to the story. 
The product placement and spoken adverts by the actors sounded more like product commercials. Surely, there are more tasteful and artistic ways to place products in a movie, without actually overwhelming the patrons.
With the cast list in this movie, we should have had a better script. Perhaps these stars need to be more critical of scripts before accepting to act in movies. 
Nolly Rating: 1/5 (Poor Movie) 
NollyRated uses a 5-level scoring system, as follows:
Poor
Sub Par
Okay
Great
Outstanding
Join Our Tribe on Twitter: For updates on new Nollywood movie reviews, cinema reviews, and Nigerian movie personalities, join our tribe on Twitter @NollyRated.