Finding Hubby (2020) Synopsis: Finding Hubby follows the adventures of 35-year-old Oyin Clegg and her friends, Toke and Gloria, as they kiss the many frogs in the quest to find their prince. In the process, they are forced to ask important questions about their friendship, love and life, ultimately asking – Finding Hubby or Finding Happy?
Finding Hubby: Cast
Ade Laoye: Oyin Clegg
Munachi Abii: Gloria
Kehinde Bankole: Toke
Tina Mba: Oyin's Mom
Tope Tedela: Pastor T
Paul Utomi: Yomi Kester-Jacobs
Efa Iwara: Adefemi Omotosho
Omowunmi Dada: Moroti Hassan
Teniola Aladese: Tosan
Omobola Akinde: Lace Woman
David A. Apemiye: Oyin's Mom's Pastor
Samuel Asa'ah: D.G.
Folarin Bankole: Rude Guy at Club
Demi Banwo: Olumide
Sammy Eddy: Aminu
Oludara Egerton-Shyngle: Desmond's Wife
Charles Etubiebi: Ossy
Maryann Eziekwe: Pastor's PA 
Chris Isibor: Mr. Kalu
Ogunji Tolulope Joy: PA to Oyin's Mom
Elma Mbadiwe: Tara Cole
Delroy Norman: Derrick
Damilola Ogunsi: Desmond
Eso Dike Okolocha: Mr. X 
Akinbi Olalekan: Bouncer 2
Yewande Osamein: Lara 
Rehia Osarentin: Helen
Okechukwu Precious: Bouncer 1
Rosemary Abazie: Girl at Engagement Party 
Crew
Director – Olufemi Ogunsanwo
Writers – Temitope Bolade, Diche Enunwa, Tunde Leye (original story)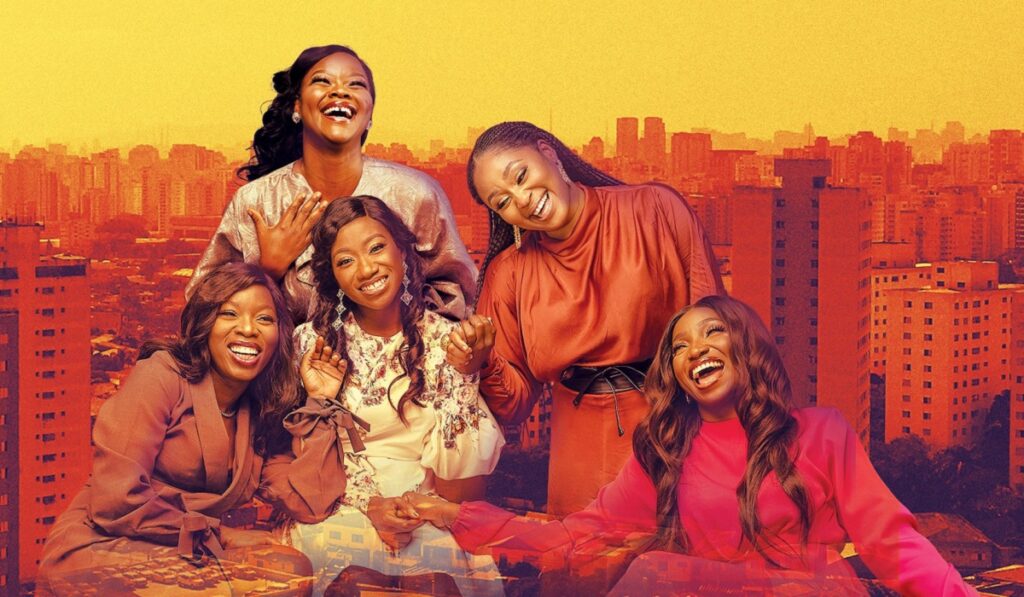 Finding Hubby: The Review
In the interest of full disclosure, I followed the Finding Hubby blog series religiously, and I thoroughly enjoyed it. So, I was truly looking forward to it when I heard it would be made into a movie. The essence of the story is well translated, and I must give kudos to the screenplay writers. But so much of the story is left out that I wonder if it would have been better as a miniseries. Tunde Leye did a great job with the blog series; I wanted more of that translated to the screen. 
The main plot was apparent, and the sub-plots were a lot, and did not allow the movie to be totally cohesive. Too many things were happening that we wanted to follow, because the movie has a lot to say and so, it sometimes appeared rushed. 
The acting was very good, Ade Laoye has truly established herself as a lead character and her support characters were good too. However, Munachi Abii appeared quite stiff, and I would have enjoyed seeing more of the story of Toke, acted by Kehinde Bankole. The acting was good.
The movie has a lot to say, and it did not allow us to truly connect with all the characters, for example, Yomi Kester-Jacobs. He is the dream guy, the prize that Oyin wants, but we did not even see any of his background story. Their meeting feels rushed. He also does not look as rich as we are led to believe. The conclusion of his story does not have the effect we expected. It is almost an anti-climax. The whirlwind nature of the romance already tells us there is something wrong with him, and the surprise element is lost on us.
Oyin is the dedicated career girl who lives life to the fullest, but we saw more of her clubbing ways than her actually executing any project. It leaves me wondering where the focus is. One plot I truly enjoyed is the revenge of Femi Omotosho. I expected it, but I still enjoyed the execution. 
As far as romantic comedies go, Finding Hubby is a good addition to the genre. It has the right mix of comedy, romance and dreamy aspirations. 
NollyRated Score: 3/5 (Good Movie)
NollyRated uses a 5-level scoring system, as follows:
Poor
Sub Par
Okay
Great
Outstanding
Join Our Tribe on Twitter: For updates on new Nollywood movie reviews, cinema reviews, and Nigerian movie personalities, join our tribe on Twitter @NollyRated.