Merry Men 2 Cast:
Ramsey Nouah as Ayo Alesinloye
Ayo Makun as Amaju Abioritsegbemi
Jim Iyke as Naz Okigbo
Folarin (Falz) Falana as Remi Martins
Ufuoma McDermott as Zara Aminu
Damilola Adegbite as Dera Chukwu
Ireti Doyle as Dame Bethany Maduka
Rosaline Meurer as Kemi Alesinloye
Nancy Isime as Sophie Obaseki
Williams Uchemba as Johnny
Linda Osifo as Hassana
Alex Asogwa as Calypso
Regina Daniels as Kenya Obi
Ejike Asiegbu as Francis Uduak
Olamide as himself
Merry Men 2 Director
Moses Iwang
Merry Men 2 Synopsis
Things have changed for the charming foursome, the Merry Men. They've hung the boots on robbing the rich to give to the poor and are now focused squarely on running their businesses. Ayo Alesinloye, the charming leader of the pack, prepares to wed EFCD field operative, Dera, the love of his life. Naz prepares to be a father, thrilled that Kemi, his wife and Ayo's younger sister, is pregnant. Amaju and Remi, well – they remain inveterate men-about-town, enjoying wine, women and the good life. But while on a short vacation in Lagos, each of them are besieged by vicious gunmen, led by four FEMALE MASKED BIKERS.
After a chaotic struggle with the armed assailants, the Merry Men are overcome, and Kemi is kidnapped. Dame Maduka, the corrupt politician who the Merry Men had earlier exposed, contacts the four enraged friends to reveal that she is behind the attack.
She promises to release Kemi if the four friends destroy all incriminating evidence to be used against her in a hearing. They have 72 hours, failing which, Kemi will be murdered. Deeply enraged and highly motivated, the Merry Men must return to old ways to overcome Dame Maduka and rescue Kemi. They rush back Abuja, where Kemi has been taken, to formulate a plan of rescue. But the barriers before the Merry Men are tougher than anything they had ever encountered.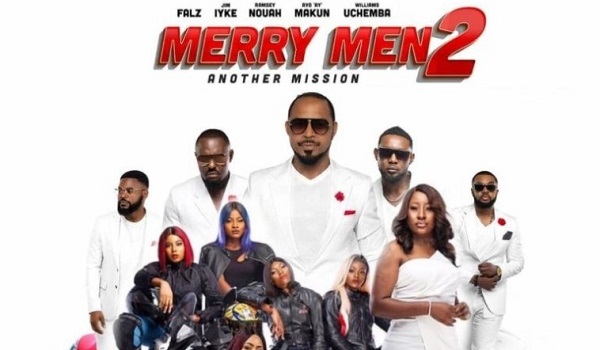 Merry Men 2 Full Movie Review
Experience has shown that Nigerian Movie makers don't do so well with sequels. If the first was great, the sequel would struggle to meet the standard of the first one. If the first one was bad or manageable, the sequel would be worse. In my opinion, Merry Men 2 should not have been produced. 30 minutes into the movie, I was bored out of my eyes.
The Merry Men are seen at Eko Hotel and Suites, supposedly on vacation. It appears that the high profile hotel is one of their sponsors. One thing you cannot take away from Ayo "AY" Makun is that he knows how to attract big sponsors to his productions, either movies or comedy shows. The vacation takes an interesting turn when a strange woman suddenly falls into labour while at the pool side, and the Merry Men and their women are there to save the day.
While at the hospital, just after they have just received the good news that the woman has put to bed, the television in the hospital reception shows Dame Maduka, (Ireti Doyle), looking very sick and making claims of having cancer, and of how the allegations against her are false. In her statement, she promises to show the world she would be exonerated.
This scene is a snide jab at Nigerian politicians, who suddenly develop serious and grave illnesses as soon as they are called upon to answer for their crimes of corruption. It would have been nice if the story had actually gone to a logical conclusion of ensuring Dame answered for her crime and was truly exposed for the fraud that she was.
In the next scenes, the Merry Men are attacked one by one at different locations. The attacks all happen at the same time, suggesting a high level of co-ordiination. And all the assailants are ladies.
The attack culminated in Kemi's kidnap, and decommissioning of Remi, tech guru of the team. We eventually found out the attack was coordinated by Zara Aminu, a former team mate of Ayo. The team of ladies was sent by Dame Maduka, who has taken someone dear to them all as hostage, for leverage. The deal was that they had 72 hours to remove all traces of her crime so that she can be freed by Monday. This is where we begin to see things happen, the attempted rescue of Kemi by the Merry Men, their capture, eventual collaboration with the ladies, and finally finding out Dame Maduka planned to double cross them all.
The movie calls the viewer to suspend belief on a number of things, leaving more questions unanswered. The Merry Men were obviously criminals, who robbed the corrupt politicians, via cybercrime and other ways. They supposedly did this to give to the poor, and even in the first instalment, we did not see them really do anything concrete for the poor, anything that warranted the crime they committed.
When were they pardoned for their crimes, or when did they pay for such crimes? Dera is an employee of the EFCD (we are never given the full meaning of EFCD, but it is clearly a play on Nigeria's Economic and Financial Crimes Commission, EFCC), at the same time she was a member of the Merry Men. No explanation is offered about how she has retained her job.
I believe Johnny was an idiotic additional character in the movie, with the entrance he made at the beginning. His actions and words, for the rest of the movie, were juvenile and irritating. In this sequel, the humour was harder to find and the punch lines fell flat. Besides Johnny's juvenile behaviour, Amaju (AY) kept making dry jokes, even in serious situations that did not call for levity. After the coordinated attack, and they were taking stock, it was not until they made a call that Amaju mentioned that this is serious, as if co-ordinated attacks were not enough proof that the the situation was serious.
Still on the matter of suspension of belief, all we ever see the Merry Men do is lounge, drink and have sex. We have never once seen them train to justify the skills they display. I believe we are past the days when we could believe an action movie hero just takes on multiple adversaries, dusts himself, and goes to dinner, just like James Bond of old.
When the police were called in after the attack in Ayo's house, it was irritating to see a female police officer openly flirt with Ayo. It had no purpose, it was unprofessional, and it reinforced the stereotype of women falling for him. If there was a story arc to be followed, it would have been understandable, but the flirting had no purpose, it was totally unnecessary.
One redeeming quality the movie had was the female team of attackers. They were professional and did not rise to the bait of the dry jokes. I was very impressed with Ufuoma McDermott as Zara Aminu. She is one lady that does not seem to get the exposure she deserves. I am yet to see her in a bad role. She interprets every role excellently. Nancy Isime as Sophie Obaseki gave an excellent interpretation of the biker chick, with her straight demeanour and focus on the task at hand. It was refreshing to see them handle weapons professionally. We do not see them train either, but the story around them showed they had such training, something that is missing with the Merry Men.
NollyRated Score: Sub-Par Movie (2/5)
Join Our Tribe on Twitter: For updates on new Nollywood movie reviews, cinema reviews, and Nigerian movie personalities, join our tribe on Twitter @NollyRated.