Synopsis: In Brotherhood (2022), Wale and Akin are brothers who became orphans at a young age when their parents were killed on New Year's Day, on their way home from the traditional crossover service that had been held in church. As adults, Wale joins the police force, while Akin becomes a hardened criminal who joins a gang of brothers. All things go awry when Wale is put on the task force that would hunt his brother and the gang of robbers down.
Brotherhood: The Cast
Folarin Falana/Falz as Wale
Tobi Bakre as Akin
Jide Kene Achufusi
Basketmouth
Toni Tones
OC Ukeje
Dianne Russet
Omawumi
Ronke Oshodi-Oke
Zubby Michael
Debo Adedayo
Sam Dede
Dorathy Bachar
Mercy Aigbe
Seyi Awolowo
Boma
Brotherhood: The Crew
Loukman Ali – Director
Jadesola Osiberu – Writer
Abdul Tijani-Ahmed – Writer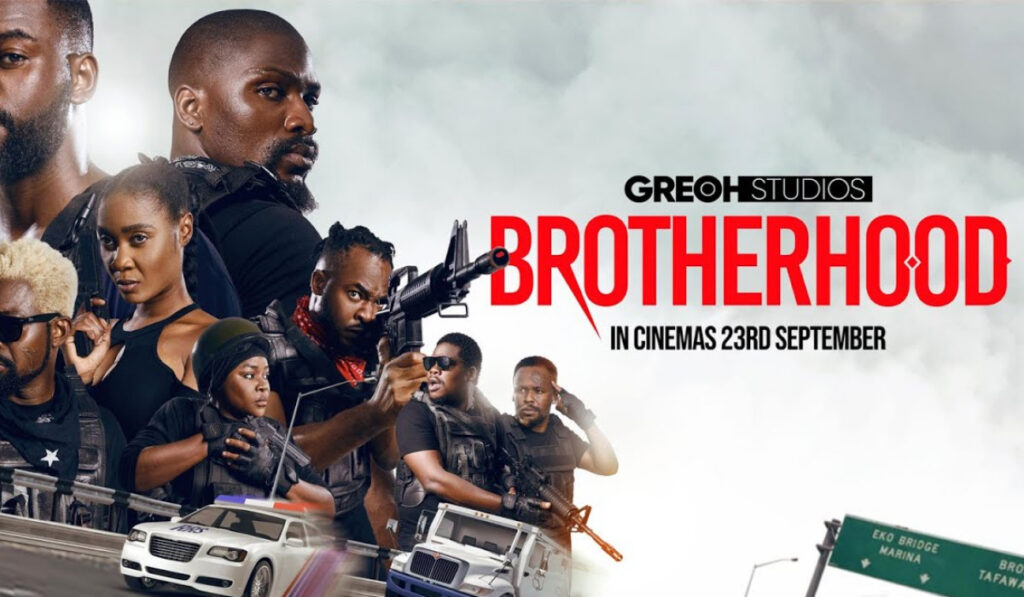 Brotherhood: The Review
While the story line is along the lines of American Gangster plots, the local flavour makes it truly our own. I love the fluidity of the dialogue; it reflects the way we actually speak and converse everyday here in Nigeria.
The handling of weapons by all actors keeps improving, and I am quite impressed by the editing that gives us the gunshot effects. It is sometimes over the top, but it works for the movie. The story is cleanly told without too much fluff, and bits of humour that do not take away from the seriousness of the story.
I dare say Tobi Bakre is underrated. He gives a brilliant performance as the lead in this movie, and I am delighted with his performance. As usual, Toni Tones gives a great performance worthy of the accolades she has always received. Bright Okpocha (AKA Basketmouth) has always been a good actor, even with his comedy, and he gives a good performance here as well.
Omawumi is a surprise to me: she acts a serious role and gives it as good as she gets. It is good to see O.C. Ukeje back on our screens, and not in the stereotypical roles he had been pigeonholed into previously. But blink for too long, and you would miss seeing Deyemi Okanlawon in this movie. I wonder why.
The picture quality and camera angles are appropriate for a gritty gang movie; my drawbacks from the movie include the swiftness of the romance scene (it seems a tad unrealistic), and how civilians are spectators at the scene of a violent shootout between robbers and police special forces.
Those niggles aside, overall, Brotherhood is a great work of art. It is a movie I will see again and I look forward to seeing it on the streaming platforms. It is currently showing in cinemas across Nigeria.
NollyRated Score: 5/5 (Outstanding Movie)
NollyRated uses a 5-level scoring system, as follows:
Poor
Sub Par
Okay
Great
Outstanding
Join Our Tribe on Twitter: For updates on new Nollywood movie reviews, cinema reviews, and Nigerian movie personalities, join our tribe on Twitter @NollyRated.