Still Falling (2021) Synopsis: Two strong characters collide and are permanently changed in the events that ensue, after a reunion that brings back memories of a toxic post. Woven into their lives are the friends and loved ones who can try to make the best out of a sticky situation. Whether they succeed or fail is up to Fate.
This story of opposites – love and hate, faith and doubt, grace and guts, triumphs and regrets – will get everyone taking a deeper look at their motives and choices. How much is hidden behind painted doors? Can we truly know someone? Are we as steady in faith as we think we are or are we Still Falling?
Still Falling (2021) Movie: The Cast
Sharon Ooja 

Daniel Etim-Effiong
Liz Ameye
Bethel Njoku
Kunle Remi
Eddy Madaki
Lulu Okonkwo
Laura Fidel
Chavala Yaduma
Zeal
Panam Percy Paul
Still Falling (2021) Movie: The Crew
Dimbo and Karachi Atiya: Directors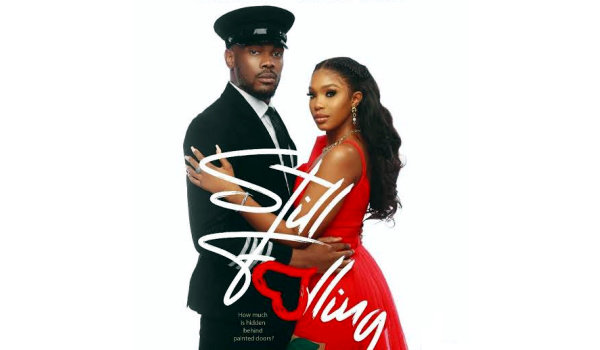 Still Falling (2021) Movie: The Review
This is a faith based movie and it is unapologetic about. It has a good plot and lovely story telling, but it dragged on for too long and mixed in a some African folklore about the supernatural. How else do you explain that someone who died in a plane crash appeared physically to a love interest, left her a physical souvenir, then pulled a disappearing stunt?
Still Falling is not a romantic comedy though. It is the story of abuse, lost love, love reborn, and vendetta. 
One thing you cannot take away from this movie is its beautiful cinematography. Abuja is such a lovely city to shoot movies in. Its wide, lovely tree-lined roads are beautiful to see.  It was also refreshing to see the inside of the Ecumenical Centre up close. The lead actors, Daniel and Sharon gave a good report of themselves, though I could have done with a lot less of Daniel's almost permanent smile, even in some serious scenes. 
A new thing I saw which I cannot decide if I like or not is the technique of printing the thoughts of the actors on the screen. It is a standard feature in Still Falling. I imagine that we might be seeing more of this in more movies over time.
A particular scene designed to be the pivotal scene of the movie, pretty much one on which the rest of the movie took is built on, should have ended sooner than it ended. Extending that scene the way it was done made it lose the impact it could have made. 
There are two things Nigerian movie makers really need to improve upon – continuity and authenticity.  The dates in the movie did not align with the acting; issues that happened in 2015, as shown in a journal are claimed to have happened seven years ago.  The female lead was truly distraught having lost someone close to her, yet her wig was still intact, and almost well brushed. Such little details make movies lose their authentic flavour. 
While it is a good thing the movie did not end with a happily ever after, that ending was not properly handled. A supposed dead man came to visit, left a physical object as a souvenir, then disappeared like a superhero. It would fit in the typical Nollywood Yoruba movie, but a faith-based movie? It looked like the writer/s were stuck as to how to end the movie and had a crisis of faith. 
The movie has a lot of unnecessary scenes that make it run too long. Still Falling could and should have ended sooner – and delivered a more powerful punch. 
NoolyRated Score: SubPar Movie (2/5)
NollyRated uses a 5-level scoring system, as follows:
Poor
Sub Par
Okay
Great
Outstanding
Join Our Tribe on Twitter: For updates on new Nollywood movie reviews, cinema reviews, and Nigerian movie personalities, join our tribe on Twitter @NollyRated.