Synopsis of Unroyal (2020): Unroyal is the story of an Okirika King's daughter, Princess Boma, a beautiful young lady who sees the world as her footstool. Arrogant, rude, inconsiderate, and feeling the world revolves around her, she treats everyone as though they weren't humans. However, the table turns when she has an accident that lands her in a coma. She needs the help of Kala, her gatekeeper, whom she had maltreated. Does he help her out? Does she survive it?
Cast
Pete Edochie
Blossom Chukwujekwu
Ime "Okon Lagos" Bishop Umoh
Abayomi Alvin
Femi Adebayo
Linda Osifo
Ik Ogbonna
Matilda Lambert
Emem Inwang
Chinenye Nnebe
Crew
Director: Moses Inwang
Producer: Matilda Lambert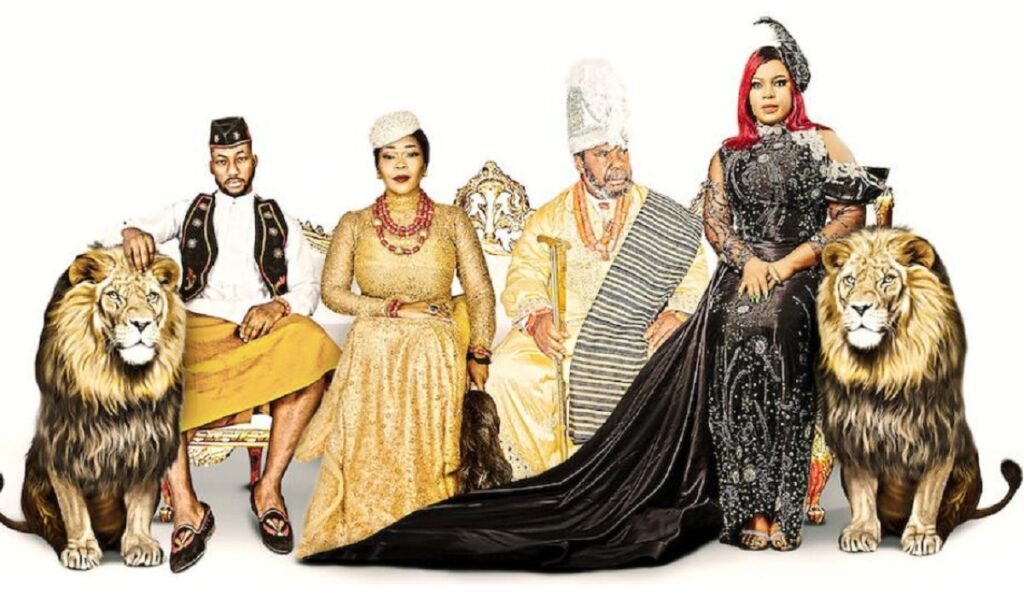 Unroyal: Review
Two things were good about Unroyal: Imeh Bishop Umoh's character that provides some real laughter, and the picture quality, but even those two things are not enough to redeem the movie. I find it hard to truly describe how bad this movie is, and how it left a bad taste in my mouth. 
Right from the opening scenes of the movie, it is obvious that the acting and plot of this movie is not well thought through. Hoping it gets better didn't work out well, because it only gets progressively worse from there. The story line is supposedly a romantic thriller, but the romance falls flat, there is no thrill, and even the comedy is tepid at best. 
The plot is unbelievably bad, and the actors obviously do not comport themselves in a way that suggests they believe in the script. The story has so many loose ends that give you the feeling of undone food, rushed to guests. The dialogue in Unroyal is one of the worst I have experienced as a movie reviewer, and I have heard terrible dialogues. Not a single line is memorable and there is no cliché to recall. 
One of the things that may redeem an awful movie is costuming. At least, if the movie script is bad, you can enjoy the clothes and props. The only costumes got right are the traditional Okrika clothes. The lead actor is mostly in ill-fitting clothes. The penultimate scene where she is in the palace, and she is in lingerie, makes me wonder what the costume crew was thinking.
And the finale appears to be the main aim of the movie – a showcase of Okrika style of wedding.
I do not think that the movie, Unroyal, should have been made. The story is uninspired and adds nothing to the art genre it attempts to represent. What exactly is such a poor production doing on Netflix?
NollyRated Score: 1/5 (Poor Movie)
NollyRated uses a 5-level scoring system, as follows:
Poor
Sub Par
Okay
Great
Outstanding
Join Our Tribe on Twitter: For updates on new Nollywood movie reviews, cinema reviews, and Nigerian movie personalities, join our tribe on Twitter @NollyRated.