Synopsis: Ratnik is set in a remote African town during the early days of World War III. A brazen special trooper returns home from the war-front to find her only sister on the verge of becoming the undead due to the abuse of a certain chemical substance. The race to save her life begins a new kind of war where the most advanced war machine known to man is unveiled.
Ratnik (2020) Cast:
Osas Ighodaro

as Sarah Bello

Ani Iyoho as Mekeva
Bolanle Ninalowo as Koko
Adunni Ade as Peppa
Karibi Fubara as Captain West
Benny Willis as Taurus
Akah Nnani as Seargent
Zikky Alloy as Atama
Meg Otanwa as Angela
Tope Tedela
Director: Dimeji Abiola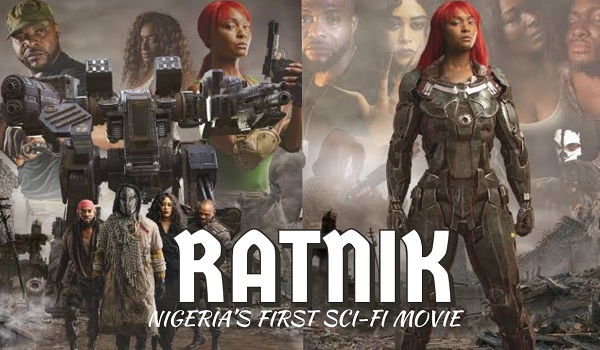 Review of Ratnik:
Ratnik set out to wow audiences with special effects, but the story is washy, and it fell flat on all counts. Granted, the producers tried hard with the computer-generated imagery and other special effects, but even that felt like the early days of superhero movies, in the late 50s when they were still getting a hang of special effects. We can forgive that and chalk it up to a first attempt. It can always get better.
It is in the plot and storyline that the movie fails woefully and cannot be excused. While it is ambitious, it failed woefully in execution. The story was all over the place. There were lots of loose ends in the story that were never tied together. 
For a movie that marketed itself as a special effects action movie, it took too long before we saw any real action. The first 35 minutes of the movie was all sob stories, and a scattered attempt to establish the plot. This viewer struggled to understand what the story was about. 
The idea of science fiction movies, though it often requires us to suspend reality, is to enhance the inate acting abilities of the characters in order to provide a believable performance.  In the case of Ratnik, the acting was quite poor.
The protagonist, Sarah Bello (Osas Ighodaro) was supposedly drafted into the elite special forces of the nation's army, though she had no previous military training or experience. Unbelievable. Nobody drafts a novice into a special elite force.
On her return as an elite trooper, her skills were nothing to write home about. She kept being bested by the thugs around. Her handling of weapons were akin to what rookies would do, and as the movie progressed, she displayed no intelligence expected of someone who was trained to be the best.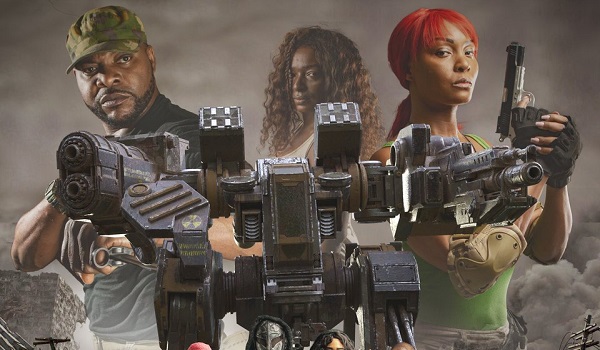 Koko (Bolanle Ninalowo) is her old boyfriend, who is supposedly a rogue agent that  has deep knowledge of the virus, but his acting in this role left a sour taste in the mouth. In the scenes where he filled Sarah in with information he supposedly had gathered on the virus, his mien was that of someone who was bewildered, not that of a confident, competent field officer who knew his onions.
I dare say Bolanle Ninalowo should only act roles in which he is permanently bewildered, as that was the facial expression he had on all through his appearances in Ratnik. He displayed no confidence or assurance of his own abilities.
The other supporting actors, especially the minions of the antagonist, were mostly pedestrian.
And it has to be said: the dialogue in this movie is the worst I have ever experienced. There were many one liners that could have been used to provide some good memory, but they came out lame and tepid, leaving a bad taste in the mouth of the viewer. This script is very bad. 
The major selling point of Ratnik is the special effects, but as I pointed out earlier, even that left a lot to be desired.  The effects were totally not in tandem with the scenes.  The sizes of the machines were not proportional, and the weapons, when seen up close or far away looked exactly like what they are, to guns, and no special efforts were made to make them look real and believable.
Audio was particularly poor. In some parts of the movie, the sound was like a poorly dubbed pirated movie.  
When we thought it was all over, the concluding scene brought even more confusion, which is saying a lot, as the movie had been confusing all along and I was sure it couldn't get worse.
Watching Ratnik was quite painful. I was almost in tears. I acknowledge that the movie had lofty ambitions, but I am convinced it would have fared better as a 10 to 30 minute short movie to test the waters. Hopefully, the producers and script writers will take criticism in good faith and use it to deliver a much better flick next time. 
It is good to see Nollywood explore a more technical movie, a departure from parties, comedy, romance, and jazz. We are hoping to see more (and better) attempts at the genre.
NollyRated Score: Poor/Bad Movie (1/5)
Join Our Tribe on Twitter: For updates on new Nollywood movie reviews, cinema reviews, and Nigerian movie personalities, join our tribe on Twitter @NollyRated.