2 Weeks in Lagos (2021) Synopsis: In 2 Weeks in Lagos, the lives of Ejikeme and Lola collide when Ejikeme, an US-based investment banker, returns home with Lola's brother, Charlie, to invest in Nigerian businesses. It is love at first sight for them and as they embark on a journey of discovery, they have to contend with the political ambitions of Ejikeme's mother who is planning a marriage between him and the only daughter of Otunba Ayodeji, a political juggernaut who is considering Ejikeme's father as his running mate for the Nigerian Presidency.
The Cast
Toyin Abraham – Kemi

Shaffy Bello – Mrs. Makinde
Mawuli Gavor

– Ejikeme

Jide Kosoko – Dr. Makinde
Tina Mba – Sisi Toyin
Beverly Naya

– Lola

Deyemi Okanlawon – Joshua
Uto Rosman – Wande
Joke Silva – Mrs. Chukwuemeka
Okey Uzoeshi – Charlie
The Crew
Writer/Producer/Director – Kathryn Fasegha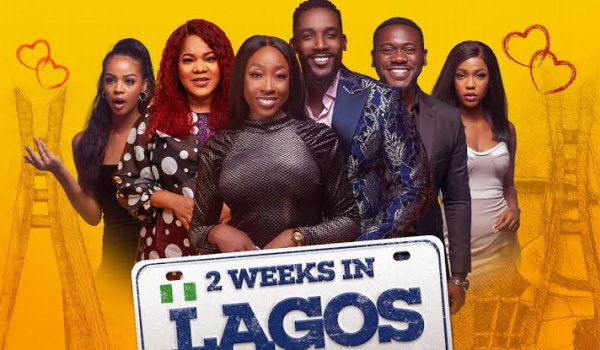 2 Weeks in Lagos: The Review
With a title like 2 Weeks In Lagos, I expected glamour, excitement, glitz and hilarious comedy spiced with the energy Lagos is known for, but I was sorely disappointed. For a star studded movie that had Joke Silva, Shaffy Bello, Beverly Naya, Deyemi Okanlawon, Jide Kosoko, Mawuli Gavor, Toyin Abraham, and Tina Mba on set, it left a lot to be desired.
The plot was all over the place as a result of trying to in too many sub plots. Some parts of the plot was totally unrealistic and beggars belief, even in a country like Nigeria. How do we go from intervening in a man beating his 5 year old daughter, claiming she's a witch, to a complete stranger taking the child from him, taking her in as her own and immediately she is ready to dedicate her and give her a new name?
In addition, the casting could have been better. Jide Kosoko and Shaffy Bello are light in complexion; it is hard to believe they birthed the ebony queen that Beverly is.
The movie has an identity crisis. Is this a romantic drama, a comedy, a political thriller, or even a Christian movie? It definitely has all the appropriate Christian expressions.  The acting was so stilted, it was as if the actors neither understood nor believed in the script.
Forty five minutes into the movie, hardly any scenes had elicited major laughter. 
It was nice to see Toyin Abrahams in a different role – quiet and supporting, speaking proper English. Those wigs made her look old though and the continuity was not tight. How could someone who had been kidnapped for days still have her wig looking so glossy and beautiful? The two wedding scenes added nothing to the movie; they were more of time fillers. The movie should have ended earlier than it did. 
Most of the interior shots had poor lighting. In some scenes, the faces of the actors were not visible.  The fashion show could have been better executed. For a show hosted by the daughter of a wealthy man, it felt like a secondary school affair. 
A Few Good Things
There were a few good things about 2 Weeks In Lagos. The opening montage gave a good view and perspective of the Lekki Ikoyi bridge at night and also gave us a good view of the beautiful lights of Lekki phase one.
There is an injection of local flavour: the actors ate at a Buka and they played Ayo (a Nigerian game of calculation usually played in carved out spaces using seeds)  for entertainment. The unexpected cat fight between Joke Silva and Shaffy Bello was an scene too.
But those good aspects are too few to redeem the movie. Every hope I had for it was dashed. 2 Weeks In Lagos should have stayed on the small screen. 
Nollyrated Score: Poor Movie (1/5)
NollyRated uses a 5-level scoring system, as follows:
Poor
Sub Par
Okay
Great
Outstanding
Join Our Tribe on Twitter: For updates on new Nollywood movie reviews, cinema reviews, and Nigerian movie personalities, join our tribe on Twitter @NollyRated.