Living in Bondage: Breaking Free, also known as Living in Bondage 2, is a 2019 Nigerian supernatural thriller film executive produced by Charles Okpaleke. A sequel to the 1992 classic Living in Bondage, the film stars Kenneth Okonkwo, Kanayo O. Kanayo, Enyinna Nwigwe, and Muna Abii, with Swanky JKA in his breakout role, and Ramsey Nouah making his directorial debut and starring as the main villain.
Our Social Media round up showed mostly positive experiences for the movie goers. In May 2020, it was released on Netflix, enabling Nigerians in diaspora to have access to the movie, and to give a sense of nostalgia. Someone thought the storytelling was the usual bad storytelling of Nollywood.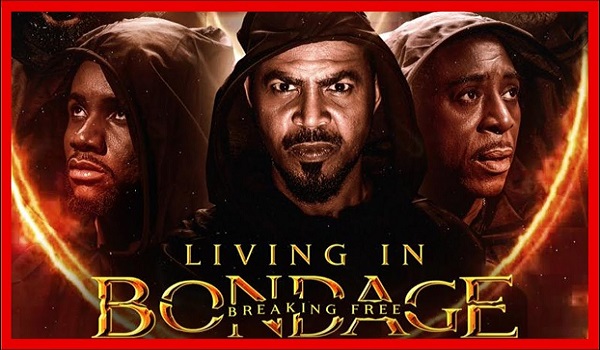 After the movie was released, a lady went on Twitter to say that her creative work was used and she received no compensation, because her contact claimed her designs were not used in the movie, but she saw them all over the movie. The issue was eventually resolved with the director giving her due compensation for her creative work.
Just finished watching #Livinginbondagebreakingfree
Things are really happening tho ????????.@RamseyNouah great movie ????????????????????

— ???????????????????????????????????? ???????????????????? ???????????????????????? (@AarJay_Official) November 23, 2020
I am 20 minutes into #LivingInBondageBreakingFree and I have already concluded its the best movie ever directed in the Nollywood space. The casting, the set, plot, the score, soundtrack, picture & sound editing, visual effects and the dialogues all top notch. I am impressed.

— The Last Food Bender ???????????????? (@MahmoodSalisu) November 14, 2020
Living in Bondage: Breaking Free was released a year ago. The sequel of the 19992/93 blockbuster, Living in Bondage, was one of the most successful Nollywood cinema releases of 2019.
.
.#567Ent #LivingInBondageBreakingFree #LivingInBondageTheSequel #RamseyNouah pic.twitter.com/NDcJOrEP9p

— 567 ENTERTAINMENT (@567Ent) November 10, 2020
Your role interpretation in #livinginbondagebreakingfree was excellent @munachiabii. Good job ????????????

— Kele Chineke (@Kaycee_Bishop) October 12, 2020
https://twitter.com/olakunle_soj/status/1275805484604370945?s=20
#Entertainment #LivingInBondageBreakingFree Ramsey Nouah compensates lady who called him out for using her graphics work without pay on Living in Bondage https://t.co/TzUnJmb0cX pic.twitter.com/2SeAQ3pVfx

— Kemi Filani News – Kemifilani.ng (@Kemifilaniblog) June 17, 2020
Awwwwwwwwwwwwwwww…..
☺️☺️☺️☺️☺️

I'm smiling from ear to ear…. 2hours 25minutes of bliss… Perfection…#LivingInBondageBreakingFree is ????

Let me sleep now????

— Clarisse Ndinge???????? (@Ndinge) June 9, 2020
The brand placements in #LivingInBondageBreakingFree are smooth!! Effortless… Smart advertising…. Maddddtt!!

— Clarisse Ndinge???????? (@Ndinge) June 8, 2020
I'm watching #LivingInBondageBreakingFree after so much anticipation… 30 minutes into the movie, my expectations are already being superceded ????????????

Amazing stuff… Its night, let me be watching and tweeting alone ????

— Clarisse Ndinge???????? (@Ndinge) June 8, 2020
The movie "Living in Bondage Breaking Free" was worth the hype. Gosh, I so enjoyed watching the movie now. Well done to all the actors ???????? #livinginbondagebreakingfree #WednesdayThoughts

— OMA (@omalicha_oma) June 3, 2020
@Ramseynouah_ you were the perfect villain ???????? for #livinginbondagebreakingfree Cinematography was ???????? as well as some scenes. Well done!

— Adiagha (@enoquin) May 30, 2020
#LivinginBondageBreakingFree
This is prolly, no scratch that, this is the best Nollywood movie I've ever seen

@iam_ramseynouah killed it
An actor with a difference!

— Mercy (@zeeeennyyyy) May 28, 2020
When you sell your soul to the devil,he comes after everything. Including lineage.#livinginbondagebreakingfree

— Auntie_K (@ThorleyJanet) May 27, 2020
Forget Ramsey Nouah Na another actor entirely for Nollyhood. Nigga got swaggs that differ from other seeing this movie #LivingInBondageBreakingFree

— OBAPOPO (@Prinzpopo11) May 27, 2020
Omoh @iam_ramseynouah finish work ????????????????????????????????????????????????

— excellensng (@excellensng) May 25, 2020
The devil doesn't give you anything for free. When you take,you give????#livinginbondagebreakingfree

— Auntie_K (@ThorleyJanet) May 25, 2020
This movie is great. Worth watching. Love how it reminds me of old nollywood #livinginbondagebreakingfree

— Presh (@Precious_S12) May 25, 2020
I just started watching 'Living in Bondage:Breaking Free'
I knew this movie was scary right from Part one…..but did this guy just kill his daughter?????‍♀️????‍♀️????‍♀️????‍♀️????‍♀️#livinginbondagebreakingfree

— Auntie_K (@ThorleyJanet) May 25, 2020
Living in bondage is a brilliant movie.
A series teaching can be done on the encounter between "Andy Okeke and Richard Williams" in the church scene.
Deep knowledge !!! #netflix #livinginbondagebreakingfree #doctrineschallenged

— Tunde (@murphurs) May 25, 2020
#LivingInBondageBreakingFree Should have another part right? Well it might not because lots of evil perpetrators are still out there living free and large. Everyone wants riches but are you ready for the sacrifices?

— ewatomilola (@___ewatomilola) May 24, 2020
Totally impressed with #Livinginbondagebreakingfree. Nollywood is finally making my kind of movie. Kudos to the crew.

— Princemoziz (@mosesnyamali) May 24, 2020
If you watched living in bondage in the early-mid 90s, and watched #livinginbondagebreakingfree , you will appreciate the growth of the Nigerian movie industry!!! Kudos to Ramsey Nouah, he did justice to this!
Cc @Gidi_Traffic

— TheUnknown! (@drbugzy) May 24, 2020
finally watched#livinginbondage #livinginbondagebreakingfree one word DAMN!!! awesome movie !!

— Kairi (@KairiIsh) May 23, 2020
The movie is everything! ????????

Acting, production, wardrobe, cinematography, culture…everything so rich & upscale.

The inclusion of some of the 1992 actors was the icing on the cake.#LivinginBondage #LivinginBondageBreakingFree

— C for China (@chi_xtine) May 23, 2020
They should have not bothered with it. #LivingInBondageBreakingFree

— Rosie (@_Ekwi) May 23, 2020
Now that is has been made #LivingInBondageBreakingFree
Do you think it answered the previously asked question?

— popcornandreels (@popcornandreels) April 15, 2020
I thoroughly enjoyed #LIB #LivingInBondageBreakingFree
Thank you @stevegukas @ramseynouah1 and everyone involved. Give us a sequel already. ???? #OneLove ✊ #NigerianCinema
????

— Tope Oshin (@topeoshin) December 28, 2019
On Saturday I finally went to see the most anticipated movie of 2019, #livinginbondagebreakingfree. I was really excited and just literally praying that the movie is as good as the prequel, 1992 #livinginbondage
And to be honest, the movie was really good.

— Your Rich Auntie (@adejokewrites) December 10, 2019
Living in Bondage, is easily the best Nigerian Movie I have seen in over 5 years.#LIB #swankyjka #livinginbondange #livinginbondagebreakingfree

— Jasmine (@thejaymizy) December 1, 2019
"Living in Bondage: Breaking Free," does not break free from poor storytelling.#LivingInBondageBreakingFree https://t.co/xUNUBazswR pic.twitter.com/SmTWHPBx8J

— flickchat.tv (@flickchat_tv) November 11, 2019