Namaste Wahala is the love child of the fusion between Nollywood and Bollywood. It was entirely shot in Lagos, and released on Netflix on 14 November, in time for Valentine's day.
There were mixed reactions from the people on social media, hardly any fence sitting, those who love it, love it for its cheesiness, those who hate it, hate it for bad acting and cinematography. What is interesting about this roundup is that it cuts across Nigeria and India.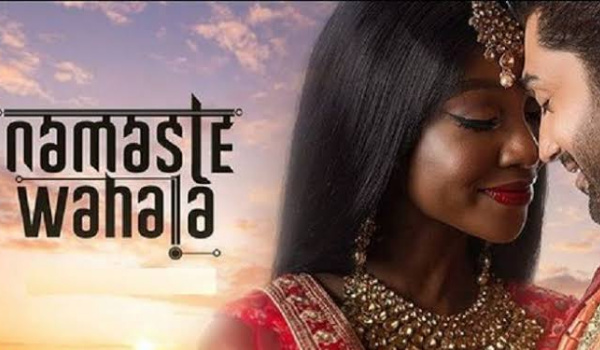 Here is a sample of what people said about the movie. One thing is that it is making waves, and people are still talking about it.
Lmao this Rajs friend in this movie is probably my favorite character. He played it so well. So Nigerian! I would definitely love to see more of him. #NamasteWahala

— Olajumoke Enyinnediya Ebere (@JumokeO_) February 16, 2021
#NamasteWahala is actually a good movie ????????????????☺️. Thoroughly enjoyed it

— saumu (@nthombi__) February 16, 2021
https://twitter.com/I_am_mutsawashe/status/1361643788314308618?s=20
I was just smiling during Raj and Didi's wedding????. Thank God they sha God married after all the wahala.
Namaste wahala is such a good movie #NamasteWahala #Netflix

— Baby girl ✨ (@moyooyeniyi) February 16, 2021
Just in case you're planning for n watching #NamasteWahala don't @Flourishing2021 it's a snooze fest!!!!!

— ButterCup ???? (@NanaCessi) February 16, 2021
Can we please talk about #NamasteWahala ?? How everything is just ???? perfect.. the storyline, the authenticity, esp the accents and can we talk about the actors?! The way ALL of them were just perfect, I loved Raj's mom! And omg the Indian bgmusic.. everything's a solid 10/10!!

— ig : lilmiloais???? (@lilmiloais) February 16, 2021
I enjoyed #NamasteWahala sha.

— G-WAGON 3.0!!!✨???? (@emiene_) February 16, 2021
#NamasteWahala
I honestly think the movie is overrated. An average agbero doesn't harass foreiner not to talk more or a yellow cab driver.
Few scenes in India wouldn't have been a bad idea too.
Last last Sha, I enjoyed the India dance thing!

— Adeola Adebola (@Adeolavp) February 16, 2021
https://twitter.com/nanadijah/status/1361616575099461632?s=20
The slap @RMofeDamijo landed on his client ???????????????? #NamasteWahala

— Eku Georgie Edewor (@EkuEdewor) February 16, 2021
My fav thing about #NamasteWahala is not the movie – it could be better on all fronts but is basically a low budget romcom – but lots of people here discovering not just Bollywood but Nollywood cinematic conventions, aesthetics and style ????

— Sunny Singh (@ProfSunnySingh) February 16, 2021
Angie!!!! Such a vibe.

Always loved Anee Icha. My kind of vibe #NamasteWahala

— G-WAGON 3.0!!!✨???? (@emiene_) February 16, 2021
https://twitter.com/KGuilaine/status/1361603657737900032?s=20
#NamasteWahala let me down o! How do you bring together two amazing cultures with arguably some of the best music in the world and you give me that lousy song? I feel like I have to re-do the movie myself just to redeem it. ????

— Uriri "Ulili" Onovakpuri (@unolil) February 16, 2021
#NamasteWahala nice movie. A good storyline. @callme_frodd2 Hope the slap no too enter. @IniDimaOkojie u did a very good job. U don even dance pass the Indians sef. Kudos to the team.

— Dozie Adindu⭐ (@lynoville) February 16, 2021
#NamasteWahala was probably the funniest movie I've seen in months. Definitely worth a watch imo

— Randy ???????? (@BrooklynBiGuy) February 16, 2021
I really wanted to appreciate #NamasteWahala. Every fibre in me was willing me to be bowled over. Still appreciative that it was conceived of. #Nollywood #Bollywood #NollywoodBollywood
Great concept, poor execution pic.twitter.com/uB6dcFxsT5

— Tchiyiwe T Chihana (@AfriWoman) February 16, 2021
Really wasted my time watching #NamasteWahala

Was the singing necessary?!

— Wateba 21.7 ???????? (@iWateba) February 16, 2021
I don't know how to feel about this song & dance number in #NamasteWahala

— D~ Anti-Hero Era (@kanthonysorchid) February 16, 2021
This taxi driver was d highlight of d show for me. He had me weakkk #NamasteWahala pic.twitter.com/Oiz16kIMUN

— RayKay⁷ _???????? | NAMTIDDIES (@NamTiddieJiggle) February 16, 2021
Do not forget to read our review of the movie too, available here: Namaste Wàhálà (2021) – Movie Review.
Join Our Tribe on Twitter: For updates on new Nollywood movie reviews, cinema reviews, and Nigerian movie personalities, join our tribe on Twitter @NollyRated.