Rattlesnake the Ahanna story is a remake of the 'RattleSnake', a 1994 Nollywood classic directed by the late Amaka Igwe and produced by Austin Awulonu. It tells the story of a young boy named Ahanna Okolo (Francis Duru), who got into the life of crime as a result of unfortunate events in his childhood.
The classic was made when there was no social media, but the current one is enjoying social media buzz and we have a compilation of what the people are saying about the movie. The movie was released during the weekend of 20 November, after a star studded premier.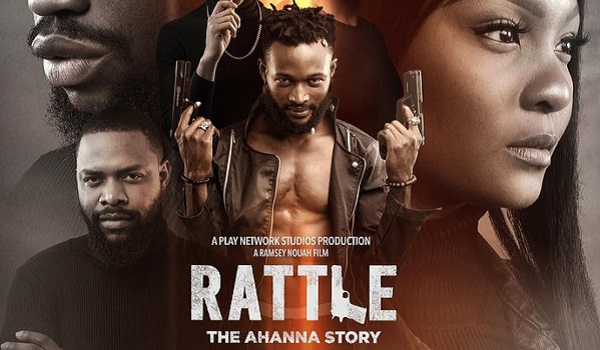 Most of the movie goers indicated that they enjoyed the movie, though they did not mention specifics. Some said they would have preferred if some of the people who acted in the classic had roles in this remake. Someone used memes to express how she felt at some of the scenes.
I finally saw #RattleSnakeTheAhannaStory
I wish Francis Duru who played Ahanna in the 1st Rattle snake movie of 1995,featured in the remake and played the part of Ramsey Noah or Mamohod in the Remake.
Since It was a 3 part story,I am thinking the remake may have a Sequel.#movie

— Obianuju Lilian Ikegbune (@Ujuunwa) November 23, 2020
These guys are amazing. I loved every bit of the movie, Mr. Richard Williams how far na? I need credit alert too 😂😂 #RattleSnakeTheAhannaStory pic.twitter.com/p7OCHgsa5G

— Mrs Akins (@taymitawpeh) November 22, 2020
https://twitter.com/taymitawpeh/status/1330647154684284928?s=20
https://twitter.com/The_Bimss/status/1330479287376474112?s=20
The fact that Ahanna said "that's the way the cookie crumbles" as a response to Sango being killed and the other 3 being arrested lives rent free in my head.#rattlesnake

— Akwa Ugo 🦅 (@WendyA__) November 22, 2020
I really like what Charles of Play and Ramsey Nuoah are doing with these Nollywood remakes. Especially with the selection of new actors as casts.
Great story telling,
Awesome directorial skills,#RattleSnakeTheAhannaStory

— Joan Omionawele (@joanbajojo) November 22, 2020
My heart every Ahanna shirtless scene #RattleSnakeTheAhannaStory pic.twitter.com/eMJXJgtC4F

— bourbonspicedcoffee (@urban_duff) November 22, 2020
Me trying to understand why Amara shot Ahanna's wife #RattleSnakeTheAhannaStory pic.twitter.com/K4VChET5SA

— bourbonspicedcoffee (@urban_duff) November 22, 2020
Me when Nze decided to shoot all the police men but didn't get one bullet out #RattleSnakeTheAhannaStory pic.twitter.com/CEOk5tsq1A

— bourbonspicedcoffee (@urban_duff) November 22, 2020
Ramsey Nouah is bringing something different to Nollywood #RATTLESNAKE#RATTLESNAKETHEAHANNASTORY

— J-FØUR (@itzjefe_) November 22, 2020
Igbo language is really sexy #RattleSnakeTheAhannaStory

— O.M (@girllikemabel) November 22, 2020
#RattleSnakeTheAhannaStory did good numbers in its first week at the cinema.. pic.twitter.com/bF7kqPQUsB

— Nwa-afọ Uburu 🇷🇼 (@Salttybarber) November 22, 2020
Omo! Rattlesnake was maaaaad! Everyone should see it! Love the use of Igbo language, great storytelling, twists and acting. Nze was the best actor for me…would love to see more of him. Love the @RamseyNouah cameo.

Nollywood is killing it!#RattleSnakeTheAhannaStory

— Donda West. (@segebee) November 22, 2020
The fact that Ahanna killed his mom is still leaving rent free in my head #RattleSnakeTheAhannaStory

— Small body BIG engine (@Alexander_OTega) November 21, 2020
I saw the movie yesterday here in owerri… You're an amazing actor… God bless you.#RattleSnakeTheAhannaStory

— Pricelessmuna👑🍉👑😍😘 (@PricelessMuna) November 21, 2020
U and Lolipop eeeh
I smiled all through..
U guys re great i swear 🤬
The movie is a must watch.#DeshapeablesXBlackFriday#RattleSnakeTheAhannaStory

— Pricelessmuna👑🍉👑😍😘 (@PricelessMuna) November 21, 2020
What a movie….i enjoyed it….#RattleSnakeTheAhannaStory

— Uche Okigala (@UcheOkis) November 21, 2020
But honestly lol
I dont think I have acknowledged the promotional poster of #RattleSnakeTheAhannaStory
Especially the one when you guys stood in one order and faced a direction
I really like it😂 https://t.co/zeXgveDu7z

— OCCASIONAL BADDIE👑🗡 (@Ozonoella) November 21, 2020