Sanitation Day (2021) Synopsis: A dead body is found in a 'face-me-I-face-you' compound during an Environmental Sanitation exercise one morning. The tenants point at 4 suspects. The Police arrive and have till 10AM to solve the case before the scene becomes untenable. This is a race against the clock. Eventually, everyone is a suspect, and they are all guilty of something and it may not be murder.
Movie Cast
Blossom Chukwujekwu – Inspector Hassan
Chuks Chyk – Chukwudi
Belinda Effah – Ekaette
Elozonam – Inspector Stanley
Nse Ikpe-Etim – Madam Suzie
Tobi Bakare – Dead Man
Adebayo Salami – Baba Risi
Chris Okagbue
Saeed Mohammed
Baaj Adebule – Security Man
Elvina Ibru – Contractor
Movie Crew
Seyi Babatope – Director/Writer/Executive Producer
Temitope Bolade – Writer
Diche Enunwa – Writer
Moses Babatope – Executive Producer
Debbie McCrum – Executive Producer
Kene Okwuosa – Executive Producer
Kefei Wang – Executive Producer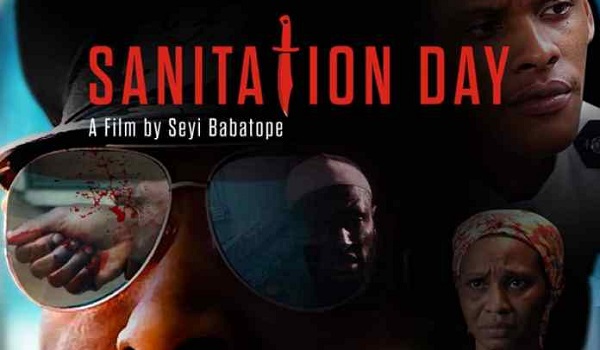 Sanitation Day Movie Review
The movie started like a Whodunnit with a lot of comedy – situational, natural and unforced comedy. The first half of the movie had me laughing, but by the second half I was on the edge of my seat, because the reveal was very interesting and there were a lot of things to unravel. Sitting on the edge of my seat was to ensure I missed nothing.
I must say this is the first time I would see Elozonam in a movie. His acting was very good, and as usual Blossom did not disappoint in his role as the lead investigator. I was very happy to see both Belinda and Nse in their elements, speaking efik in a way that made you want to listen to them all day and all night. The acting was great, and the mix of different Nigerian languages was enjoyable.
You would be forgiven to think this movie was a social and cultural satire. There were sublime messages, using sound and imagery. It had issues about tribal stereotypes. For example, it put on display how law enforcement officers could make snap judgements about people, based on their tribes, their profession and their lack of ability to speak a generally accepted language.
One funny take was how Nigerians don't know how to respond to questions in a straightforward manner.
The second half of the movie gave us the backstory and we realized it was not what we thought along, I must say that was well executed. While the story could have been acted, instead of told, the movie can be forgiven for that, as the script writing was top notch.
Technically, the sound quality of the movie was very good, always in sync, and of the right volumes for all scenes. But it could have done with some more music. It is possible though that the movie was designed like that so we could focus on the dialogue.
I like the unexpected camera angles that captured unusual perspectives. Sanitation Day had quite a bit of such. The movie extended beyond where I thought it should have ended.
A movie of this nature should have left the audience wondering and arguing about what happened after. Instead, there was an explanation. Industry sources say that this ending was a directive from the Censors Board, so I forgive the movie producers.
But I so enjoyed watching Sanitation Day that I would watch it again if I could.
NollyRated Score: 4/5 (Great Movie)
Join Our Tribe on Twitter: For updates on new Nollywood movie reviews, cinema reviews, and Nigerian movie personalities, join our tribe on Twitter @NollyRated.