Synopsis: In A Young Time Ago, a dashing man tells a beautiful stranger the sad story of his young-love-gone-sour from his university days.
Table of Contents
The Cast
Wale Ojo: Mr. Gee
Daniel Etim Effiong: Older Tayo
Mofehintolaoluwa Jebutu: Younger Tayo
Sophie Alakija: Older Kemi
Tolu Osaile – Younger Kemi
Omobola Akinde: Older Franca
Modesola Ogundiwin: Younger Franca
Timini Egbuson: Magic
Brutus Mfon Richard: Shadow
Florence Odole
The Crew
Director: Tolu Lordtanner
Writer: Tolu Lordtanner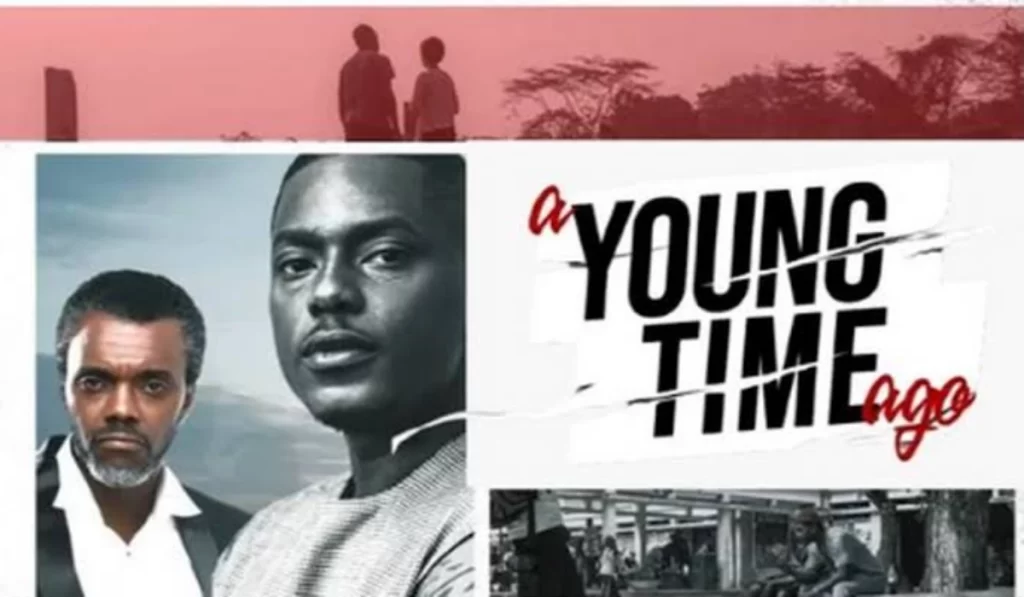 A Young Time Ago: The Review
If you think this movie is a romantic drama, you will be right. And if you think it is a crime drama, you will also be right. It straddles both genres and nothing is lost; this is a movie I really enjoyed. 
At first, I wondered why Daniel is used as a storyteller, but it works out in the end, and the younger versions of the actors do a good job. It is refreshing to see a lot of unknown and young actors. I am glad they used most of these for the roles. 
The actor in the role of younger Kemi requires more acting classes and more experience. She is mostly wooden in her acting, but it does not take away from the movie. The movie does not feature great cinematography or theatrics to tell the story; just good old-fashioned storytelling that captivates.
A simple plot that gives you an unexpected twist that will make you shout, "What is that?" and makes you want to re-watch the movie. The story addresses the issues of rape, revenge, and the consequences, but it weaves these themes around a sweet love story.  A love you think is lost, then you realize that there is an unseen hand guiding the fates of the characters. 
With an unusual title, A Young Time Ago is a movie you will want to watch with friends and discuss its details and how they represent or misrepresent reality. It gets you thinking, and that is the hallmark of a great movie. 
NollyRated Score
Score: 4/5 (Great Movie)
NollyRated uses a 5-level scoring system, as follows:
Poor
Sub Par
Okay
Great
Outstanding
Join Our Tribe on Twitter: For updates on new Nollywood and Hollywood movies, reviews, cinema reviews, and Nigerian and American movie personalities, join our tribe on Twitter @NollyRated.