Synopsis Of KOB2:THE RETURN OF THE KING: Alhaja Eniola Salami starts life anew in Nigeria and sets her sights on a different position of power, fuelled by revenge, regret, and ruthlessness.
The Cast
Sola Sobowale – Eniola Salami
Efa Iwara – Dapo Banjo
Titi Kuti – Ade Tiger
Nse Ikpe-Etim – Jumoke Randle
IllBliss – Odogwu Malay
Remilekun Reminisce – Makanaki
Deyemi Okanlawon – Adetola Fashina
Osas Ighodaro – Sade Bello
Charly Boy – Odudubariba
Akin Lewis – Aare Akinwande
Toni Tones – Young Eniola
Keppy Ekpenyong-Bassey – President Mumusa
Tope Olowoniyan – Aisha Banjo
Richard Mofe-Damijo – Reverend Ifeanyi
Bimbo Manuel – Habib Mogaji
Taiwo Ajai-Lycett – Chief Mrs. Randle
The Crew
Kemi Adetiba – Writer, Producer and Director
Remi Adetiba – Producer
Joy Nnamdi-Yusuf – Producer
Colette Otusheso – Producer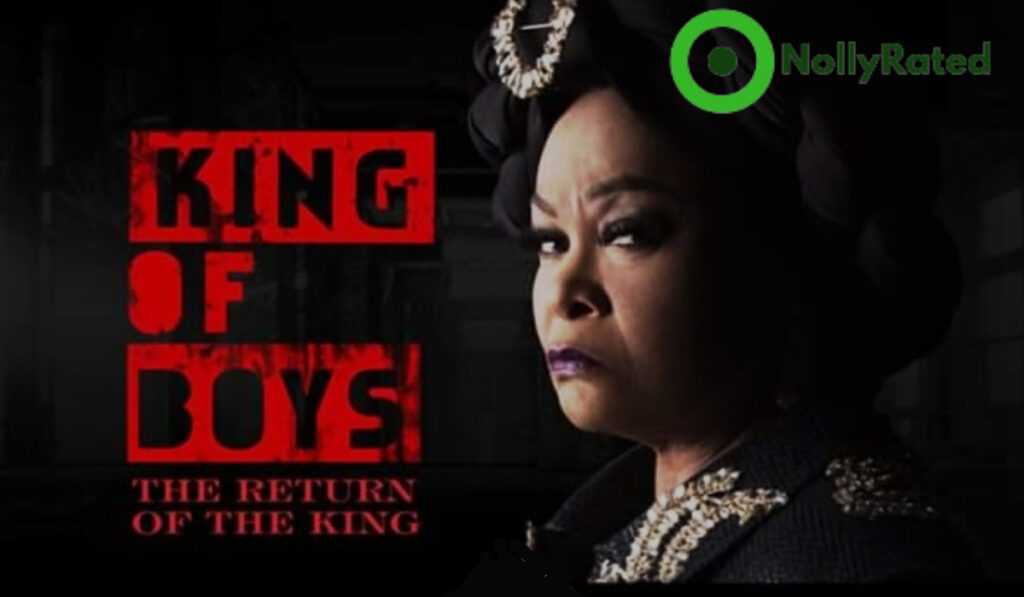 KOB2 – King Of Boys 2 – The Return Of The King: The Review
The anticipation of this movie, or series, had been very high on social media, and I dare say it lived up to the hype. The original King of Boys movie broke a lot of ceilings in Nollywood, and we all thought it was better to leave it as it is to prevent the sophomore slump (or sophomore curse – a thing in the arts where the second project after a monumental debut doesn't get the same reception as the first time around). KOB2 not only broke this curse, it shattered it to smithereens and took us to space in a rocket.
The casting of KOB2 gives the most appropriate roles to the people who would leave all on the screen, and they give stellar performances, including those who had non-speaking roles and cameo appearances. The acting is on point, so much that even facial expressions spoke volumes. In particular, Eniola Salami, played by Sola Sobowale, used facial expressions in silence, saying nothing, yet speaking loudly, is an image of the quintessential Yoruba mother.
The picture quality of this movie makes me want to lick my screen (and I have seen the series twice). The crispness and burst of colours is beautiful.
The costume designers understood the assignment and brought all to the table. The clothes given to Oba, Eniola Salami, for every single scene she appears in shows careful thought and a synergy between the cast and crew of this movie. It is the kind of synergy and excellence we have clamoured for in Nollywood.
The use of proverbs, innuendos, and play on words, provides so many memorable one liners and quotes that will remain on our tongues for a long time. We will quote the lines and recall the pleasure of watching this series.
There are some loopholes. Where did Odudubariba come from? He was not in the first instalment. He was not even a minion, so how did he grow to take over the elders' table? Where and when did Oba and Makanaki reconcile and strategize what would happen in the last episode? At the shrine, we see Makanaki mention Eniola Salami as one of his enemies, yet, they reconcile at the end without any form of fight or negotiation that we see. Perhaps these are not loopholes, but openings for future sequels.
Loopholes or intentional omissions for the sake of future spins, nothing takes away from the overall excellence of this piece of art, and we wish we have a higher score to give to King Of Boys 2. This return of the king is glorious.
Score: 5/5 (Outstanding Movie)
NollyRated uses a 5-level scoring system, as follows:
Poor
Sub Par
Okay
Great
Outstanding
Join Our Tribe on Twitter: For updates on new Nollywood movie reviews, cinema reviews, and Nigerian movie personalities, join our tribe on Twitter @NollyRated.