King of Boys Movie Cast: 
Sola Sobowale – Eniola Salami

Remilekun Reminisce Safaru – Makanaki
Adesua Etomi-Wellington – Kemi Salami
Paul Sambo – Nurudeen Gobir
IllBliss – Odogwu Malay
Toni Tones – Young Eniola
Ademola Adedoyin – Kitan Salami
Sani MU'AZU – Inspector Shehu
Jide Kosoko – Alhaji Salami
Sharon Ooja – Amaka
Osas Ighodaro – Sade Bello
Akin Lewis – Aare Akinwande
Lami Philips – Eniola's mother
Rotimi Adelegan – Governor Onikoyi
Funlola Aofiyebi – Aisha
King Wasiu Ayinde Marshal – Self
Taiwo Olawumi Oladimeji – Child Eniola
Norbert Young – Justice Nwachukwu
Director: Kemi Adetiba
King of Boys Movie Synopsis: 
King of Boys tells the story of Alhaja Eniola Salami (played by Sola Sobowale), a businesswoman and philanthropist with a promising political future. She is drawn into a struggle for power which in turn threatens everything around her as a result of her growing political ambitions. To come out of this on top, she is caught up in a game of trust, not knowing who to really look up to, and this leads to her ruthlessness.
King of Boys Movie Review
: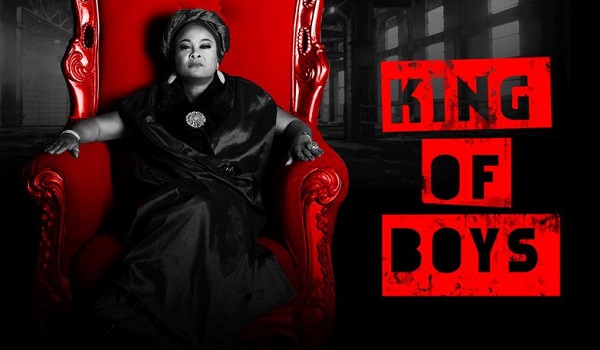 Let me state that King of Boys (KOB) is not your regular Nigerian Movie, it was three hours long, and worth every minute spent watching it, barring a few minor issues, this movie gives me hope that Nigerian film makers can improve and give us world class movies. 
KOB starts off, like many other Nigerian movies, with a big party, popularly known as owambe, bellying the action that would later hold you by the jugular and not let you go till the credits roll.  Eniola Salami (Sola Sobolawe) obviously has great influence, as a business mogul, philanthropist and political influencer. The state governor makes an appearance at her birthday party. This singular act shows the extent of her influence and she shows such charm and humility, with a smile and a hug for everyone. 
Right in the midst of the party, we are given a glimpse of her ruthlessness, and one of the things that made her the woman she has become. Eniola, still dressed to the nines, excuses herself from her guests to go deal ruthlessly with a person who is bloodied and in great pain. From the manner in which she questioned him, it appears the man had kidnapped someone. Anyway, she kills him with a long blunt object, and blood sputters everywhere. This gripping scene gives us an inkling into what is to come in the movie. You are forced to sit up, and pay attention. 
We are then taken to one of her business locations. She is a seller of fabrics – expensive fabrics. Her selling technique is unique, and yet not so unique – always cheerful and massaging egos. If you have ever shopped for fabric on Lagos Island, you would quickly relate to this technique.
Symbolism is strongly used in this movie, a homily saying 'fill my cup Lord' is right behind where Eniola is giving a woman a choice to either kill someone who has wronged her or to keep him alive. And on the table, while these go on, is a white cross. Ironic.
Another storytelling method used by this movie is the flashback. It gives us the needed background required to tie the story together. Toni Tones gives a stellar performance as the young Eniola Salami who worked her way from the ground to become the most powerful woman in the crime world, while having a veneer of wealth and respectability. 
Eniola has a devoted daughter, Kemi Salami (Adesuwa Etomi-Wellington), who we eventually see was adopted. She is detested by Kiitan, Eniola's spoilt son, who only depends on his mother's wealth.  Kemi is well educated and she is her mother's right hand man. She is privy to every single part of the business, both legitimate and otherwise. 
In a sudden twist, we are taken from high society, to under the bridge, where the seeming dredges of the society rule, but wealthy in their own way.  The King of Boys is a woman! The woman is Eniola! She gets a cut from every robbery in the city!
We are introduced to Makanaki (Remilekun Reminisce Safaru), a young man who also rules the underworld, but must pay homage to Eniola, the King of Boys. Makanaki has a vendetta against Eniola. We are later shown that Eniola got Makanaki's father killed when she took over from her late husband, Alhaji Salami (Jide Kosoko), while heavy with child.  
Odogwu Malay (IllBliss) brings a robbery contract to Makanaki, and is ready to give Eniola her cut of 40%. But Makaniki will have none of it, because he believes they do all the work while Eniola gets her 40% cut. 
Meanwhile, Eniola is fighting multiple battles. Her influence is not getting her what she has spent time, money and political currency on. Expectedly, she is upset. She expected to be announced as a minister, but was double crossed.  Expressing her displeasure at this this puts her on the warpath with the political godfathers, who decide she needs to be taken out. 
The robbery scenes were well executed; pretending to be officers of the law, even the kidnap of the baby, to be used as bait and leverage.  This is not your regular Nigerian movie robbery scenes. The use of multiple teams showed good scripting, and none of the screaming and overacting Nigerian movies are known for.  Money buried in a septic tank and inside a coffin reminds me of a James Bond movie, live and let die, where an elaborate funeral does not have a dead body, but something else. And the money taken away in a compactor, hilariously excellent! The robbers have counting machines, like a bank!  Something to be pointed out is that the crime lords were the respectable people of the society, apostles, imams and the other people that the rest of the society look up to.  
After the robbery, there was a face off between Eniola, and Makanaki and so began the greatest battles of both their lives, those who wanted Eniola out aligned with Makanaki.  And so begins journey of conspiracy, murder, kidnap, betrayal, sickness, law enforcemnet officers setting up others with large sums of money. 
Eniola's political contacts are leaving her because they think she masterminded the robbery of over $45m, because she didn't get the political appointment promised to her, but the mastermind of the robbery is equally trying to take her crown, as the  King of Boys.  It's a trying time for Eniola, because she's equally being investigated by the Nigerian Corruption Crime Commission, (NCCC), the financial crimes commission.
In this battle for her life, and crown, Eniola lost both children, she was set up and was to be murdered in arson.  The investigating officer was caught in the web of deceits and in his state of disillusionment, with his wife dying due lack of funds, decided to set Eniola free, he saw no point in holding her.  The movie ends with Odogwu Malay killing Makanaki with a message from Eniola, and  Eniola directing affairs from Brooklyn.  
The movie takes a strong stand by showing how corruption in the society is all tied to everything, how the politicians would always need the people of the underworld, because they serve their purpose, by doing the dirty work they would not soil their hands with. 
From the flashbacks, we see how Eniola's life experiences moulded her into the woman she is today. She had suffered a childhood of sex slavery, artistically portrayed without showing the actual act. She became hardened and began to use the people who used her. I love the natural switch from English, to Yoruba, to Hausa, to Igbo. That is how we speak in Nigeria, and it is refreshing to see it so well represented.  The conclusion of the movie indicates there will be a sequel, this is one sequel I am looking forward to seeing. 
This is a crime and action movie, and it delivered it in spades. The crime was both overt and sublime, and we could see exactly how all the challenges we face in our society connect with each other. 
Before directing Wedding Party,  Kemi Adetiba was known for directing musical videos.  Her videos had definite story lines and actions that captivated. You were drawn in by both the music and the videos, giving you a great visual experience.  From the start of the movie, it was obvious that we would be treated to a great cinematic experience, and we were not disappointed. The camera angles and the lighting gave us the moods the director wanted us to have in every scene. 
Sola Sobowale is the crown jewel of King of Boys, and other actors supported her without smothering her role. If memory serves me well, Wale Adenuga Productions gave us vintage Sola Sobowale (in her role as Toyin Tomato in the hit series, "Oh Father, Oh Daughter"). She has always embodied her roles, from the days when she acted in Tade Ogidan's Diamond Ring, till now. It is refreshing to see that, like fine wine, she has aged and become full bodied at her craft. 
Kemi Adetiba unapologetically made a woman a king and nobody called her a queen. This is an echo from her docuseries, King Woman, where she interviewed strong women who had faced challenges, yet stand strong. KOB was able to touch on a number of the challenges we face as a society and take a definite stand. The movie forces us to ask how we can solve these issues in order to have a better society. 
There were very few unnecessary scenes in the movie. This is a departure from the regular Nigerian movie, in which viewers were inundated with redundant scenes as fillers. The prison fire scene could have been better executed; the quantity of fuel we saw did not match the size of the fire and the smoke that we were treated to.  At the beginning of the movie, a lady dancing with Eniola was equally seen dissing her. That must have been an editing and continuity error. 
As much as I am not a fan of sequels in Nigerian movies, the sequel to King Of Boys is one that I am looking forward to see. 
NollyRated Score: Great Movie (4/5)
Join Our Tribe on Twitter: For updates on new Nollywood movie reviews, cinema reviews, and Nigerian movie personalities, join our tribe on Twitter @NollyRated.