The New Normal (2020) Synopsis: The New Normal takes us into the lives of four couples and a single friend as they navigate individual and collective issues of discrimination, misogyny, addiction, mental health, infertility and nepotism while trying their best to keep up appearances and escape society's suffocating boots, with often hilarious and always surprising results.
The New Normal (2020) Cast
Richard Mofe-Damijo

Mercy Johnson-Okojie
Bimbo Akintola
Enado Odigie
Adunni Ade
Meg Otanwa
Mofe Duncan
Yemi Blaq
Kehinde Bankole
Kenneth Okolie
Broda Shaggy
Screenplay: Tunde Babalola
Director and Producer: Teniola Olatoni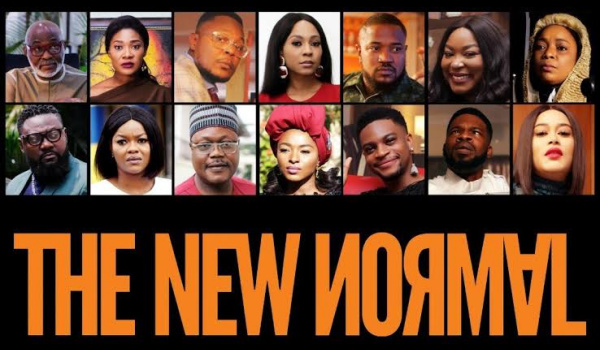 The New Normal (2020) Review
From the opening scene, this movie took me by the jugular and did not let me go till the very end. There was never a dull moment and I noticed no drag or any unnecessary scenes. This movie has a cast of super stars, and none of them overshadowed one another. This movie, and the writer deserves every award coming it's way.
The New Normal set out to address a lot of issues that we deal with in our societies but that generally get ignored. The movie is ambitious, grappling with every targeted issue with appropriate humour, emotions, maturity and did not drop the ball on any of them.
Those issues include misogyny, narcissism, male virility, friendship, marrying young and then wanting more later, gender fluidity, fertility, kleptomania, sexual addiction, business challenges, nepotism, challenges of single parenting, and moving up the career ladder as a woman, among others.
Every single character was dealing with multiple issues, either at work, business, or home, but none of it seemed forced, and the humour was natural and appropriate.
One of the things that many Nigerian movie makers have not gotten a handle on is memorable dialogue. The dialogue in The New Normal is tight, with lots of memorable one liners. I give kudos to the writer/s and the actors for excellent delivery.
The movie featured veterans like Bimbo Akintola and Richard Mofe Damijo, as well as some relatively newer acts like Mofe Duncan, Femi Jacobs, and Mercy Johnson. All the actors brought their A game, even Broda Shaggy as the prophet, and Olumide Oworu.
The on-screen chemistry and synergy between and amongst the actors was beautiful to see. It is one thing to have a great script; it is something else to have excellent interpretation of the script. This movie nailed both.
Technically, the movie has excellent cinematography, crisp pictures, and great audio – all features that make for an excellent cinematic experience. Some of the camera angles were unusual, in a pleasant way, drawing the viewer in and immersing them in the conversation going on screen.
None of the music was recognizable, perhaps a deliberate move to not distract from the substance of the movie itself. Every single scene and action had a purpose and connected with the other.
For a Romantic comedy drama, one would expect an ending where every broken relationship is restored, but that did not quite happen. It had a happily ever after, but not your usual one, hence staying true to its title, the New Normal.
Why is there not a lot of noise about this movie? It is the most fantastic Nollywood movie I have seen in 2020.
If I have to recommend a movie to see this year, it is The New Normal.
NollyRated Score: Outstanding Movie (5/5)
Join Our Tribe on Twitter: For updates on new Nollywood movie reviews, cinema reviews, and Nigerian movie personalities, join our tribe on Twitter @NollyRated.