Mamba's Diamond (2021) Synopsis: Mamba's Diamond is a fast-paced action comedy that tells the story of two amateur thieves who accidentally steal the world's most valuable diamond while trying to jack a car. As a result, these two unprofessional criminals find themselves on the run from the deadliest crime lord in the city and her highly-skilled, killer employees.
The Cast
Osas Ighodaro as Eloho

Gabriel Afolayan as Elenu
Uchemba Williams as Obi
Nse Ikpe-Etim as Mamba
Ayo Makun
Jimmy Odukoya as Jay
Dibor Adaobi Lilian
The Crew
Directed by Seyi Babatope

Written and produced by Darlington Abuda
Uchemba Williams – Executive Producer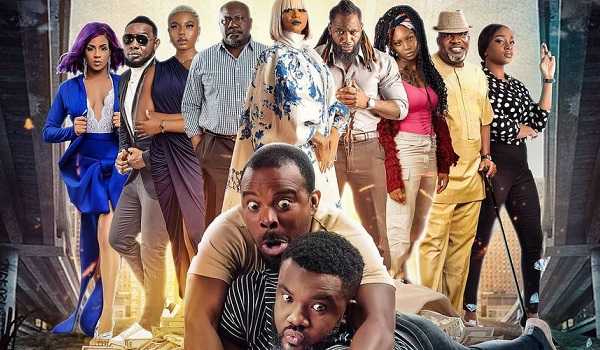 Mamba's Diamond: The Review
From the pair of God-fearing cold-blooded killers who exchange sermons and dream of pastoring, two bumbling petty criminals, the always smiling female head of a crime empire, to a corrupt police officer on the payroll of the Mafia head, Mamba's Diamond has it all. The movie starts with a suspenseful bang. It moves from South Africa to New York to Nigeria. This does not begin like your regular comedy. Within the first 15 minutes, 6 people have been killed in cold blood because of this diamond. The movie drags you to the edge of your seat and demands that you pay full attention.
The cast is a mix of veterans, and new, unknown faces, but each one of them brings their A game. Gabriel Afolayan is an excellent actor; he leaves you in no doubt of that, movie after movie, and Mamba's diamond is no exception. The chemistry between him and Williams Uchemba makes for a hilarious combination of bumbling petty thieves. Nse Ikpe-Etim is like champagne, calm and lovely in the bottle, but when opened up, it bubbles up and sprays everywhere. She is beautiful to behold as the ever-smiling and laughing crime lord who kills in cold blood while frying her plantain.
The comedy is of a wide spectrum; you laugh at the bumbling petty thieves, and you guffaw at how two men, standing over the body of the person they have just stabbed in the heart, calmly discuss being called to pastor! The same men get very upset when someone swears, and ask the person to say his last prayer while they bow their heads.
While one or two scenes could be better, they do not take away from the excellent script writing and dialogue. I do not understand why a law enforcement officer would be spilling the details of a case to a man she has rescued twice in the same day. I think it is unprofessional, but it needs to work into the script somehow. But mostly, actions are believable.
Technically, the sound is very good, and camera angles and techniques are unusual and interesting. The fight scenes are well choreographed; you see real action, and you feel a sense of satisfaction. The movie serves up a real action comedy, provides the right mix of laughter and action, as well as the right amount of danger. The few points of idiocy do not take away from the excellence of Mamba's Diamond.
NollyRated Score: 5/5 (Outstanding Movie)
NollyRated uses a 5-level scoring system, as follows:
Poor
Sub Par
Okay
Great
Outstanding
Join Our Tribe on Twitter: For updates on new Nollywood movie reviews, cinema reviews, and Nigerian movie personalities, join our tribe on Twitter @NollyRated.