Strain (2020) synopsis: A family man struggles to keep his family happy and united when his son is suddenly diagnosed with Sickle Cell Disease. He must raise funds to care for his sick child.
The Cast
Okey Uzoeshi – Nnamdi Ezeji
Shushu Abubakar – Yemi Ezeji
Angel Unigwe – Ebere Ezeji
Nifemi Lawal – Ekene Ezeji
Alex Usifo Omiagbo – Grandpa Ezeji
Gloria Anozie    – Grandma Ezeji
Chinonso Ejemba – Dr. Hassan
Bimbo Akintola – Genetic Counsellor
Saphirre Ekeng – Young Ebere
Kosi Ogboruche – Young Ekene
Henry Diabuah – Osas
Toluwanimi Olaoye – Somto
Olanrewaju Adeyemi – Principal
Enkay Ogboruche – Mrs. Ify Chukwuka
Bade Smart – MMM Competition Compere
Nnenna Udeh    – Chemistry Teacher
Raphael Jackson – Ayomide
Omotola Adeseluka – Ekene's Class Teacher
Toluwalase Adewumi – Ebere's Friend
Babara Ogunniyi – Ebere's Friend
Sharon Santos – Ebere's Friend
Benjamin Abejide Adeniran    – Usman
Titilope Ojuola – Secretary
The Crew
Uduak-Obong Patrick – Director 
Benjamin Abejide Adeniran – Producer
Oluwatoyin Adewumi – Executive Producer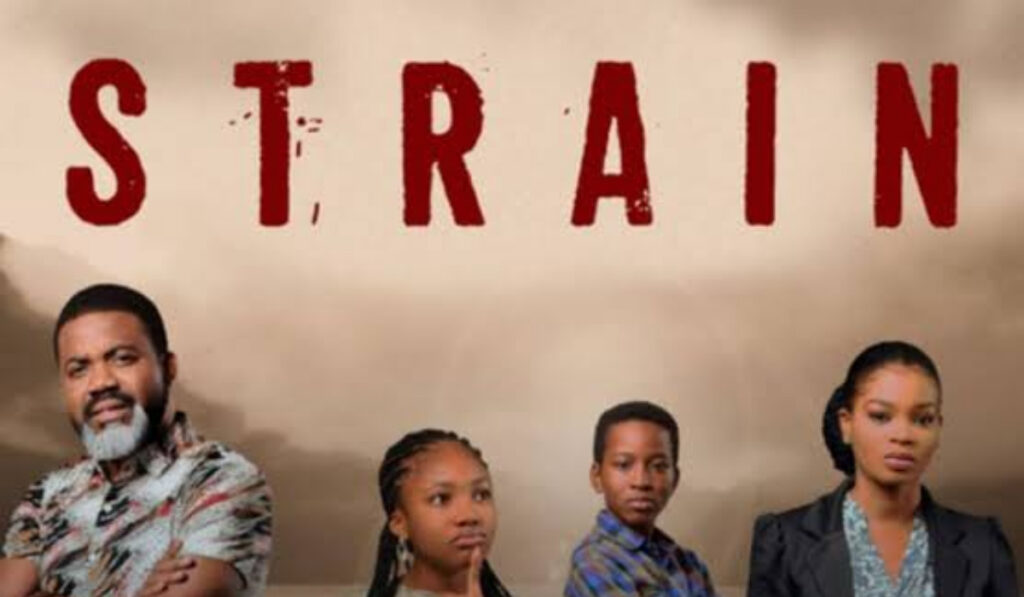 Strain: The Review
Strain starts slowly, trying to build up, I wish it starts with a bit more action. But for the subject, it is still good to see how new and unexpected information upsets the idyllic and normal family life.  The title is also a good play on words. It is about the Sickle Cell blood strain, and also about the strain it puts on family relationships, and this is well played out in the movie. Every single person is affected by the diagnosis, even friendships between the children and their friends. 
One of the first things that strikes you about this movie is the picture quality. The colours are vivid, and while there are no unusual camera angles, the movie utilizes simple angles well. 
Nifemi Lawal and Angel Unigwe truly display good acting skills, but I cannot say the same of Shushu Abubarkar, who plays the role of the mother. She acts like she is acting: she is either displaying surprise wrongly or is too laid back in her response to the crisis in her home. I believe she needs to hone her craft better. 
It is good to see a truly qualified doctor acting the role in the movie. For someone who is not a traditional part of the movie industry, Chinonso Ejemba truly embodies the role. It would be good to see Nollywood do more of consulting actual professionals or giving them acting training and using them this way. 
The costuming, makeup, and continuity in Strain could have been better executed. The grey beard on the dad is too artificial; it remains the same four years after, and for the intensity of the grey beard, there is none on his head. Even his father has no greys, when we are eventually introduced to him. The clothes given to Okey Uzoeshi are ill-fitting. He is depicted as a struggling artist, but for a man whose wife works in a bank, his clothes could have been better. 
It is good to see a Nigerian movie focus on this endemic disease and make some effort in taking away the stigma the society attaches to this disease.
NollyRated Score: 3/5 (Okay Movie)
NollyRated uses a 5-level scoring system, as follows:
Poor
Sub Par
Okay
Great
Outstanding
Join Our Tribe on Twitter: For updates on new Nollywood movie reviews, cinema reviews, and Nigerian movie personalities, join our tribe on Twitter @NollyRated.