Seven (2019) Synopsis: Rich and irresponsible Kolade is given the unthinkable task to survive seven days in Ajegunle or lose his inheritance. There, he goes through events that will either make or break him.
Seven: The Cast
Efa Iwara:

Kolade

Bimbo Manuel: Mr. Tayo
Richard Mofe-Damijo: Ejiro
Daddy Showkey: Croaker
Koffi Tha Guru: Tosin
Sadiq Daba: Issah
Kehinde Ajayi: Male Doctor
Ogunsanwo Anita: Lawyer's Secretary
Chiemela Azurunwa: Young Ejiro
Nicholas Diabuah : Prince
Patrick Diabuah: Bassey
Bryan Dike: Emeka
Femi Durojaiye: Mr. Bryan
Jeremiah Edisemi: Customer in Mamaput
Edgar Eriakha: Tega
Aaron Igho: Haruna
Chris Iheuwa: Commissioner Hassan
Salami Bela Maureen: Hadiza's Friend
Uche Nwaefuna: Efe
Nene Nwanyo: Rose
Nkeiru Nwaobiala: Kolade's Mother (as Nkeira Inwaobiala)
Chioma Nwosu: Mamaput Owner
Tomi Odunsi: Wando
Evaezi Ogoro: Dr. Aisha
Gregory Ojefua: Sammir
Blessing Omori: Mamaput Assistant
Temitope Onayemi: Hadiza
Uzikwendu: Undu
Tony White: Felix
Seven: Crew
Tosin Igho – Writer and Director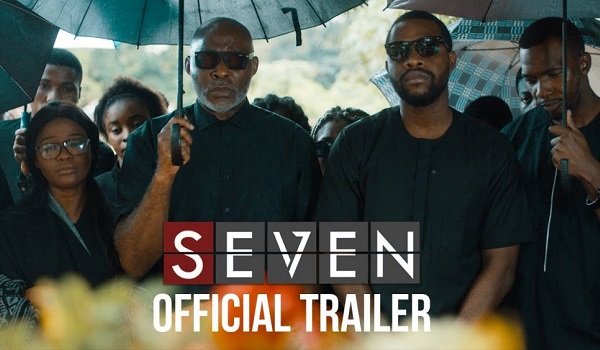 Seven: Review
Seven reminds me of an American Movie, the Ultimate Gift, with a Nigerian twist, and it achieved its aim, as well as provides an unexpected twist at the end. Seven takes us from Abuja to Lekki, and to Ajegunle, one of the slum cities of Lagos. Ajegunle has its own flavour and brand of justice: when the people have had enough from those terrorizing them, the people fight back.
Efa Iwara, as Kolade, is the ultimate spoiled rich kid, depending on his trust fund, and burning it at both ends. When he gets the task he needs to complete to get his inheritance, he kicks against it at first, then turns around to display an uncommon sense of empathy when he saw what would happen if he does not carry out the task.
I am not a fan of the Fast and Furious Saga, but the way Kolade handled the racing in the movie, both when he is having fun and when his life is in danger, is taken straight from the Fast and Furious franchise. It is lovely to see him handle the car so well. Daddy Showkey is the don and major bad guy, and he wears the role well. His acting needs some work, but he did not disappoint.
Seeing Richard Mofe-Damijo (RMD) in a different kind of role in this movie is a breath of fresh air. His role as Ejiro, a retired thug for hire and crime lord, is a complete departure from his usual role of the wealthy father, or the suave and debonair gentleman, and he kills it. Who knew RMD could demonstrate such fighting skills? But those of us who grew up watching him as Segun Kadiri understand that he has range.
I enjoyed the relationship crafted between Mr. Tayo (Bimbo Manuel) and Ejiro (RMD), It is a mix of employee, friend, confidant, sparring partner, drinking buddy, and adopted brother. When it is revealed that Mr. Tayo is a product of Ajegunle, the bond between them immediately makes a lot of sense.
The picture quality of this movie is great, and the director did a good job capturing the true essence of AJ City, as Ajegunle residents like to call their neighbourhood. The schools, the market, the parties, the cons, and the street jams, were all represented. While the good guys ultimately win, I was glad to see that the conflicts are not rushed towards resolution. We enjoy the process, and identify with the characters. In addition, the major characters have developments that show us where they have been, and why they are who they are. This is refreshing.
As Seven is now available on Netflix, it is a feel good movie that you can see, repeatedly, with family and friends.
NollyRated Score: 4/5 (Great Movie)
NollyRated uses a 5-level scoring system, as follows:
Poor
Sub Par
Okay
Great
Outstanding
Join Our Tribe on Twitter: For updates on new Nollywood movie reviews, cinema reviews, and Nigerian movie personalities, join our tribe on Twitter @NollyRated.