Amina 2021 Movie. Synopsis: In 16th-century Zazzau, now Zaria, in northern Nigeria, Amina must utilize her military skills and tactics to defend her family's kingdom. The movie is based on a true story.
The Cast
Lucy Ameh 
Ali Nuhu 
Clarion Chukwurah-Abiola 
Chris Gbakann 
Ibrahim Mijinyawa 
Ummi Mohammed 
Madaki Asabe 
Yakubu Mohammed 
Ogunjiofor Jenevieve 
Blessing Godwin 
Ogaga Emmanuel 
Degri Abdul 
Mohammed 
Nweke Victoria 
Yomi-Olugbodi Folusho 
Esther Owuru 
Lawandi Bashir 
Datti Sani 
Danja Bello 
Muhammed Jesse 
Mbasity Julius 
Usman Tijani Abubakar 
Mgbejume Alfred Baker 
Musa Deihlar 
Millicent T. Jack Nelson Orah 
Okonkwo David Chibuzor 
Akpome Sunday Blessing Ogechi 
Gab Okorie 
Alhaji Dan Asabe 
The Crew
Director: Izu Ojukwu
Producers: Okey Ogunjiofor. Uche Bede-Nwokoye
Writers: Okey Ogunjiofor. Frank Uba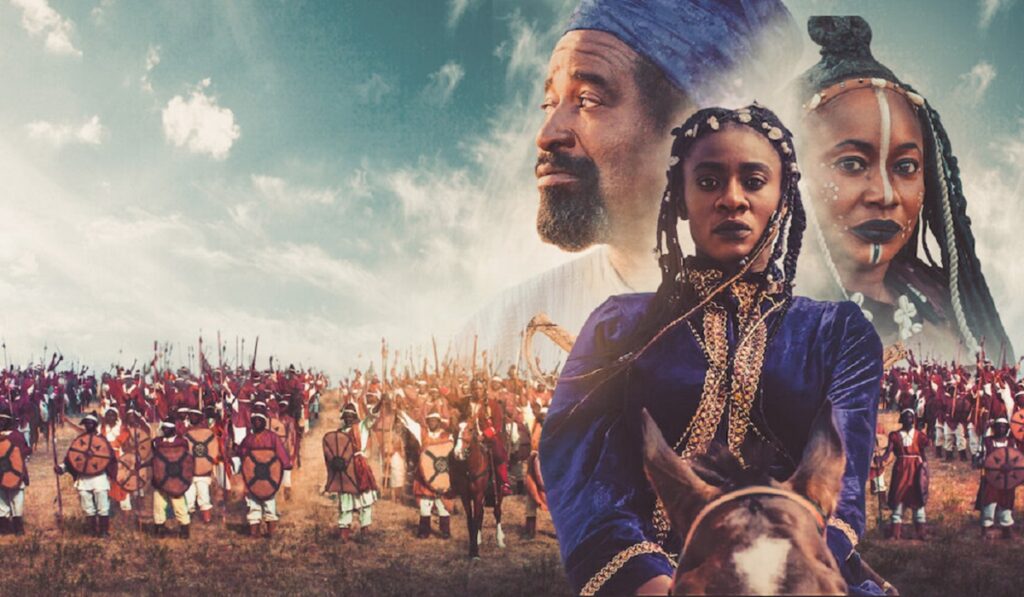 The Review
It was exciting to hear that a historical movie of Nigerian origin was coming to Netflix, but seeing the movie was a sorely disappointing experience. I had high expectations for the movie, because of the story. I had high expectations for, the interpretation, the acting, costumes, and the action scenes, but my expectations were dashed. 
I do not fully recall the story of Amina, but I expected some artistic licence in the storytelling, to provide excitement and entertainment, but it turned out to be really boring story telling. It took me three tries to complete watching the movie. The production is all over the place, and most characters are not fully developed. Perhaps, Amina would have been better as a limited series to fully capture the essence of the story. 
The acting is at best wooden, the dialogue almost staccato, as if the actors are constantly being prompted with their lines. Ali Nuhu's role felt almost like an afterthought. His acting has always been reserved; in this role, it is as if he does not want to be there, and it feels almost like a cameo. 
Amina is known as the warrior Princess and Queen, but the fights and war scenes are not well choreographed. The CGI for the war scenes is too obvious, as I could pick all of them out. 
It does not look like the costuming is well researched. While the hairstyles for the ladies look authentic enough, their costumes look too modern for the period the movie is set in. Lastly, I would have preferred the movie shot in the native language and subtitled in English.  
Overall, this is a story that has the potential for critical acclaim, but the execution is poor and makes it easily forgettable. 
NollyRated Score: 1/5 (Poor Movie) 
NollyRated uses a 5-level scoring system, as follows:
Poor
Sub Par
Okay
Great
Outstanding
Join Our Tribe on Twitter: For updates on new Nollywood movie reviews, cinema reviews, and Nigerian movie personalities, join our tribe on Twitter @NollyRated.