The Wait (2021 Movie) Synopsis: The lives of two couples, a job seeker, and a passionate doctor, intertwine in a tale of patience and redemption.
The Cast
Ini Dima-Okojie
Jimmy Odukoya
Kate Henshaw
Joke Silva
Chimezie Imo
Meg Otanwa
The Crew
Yemi Morafa – Director
Fiyin Gambo – Director
Lord Tanner – Producer
Tomi Adesina – Writer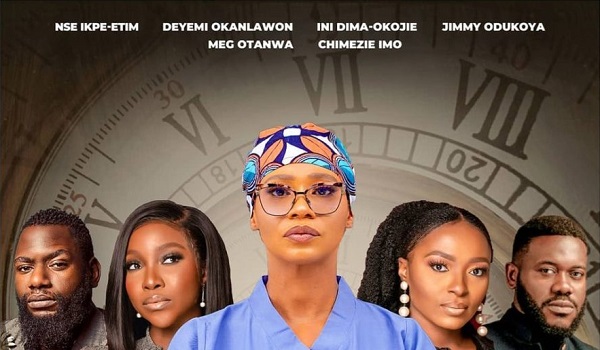 The Wait: Review
The Wait is full of stars, but it does not shine bright. It is like tasting a glass of wine that has not fully developed, perhaps, made with unripe grapes. It is a movie full of emotions and feelings, but that is almost all you get. There is practically no entertainment. The story revolves around couples looking for children.
One couple has had multiple miscarriages and this has made her lose her initial faith. Another couple has never had a child, and are facing pressures on all fronts. There is an unemployed graduate waiting for the perfect job. All of them connected together by a gynaecologist who is waiting for a life partner. They are all waiting in the waiting room of life. 
Working with the script they have, the actors interpret the characters to the best of their abilities, but this is one movie that shows that not all books translate well  into movies. Movies and books are characterized by conflict resolution, there is no real conflict to resolve in the Wait. The result is that this is almost a snooze fest.  
Technically, The Wait provides great picture quality, but the lighting is not great. Many connections and transitions are not smooth or realistic. We see a scene where a lady smirks while overhearing a man's conversation several seats away. It reminds her of a painful experience and the next time they meet, he talks about her leaving the restaurant because of him. It is too much of a reach.
Continuity is iffy and off. For example, in some scenes, one person is aged; in the other scenes, the same person has lost the ageing. In some scenes, some characters speak pidgin, but there is no subtitle for it. 
This is a story of pain, waiting and hope, but it is sometimes confusing. We don't quite understand what we are seeing, and the stories are all jumbled.
NollyRated Score: Subpar (2/5)
NollyRated uses a 5-level scoring system, as follows:
Poor
Sub Par
Okay
Great
Outstanding
Join Our Tribe on Twitter: For updates on new Nollywood movie reviews, cinema reviews, and Nigerian movie personalities, join our tribe on Twitter @NollyRated.