There is a certain charm, an aura around Nse, what the French call "je ne sais quoi", and that is her major appeal for me.  This charm does not make her elitist, but rather endears her to her audience, and allows her to play any role and make you believe that is who she is.
Do you want her to be the scheming and cheating wife as seen in Devil in the Detail, or you want her to be the smoking potty mouth, always ready for a fight girl as portrayed in The Visit?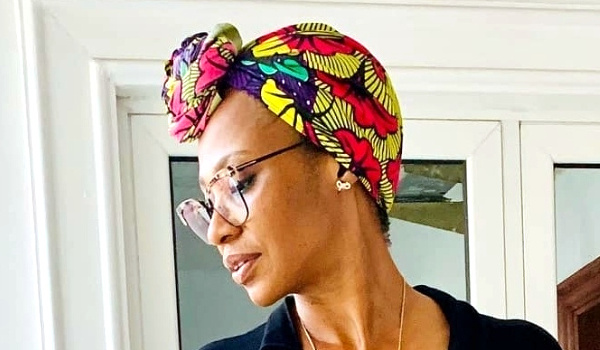 Whatever role Nse takes on, you would believe that is who she truly is. She is an excellent method actress. Her role as a clueless semi literate in Phone Swap was so real, you would think she is truly half educated. Her latest character as the supposed leader of an international crime syndicate in Quam's Money re-establishes her as the star we have always known her as, despite being away from the screen for a few years.
Simply put, Nse Ikpe-Etim is a queen of the screen.
Nse, a native of Akwa-Ibom State in South Easternm Nigeria, was born on 21 October 1974. Her education spanned different states in the country. She has a degree in Theatre Arts from the University of Calabar, Cross Rivers State. Nse Ikpe-Etim is married.
She came into prominence in 2008 for her role in Reloaded. She was nominated for Best Actress in a Leading Role at the 5th and 8th Africa Movie Academy Awards for her role in Reloaded and Mr. and Mrs., respectively. In 2014, she won the Best Actress in a Drama award at the 2014 Africa Magic Viewers Choice Awards for playing "Nse" in Journey to Self.
Nse Ikpe-Etim: Movies and Shows
Quam's Money

(

2020), as

Sarah.

Crime Comedy/Thriller

American Driver (2017), as Herself.  Comedy.
A Trip to Jamaica (2016), as Abigail Rice. Comedy.
Stalker (2016), as Kaylah. Romantic Comedy.
Fifty (2015), as Kate. Romantic Drama.
Heaven's Hell (2015), as Alice Henshaw. Psychological Drama.
The Visit (2015), as Ajiri Shagaya. Thriller Comedy.
Devil in the Detail (2014), as Helen Ofori. Romantic Thriller.
Broken (2013), as Mariam Idoko. Drama.
Phone Swap (2012), as Mary. Comedy Drama.
Mr. and Mrs. (2012), as Susan Abbah. Romantic Drama.
The Meeting (2012), as Bolarinwa. Romantic Comedy.
Journey to Self (2012), as Nse. Drama.
Kiss and Tell (2011), as Tena. Romantic Comedy.
Inale (2010), as Ori. Musical Drama.
Reloaded (2008), as Omoze. Romantic Drama