Mama Drama (2020) Synopsis: Mama Drama tells the story of Mena and her surrogate mother, Kemi, who both enter into an agreement to help birth Mena's baby into the world. Things don't go quite as planned and now they both must make the hardest decision of their lives.
Mama Drama: The Cast
Osas Ighodaro – Mena

Kunle Remi – Gboyega
Kehinde Bankole – Kemi
Femi Adebayo – Dotun
Shaffy Bello – Mama Adelana
Adunni Ade – Simi
Chinyere Wilfred – Auntie
Olive Emodi – Lawyer
Rekiya Attah – Judge
Opeyemi Ayeola – Aunt
Mama Drama: The Crew
Director – Seyi Babatope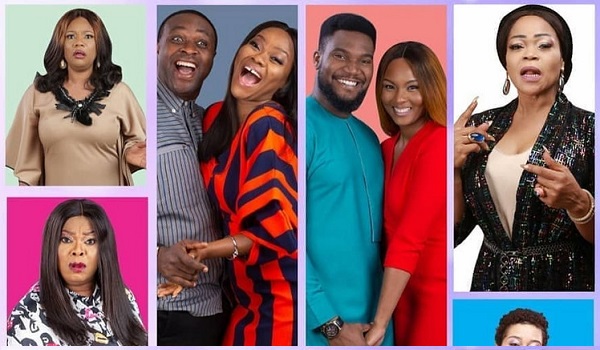 Mama Drama: The Review
The storyline of Mama Drama is like a refreshing glass of rare wine, something different and unusual. It pushes the envelope. Fertility issues and alternative options is what our Nigerian society would rather be hush about, but more people are embracing them, even if secretly.
I must say Osas and Shaffy were in their elements in this beautiful movie of love, pain, cultural integration, societal pressure, and medical issues. Osas is the perfect embodiment of the long-suffering daughter-in-law from a different tribe, doing her best to cope with fertility issues, and getting the flak from her very traditional Yoruba mother-in-law.
The subject of the movie is a sensitive one, but the actors and directors do such beautiful justice to it, without detracting from the seriousness of the issue. We are well entertained.
The movie is well paced and has good, short scenes that pass across the message succinctly. The scenes are very tight and punchy. The camera focuses are poignant; they keep the focus on the emotions. We have no need to see the person giving the message. No words are necessary, but the responses are perfect, evoking emotions in us the viewers.
The actors in Mama Drama gave a great performance, so much so that you would believe they are experiencing all the pain, joy, and every emotion in the movie. But the stars are Kehinde Bankole, Shaffy Bello, and Osas Ighodaro. They all have such on-screen chemistry, and there is minimal overacting.
I would have preferred if some actions in the last scenes of the court were toned down, but it did not take away too much from the movie, and it is good to see it end not just happily ever after, but more true to life.
NollyRated Score: 4/5 (Great Movie)
NollyRated uses a 5-level scoring system, as follows:
Poor
Sub Par
Okay
Great
Outstanding
Join Our Tribe on Twitter: For updates on new Nollywood movie reviews, cinema reviews, and Nigerian movie personalities, join our tribe on Twitter @NollyRated.