Love In A Pandemic captures a love story that happens amidst one of the most unforgettable moments in human history, the COVID 19 Pandemic. It follows the story of Bolanle who meets Alex, the man of her dreams. But how does their new flame survive the uncertain world of a pandemic?"
The Cast 
Nancy Isime
Uche Obunse
Ronke Odusanya
Uche Montana Nwaefuna
Eso Dike
Teniola Aladese
The Crew
Produced by: Vincent Eseni
Directed by: Akay Mason
Written by: Abosi Ogba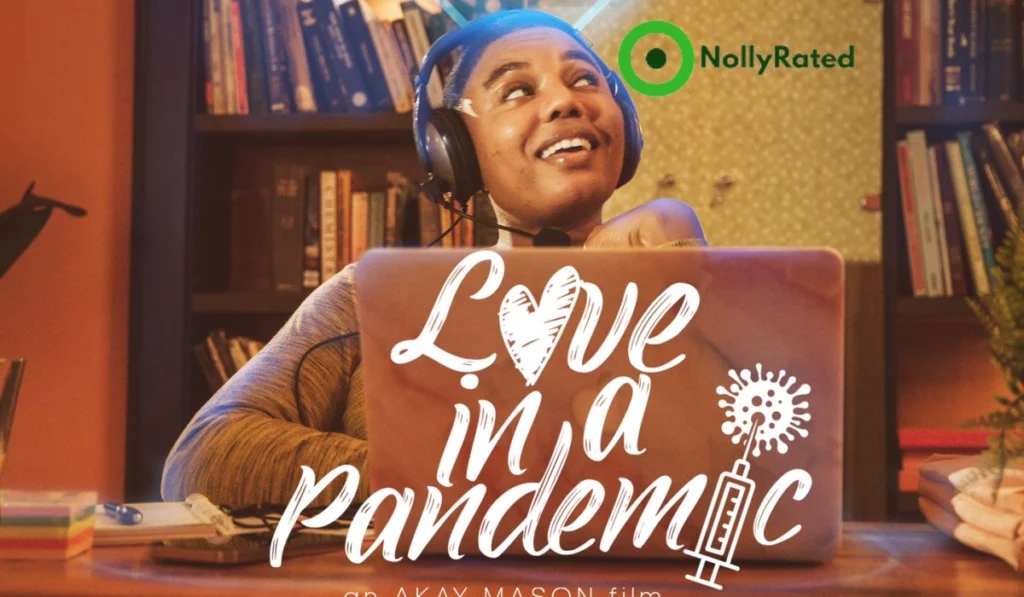 The Review
Do not expect great drama or plot twists, but you will find it a sweet, straight romantic movie, with a sprinkling of COVID-19. This time, Deyemi is a good guy (thank God!), but it is ill-fitting for him still. Nancy and Deyemi are good actors, great even, but they both don't have that on-screen chemistry that leaves us pining for love.
Like all romantic movies with a Nigerian flavour, it is sappy, but with the maxim of men and women are scum. We see this played where the lovers don't see each other due to the lockdown, then lies, deception, and then the happy coincidence, and friendship blossoms into love, a small snag, and then the happily ever after, eventually. Of course, our famous Nigerian Jollof and grilled chicken have a central role.
I wish the movie plot was not so straight. I would have wanted some strange twist due to the pandemic, but it is not explored, This provides for a regular and good story, nothing spectacular. The movie has a minimal cast, as if it was shot during the pandemic itself. Perhaps a larger cast could have provided better plot twists.
Eso Dike is a good actor, but he seems to be missing some element, that special quality element that stands an actor out from others. He needs to dig deeper, and he is one to keep an eye on. Teniola Aladese is the scum woman in this movie, and she acts the part well. I wanted to enter the screen and slap her. I guess that is what the director was hoping for.
Love In A Pandemic is a good movie to watch. It is sweet, but with no extraordinary cinematography or special dialogue. It is a good background movie, you miss nothing even if you miss a few scenes.
NollyRated Score
Score: 3/5 (Okay Movie)
NollyRated uses a 5-level scoring system, as follows:
Poor
Sub Par
Okay
Great
Outstanding
Join Our Tribe on Twitter: For updates on new Nollywood movies, reviews, cinema reviews, and Nigerian movie personalities, join our tribe on Twitter @NollyRated.