Synopsis: Her memory of a secret document that her husband, 'Panam', gave her years ago is the only thing between General Sani and his bid to become the president.
The Cast 
Matty Bayelsa – Deborah
Fiyinfoluwa Asenuga – Jay
Tobi Daniels – Mohammed
Najite Dede – Sarah
Moyinoluwa Olutayo – Mrs. Durosimi Williams
Kate Henshaw-Nuttal – Mrs. Eket
Anee Icha – Esther
Emeka Nwagbaraocha – Daniel
Gbubemi Ejeye – Young Mrs. Lawal
Ebisan Arayi – Ehiz
Taye Arimoro – Malik
Funlola Aofiyebi-Raimi – Mrs. Lawal/Kamsi
Keppy Ekpenyong Bassey – General Sanni Sofa
Femi Jacobs – Dr. Jide/ Dr. Badmus
Efe Irele – Young Sarah
Shawn Faqua – Panam
The Crew
Produced by: Victoria Akujobi
Directed by: Niyi Akinmolayan
Written by: Dolapo Adigun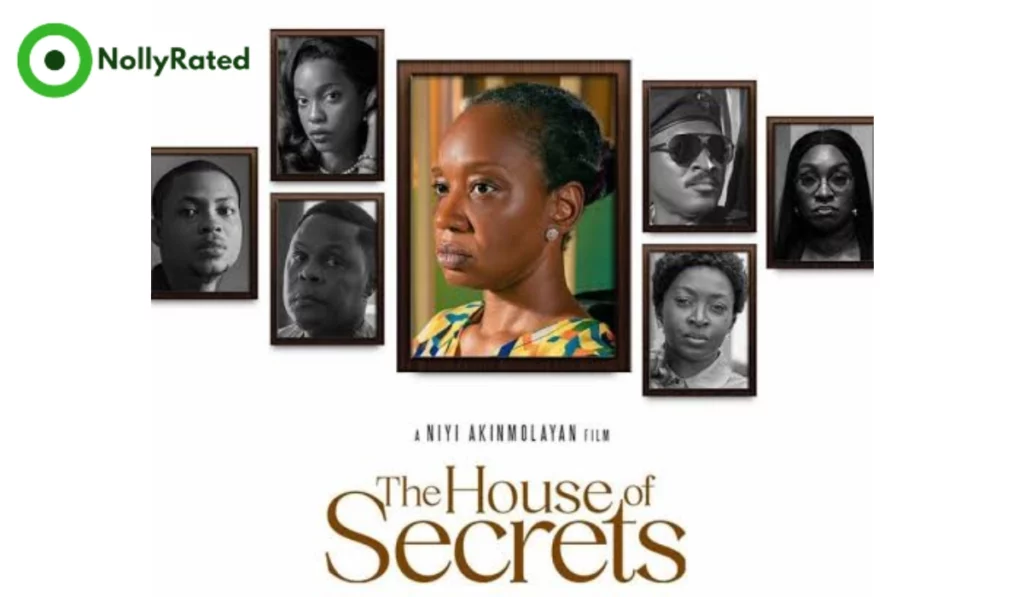 The Review
The House of Secrets is not what you expect, and that is a good thing. This movie brings twists and turns, and when you think you have figured out the plot, it takes another twist, and you are left wondering how the story will end. The actors do a fantastic job, and though some of the story is not acted, but told in speech, it is still a great movie to see multiple times.
The movie is set across 24 years. The technique designed to make 24 years ago seems like a long time ago with the black and white film makes for pungent storytelling. The ending gives us the colour of that era, and we realize it is not so long ago.
Najite Dede is truly underrated; the way she embodies the role is a work of art. And Efe Irele as the young Sarah is equally fantastic. Kudos to the casting director for pairing these women up. Shawn does a good job portraying Panam, but his Hausa accent is not smooth; it could have been better. Gbubemi and Funlola do not fully work as a pair, but in their individual roles, they give a good report of their skills. Femi Jacobs as the doctor gives a good showing, and Emeka as Daniel shows us brilliance as an actor.
At first, you think the movie is a drama, then you see that it is political, then it shows you a deep love story that leaves you longing for a loved one. This story and its telling is a great demonstration of multiple genres in one movie.
The fight scenes are not well choreographed, and the drum sounds are too obvious. The fire scene is not credible, and the acting in that scene is not totally necessary. Lastly, it appears the ending of the movie is rushed. These issues do not take away from the greatness of the story and the acting, but it gets it a 4, instead of a 5.
NollyRated Score
Score: 4/5 (Great Movie)
NollyRated uses a 5-level scoring system, as follows:
Poor
Sub Par
Okay
Great
Outstanding
Join Our Tribe on Twitter: For updates on new Nollywood movies, reviews, cinema reviews, and Nigerian movie personalities, join our tribe on Twitter @NollyRated.