Synopsis of 4:4:44: This psychological drama set in the early 1940s chronicles the true stories of two perfect individuals who will have their world rattled after a harrowing event on their wedding night. In a series of occurrences that unfold the ugly head of social prejudice against mental health, this couple must now navigate a world full of nightmares, either together or on their own.
Cast of 4:4:44
Seun Akindele
Atunyota 'Ali Baba' Akpobome
Blessing Onwukwe
Chiwetalu Agu
Teniola Apata
Eric Anderse
Shan George
Efe Irele
Samuel 'Broda Shaggi' Perry
Crew Behind 4:4:44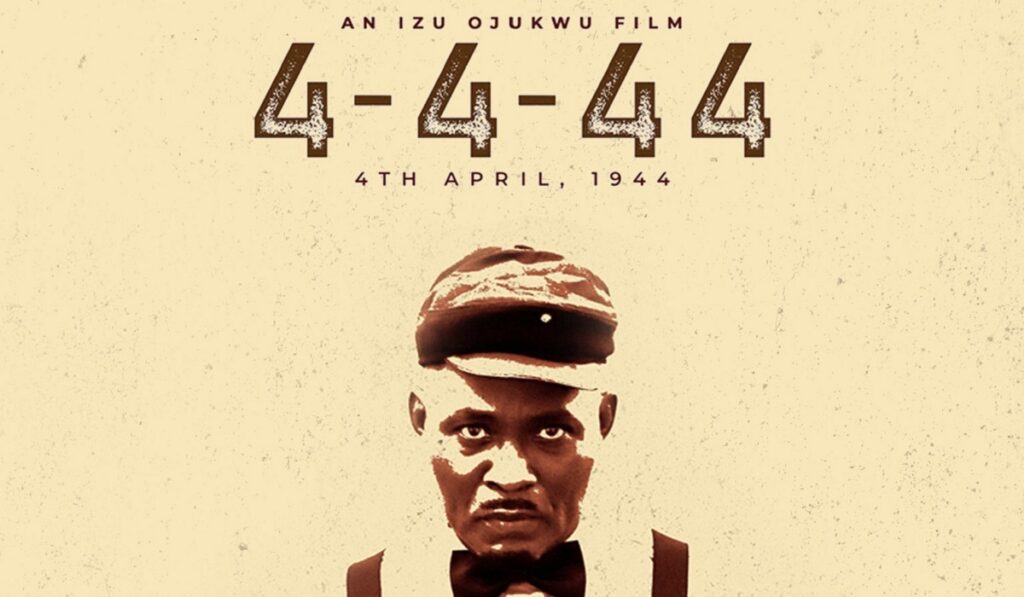 Review of 4:4:44
4:4:44 is a beautifully written movie, and the acting is top-notch. Izu Ojukwu is not known for making movies frequently, but when he makes them, they are some of the best. The treatment of the subject matter is one of the best I have seen in Nollywood. There is none of the unexplainable black magic that Nollywood is known for, but a scientific, apparently well-researched, explanation for the movie plot. This is a story of enduring love and unending emotional pain, with societal stigma playing a major role.
I like the fact that it is set in the 1940s to 1960s, with the appropriate locations, costumes, and anecdotes. It gives such nostalgic feelings, even for those that were not born at the time the movie is set. The subplots are well treated. The movie showcases the community living, including the justice system, of the period.
Nse is a fantastic actress, and the grit and raw emotions she digs out of herself for this movie are evocative and tug at your heartstrings. The chemistry between her and RMD is what award-winning movies are made of. Seun Akindele and Efe Irele make for a lovely pair on screen. Seun is truly underrated, and we need to see Efe Irele in more leading roles. There are quite a few new and unknown actors, but they give great performances too.
The only reason this movie does not get a 5 is the atrocious wigs on the men. They could have let the men grow their hair and given them the appropriate haircuts. Apart from the wigs that have become a pet peeve for me in Nollywood, the costumes and props are all appropriate for the movie and the period the movie is set in, kudos to the costumier and producer. The movie is available on Amazon Prime Video.
Nollyrated Score: 4/5 (Great Production)
NollyRated uses a 5-level scoring system, as follows:
Poor
Sub Par
Good
Great
Outstanding
Join Our Tribe on Twitter: For updates on new Nollywood movies, series, reviews, cinema reviews, and Nigerian movie personalities, join our tribe on Twitter @NollyRated.