In A Lot Like Love, a young heiress who happens to be married to her influential father's right-hand man finds herself in a predicament when a weekend getaway anniversary trip turns into a nightmare she can't wake up from.
Table of Contents
The Cast 
Adam Garba
Sophie Alakija
Ibrahim Suleiman
Rahama Sadau
Gabriel Afolayan
The Crew
Produced by: Rose Abiodun
Directed by: Shittu Taiwo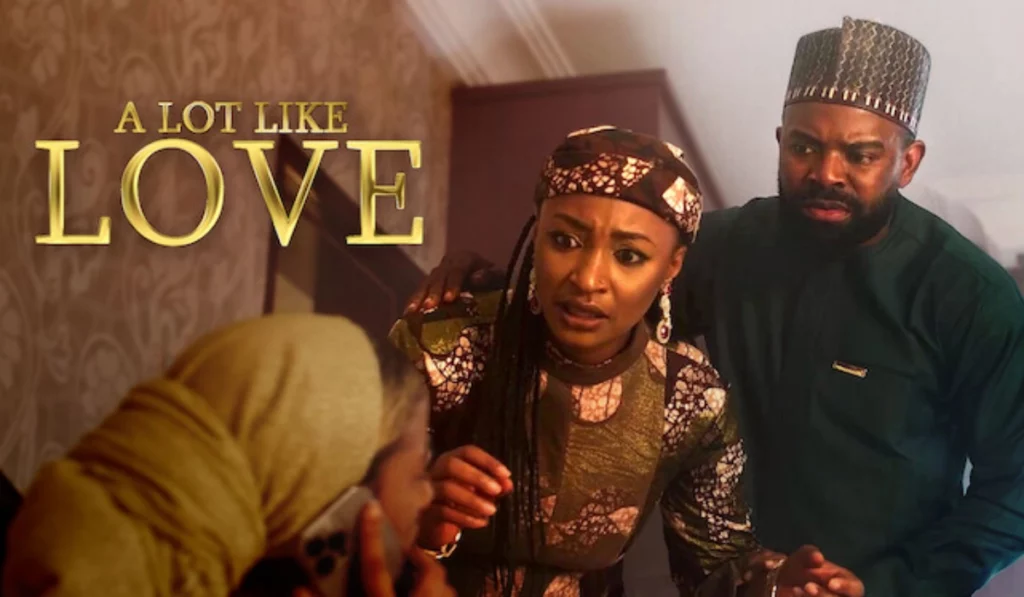 The Review
I kept waiting for this movie to truly start, but it never did. For a movie that claims to be a drama, there was little drama to be seen. The story does not have a good plot or substance to hold on to. This is the second movie by Rahama Sadau that I will be reviewing, and I come away with the same feeling: muted, understated, and lacking in drama or good dialogue.  The fashion is good though.
Rahama Sadau appears to have a block in her acting: either she needs to learn more about acting, or she needs a better director. I understand cultural preferences, but a movie needs more drama than her productions give us, either as the actor or the producer.
Ibrahim Suleiman is a good actor, and he has the potential to be a great actor, but there appears to be a lack of desire to dig deeper and bring out the best in him. In this movie, he is even more muted than usual, and I am greatly disappointed. 
The greatest disappointment, though, in A Lot Like Love is Gabriel Afolayan. Since we first saw him in Madam Dearest, more than 20 years ago, he has shown us what a method actor he is, and the range of his emotions, no matter the role. But in this movie, he is not up to his usual skills demonstration. Perhaps it is a function of the story, the setting, or the director. 
Sophie Alakija is true to type. She has always been about her beauty: her lines are always delivered in a lackluster manner, without the required emotions or facial expressions.
A Lot Like Love is a movie featuring love, betrayal, kidnap, and emotions, but it was a flat production apart from the kidnap scene, and even that is poorly acted. There is no real life in this movie.
A secondary school movie project would have provided better excitement than what this movie gives us.
NollyRated Score For A Lot Like Love
Score: 1/5 (Poor Movie)
NollyRated uses a 5-level scoring system, as follows:
Poor
Sub Par
Okay
Great
Outstanding
Join Our Tribe on Twitter: For updates on new Nollywood movies, reviews, cinema reviews, and Nigerian movie personalities, join our tribe on Twitter @NollyRated.