Synopsis: A shy but skilled storyteller comes to blows with his best friend who tries to take credit for his tales and win the heart of the woman they both love.
The Griot: Cast
Adedimeji Lateef
Goodness Emmanuel
Temiloluwa Fosudo
Oladapo Gbadamosi
Funsho Adeolu
Adekunle Afod
Yewande Adekoya
Abiodun Kassim
Sharon Jatto
Toyin Oshinaike
The Griot: Crew
Director: Adeoluwa Owu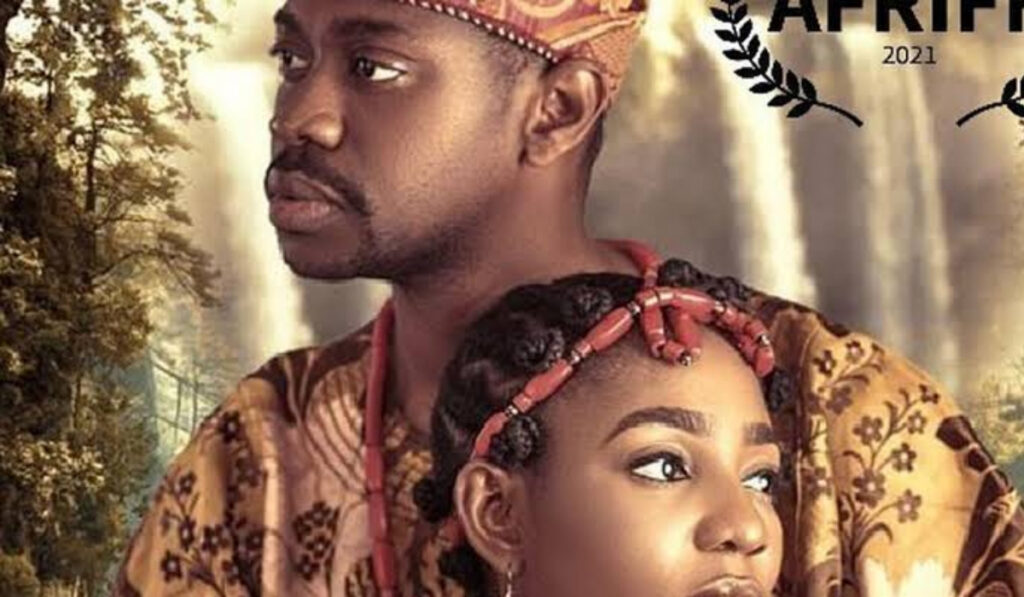 The Griot: Review
With a title like The Griot, I had very high expectations for this movie, but what I received was akin to a secondary school movie project. While the movie has a simple storyline that has massive unrealized potential, I was left totally unsatisfied with the execution of the conflict and its resolution. It starts out as a love story and abruptly switches to a tragedy at the end. Confusing.
Lateef as Lakunle is a good cast, but I think he holds back in this movie. Though he has the right portrayal for it, he is not 100 percent in this movie. The lead actress, Goodness, is a greenhorn who has great potential; I look forward to her growth. The story is not tight, and the dialogue is lacking.
We are not sure if the movie is set in a modern Yoruba village or an ancient one, because a lot of modernity is thrown into the mix with more historic details. For example, Iyemoja has a zip in her skirt, village maidens wear modern gowns, and glass cups, all of these while the money is cowries.
The whole fulcrum of the movie is to see Lakunle evolve from an imaginative but timid storyteller to someone with enough confidence with the help of Tiwa. When it is time to showcase this his transformation, the movie robs us of this scene, leaving us dissatisfied.
In a bid to make the movie a tragedy, we get extra scenes that are unnecessary, because nothing from the start of the movie points to it being a tragedy. The Griot is a wholly unsatisfactory movie. It is available to watch on Netflix.
Nollyrated Score: 1/5 (Poor Movie)
NollyRated uses a 5-level scoring system, as follows:
Poor
Sub Par
Okay
Great
Outstanding
Join Our Tribe on Twitter: For updates on new Nollywood movies, reviews, cinema reviews, and Nigerian movie personalities, join our tribe on Twitter @NollyRated.