Synopsis: Soole is a story developed around the experience of a Catholic nun named Veronica, played by Adunni Ade, who travels from Lagos to Enugu after failing to raise the needed funds for an orphanage home. On her journey to Enugu, she opted for a cheap option ride popularly called 'Soole' where she met different commuters like herself. The journey from to Enugu is riddled with lots of drama, including an armed robbery attack.
Soole: The Cast 
Adunni Ade as Sister Veronica
Lateef Adedimeji as John
Teniola Aladese as Clara
Femi Jacobs as Ifebuchi
Meg Otanwa as Justina
Sola Sobowale as Ifeoma
Bukunmi Oluwasina
Soole: The Crew
Directed by Kayode Kasum
Produced by Adunni Ade
Lou-Ellen Clara Company Limited
Soole: The Review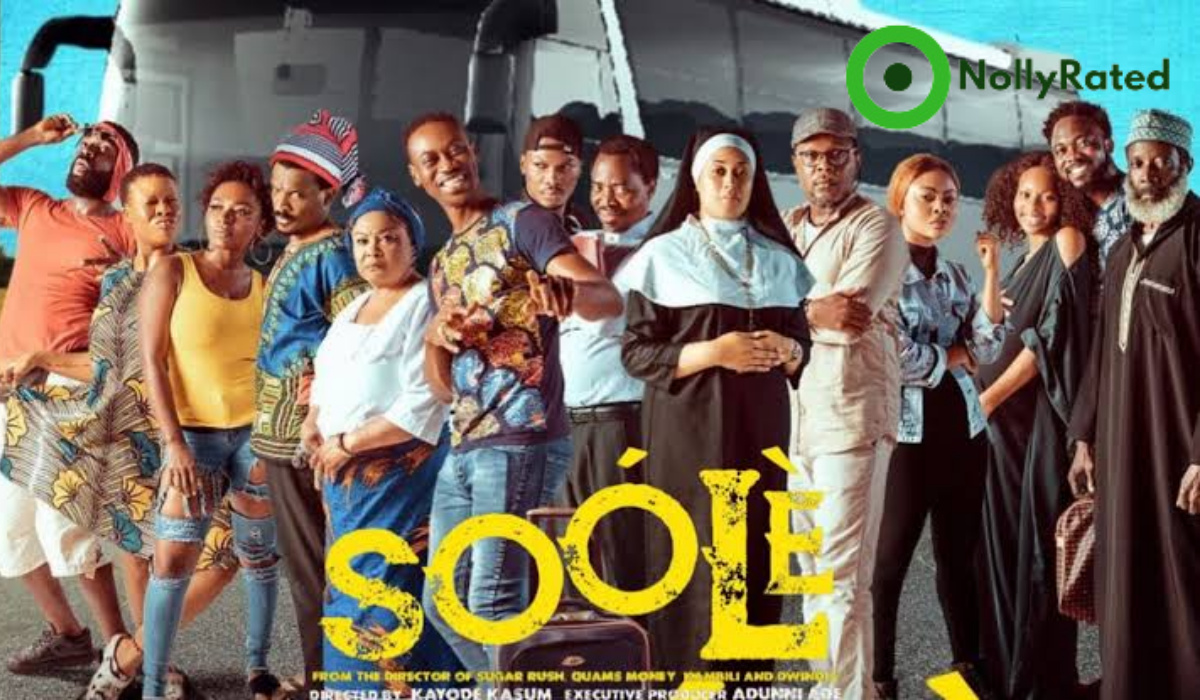 With a title like Soole, I expected slapstick comedy, and the movie really tries to give us that, using popular and current issues, including slang. It draws us in with the familiarity that comes with a cross country road trip in Nigeria, if you have taken one. 
It is good to see Sola Sobowale not cast in a screaming role as the beginning of the movie shows. Some of the other characters confuse me, though. When the robbery happens, we take it as part of what sometimes happens during a long distance road trip in Nigeria, but it goes downhill from there, and becomes a confusion between comedy, moralization, kidnapping and action. 
The rest of the movie becomes jumbled and feels like the producers just wanted to add new ideas and fill up space. Some of the actors handle the weapons with some expertise. Others leave one wondering who gave them the weapons. 
The moralizing in the movie takes away most of the comedic flavour and has me rolling my eyes a lot. The plot still ends on a happily ever after note, with one of the mysterious characters fulfilling promises. But it does not fit our reality, hence it had me shaking my head at the copycat nature of Nollywood. 
Soole is a fair watch, but it is not a movie I want to watch again, not even as background noise while I am working. 
NollyRated Score: 3/5 (Okay Movie)
NollyRated uses a 5-level scoring system, as follows:
Poor
Sub Par
Okay
Great
Outstanding
Join Our Tribe on Twitter: For updates on new Nollywood movie reviews, cinema reviews, and Nigerian movie personalities, join our tribe on Twitter @NollyRated.