Your Excellency Movie Cast:
Akin Lewis as Chief Olalekan Ajadi
Funke Akindele as Kemi Ajadi
Kemi Lala Akindoju as Lina
Shaffy Bello as Laide Ajadi
Kunle Coker as Mallam Ali
Eku Edewor as Eki Adua-Evans
Alex Ekubo as Kachi
Osas Ighodaro as Candy
Oreka Godis as Karen
Ini Dima-Okojie As Mimi
Helen Paul as Freda
Falz as AK Famzy
Deyemi Okanlawon as Michael Idehen
Toni Tones as Stephanie
Emmanuel 'EmmaOMG' Edunjobi as Pastor Leke
Aletile 'Seyi Law' Lawrence as Fred
Bimbo Manuel As Prof Idehen
Chigul as Madam Echejile
Ikechukwu Onunaku as John
Your Excellency Movie Director:
Funke Akindele-Bello
Your Excellency Movie Synopsis:
A bumbling billionaire businessman and failed Presidential candidate, Chief Olalekan Ajadi (Akin Lewis), is very much obsessed with US President Donald Trump. Just when his political campaign looks to be on the verge of another flop, Ajadi is anointed as the presidential flagbearer of a majority party and becomes a tough and credible contender. He is up against enemies within the party and wins by an unexpected turn of events that involves the use of social media.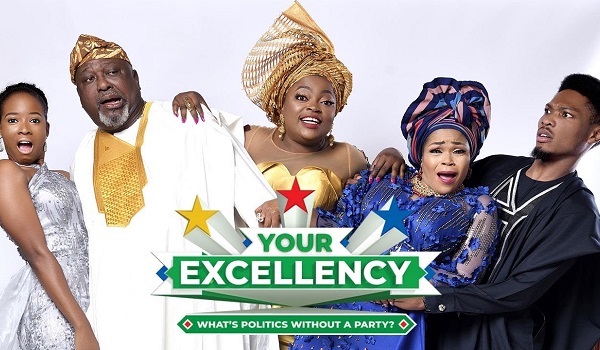 Your Excellency Movie Review:
Olalekan Ajadi (Akin Lewis) is a happy-go-lucky billionaire business man, who has run for president three times without success and who is no longer considered a serious contender. I must say I have never seen Akin Lewis in a bad role. There is no role he handles that he does not give a good report of himself.
The chieftains of a mainstream political party DAC, were seen trading accusations at their meeting on why they are losing grounds politically, when one of them spotted Lekan Ajadi on the talk show, Eki Talks, hosted by Eki Adua-Evans (Eku Edewor) and immediately saw his potential for their party. They invited Lekan Ajadi, not to actually give him the mandate, but to get his money to fund their party.
When Lekan Ajadi won the party ticket, his UK-based first wife, Olaide Ajadi, decides to return to be a part of the success story, having abandoned him in Nigeria for so long. Olaide has their two grown children with her. It is interesting to note that Laide had left Lekan to go to UK because of his multiple political forays and flops, and now that he has joined a mainstream party and has a greater chance of success, she has returned to be with him.
But in the picture is Kemi Ajadi, (Funke Akindele -Bello), a retired Nollywood actress and Lekan's present wife. She is not as refined as Olaide, who is a chartered accountant with an Ivy League education. It turns out Lekan had not married Kemi legally, but they have lived together and have a son together.
Kemi did not believe her husband had a chance, for he is even touted as leading the pack of unserious candidates, but she has perfected her role as the ever supportive partner, and Lekan trusts her and lets the world know she is his woman. He certainly shows her off proudly.
Cue the issue of the legality of his marriage to Kemi Ajadi, and who will become the first lady, a commentary on some of the things that happen when individuals win governorship and presidential elections in Nigeria and the society asks who would be the first lady.
Lekan Ajadi, in his bumbling ways, models himself after Donald Trump, and has a great vision to build the country. He is rich in his own rights, and is willing to spend his own money to fund his presidential ambition.
In the presidential race, there is only one other serious contender, Michael Idehen (Deyemi Okanlawon), the PPN flag bearer. Michael has a pedigree – his father and grandfather had been in politics before him. As such, he was following in their footsteps, closely monitored by his father, Prof Idehen (Bimbo Manuel).
We see Lekan Ajadi play the age card with Michael when they met at the lobby of the television station and during the debate. These two scenes highlight how young people are dismissed as having no experience, yet they are not given the opportunities to gain the right experience.
Michael is unmarried, and after his interview with Eki, there was a mock social media campaign to find him a wife. Even Kemi Ajadi weighed in and decided to match him with a younger friend of hers, Stephanie,(Toni Tones). Stephanie is a gossip blogger, who totally embodies the make believe life bloggers are usually accused of.
At the start of the movie, we see her taking pictures in a stationary private jet, and subsequently posted same on social media as being from her trip to South Africa. We later see her buying second hand clothes and living in an area that looked more like a slum than the upscale life she presents on social media.
DAC chieftains were shocked that Lekan Ajadi won the primaries, and they began an elaborate plan to discredit him in the courts of public opinion. They tried to use his down-to-earth nature to work against him, but it backfires on the party, because he is well loved for his funny antics, a trait that endears him to the grassroots.
One of the things the party does to stop Lekan Ajadi in his tracks is change his running mate and assign him a social media campaign manager whose real task is to sabotage him. In the course of his assignment against Lekan, the social media manager live streams a quarrel between Kemi and Laide over who should sit where during a family photoshoot.
The campaign train is reminiscent of the well-known Nigerian campaign trains – lots of laughter and dance, with minimal addressing of ideological issues. It is hilarious to see Laide try to stop her husband from dancing and making a fool of himself in public, but Kemi is fully in support and dancing along with him. A testament to Lekan's loyalty is his constant support and assurance to Kemi of her position in his life and political work.
Finally, the party chieftains set him up to fall physically in public to give the impression of a drunken fool, so as to turn people against him. Kemi makes it worse by saying her husband can hold his drinks very well. Things actually get worse. His campaign manager is still working actively to ensure the world sees him as an unserious candidate. Laide prepares to go back to the UK, as she is unable to bear being associated with her husband's tomfoolery.
The last coup-de-grace is the social media manager secretly recording and publishing a tender and intimate moment between Lekan and Kemi during which they were taking stock of how bad things were and they decided to dance. This actually turns the man on the street to love him even more.
As expected of happily ever after movies, Lekan Ajadi, the unlikely candidate wins the elections, in spite of the machinations of his own party. Funke Akindele, in her directorial role, includes a hilarious scene that shows Donald Trump calling Lekan Ajadi, who refuses to speak with him and says he would speak to Barack Obama first.
Your Excellency tried to fit in many things, unlike Chief Daddy that focused on one thing. The result is some dissipated views and energy, reminiscent of Funke Akindele's long running series, Jenifa's Diary. It touches on social media lifestyle and how it affects everyone. For example, a couple living their lives on social media, scripted reality as it is called.
Ajadi created a dance from a musician's song without giving him due credit, touching on the issue of creatives not getting their due rewards when others use their intellectual property. Lekan Ajadi, in his characteristic manner charmed the musician and won him over, and the artist played at the president's inauguration.
Every scene in the movie had an element of comedy, living up to its promise of humour. There was good use of popular street lingo, as well as social media lingo, which makes the movie relatable to everyone on every social strata.
The use of music in the movie is refreshing, it is subtle and non-intrusive, but still audible so the viewer can enjoy it. The cinematography is top notch, with vivid colours, beautiful camera angles, lovely exteriors and for once, the most hardworking landmark for Nollywood, Lekki Ikoyi Bridge, did not feature.
One of the concluding scenes of the movie shows Laide talking to a friend on the phone, and saying that she would take back her rightful place as the first lady. With this scene, we know room has been left open for a sequel, which I do not think is necessary for this type of movie.
Funke Akindele-Bello has won awards as best actress in a comedy or drama multiple times, and she brings her experience in her directorial debut. She doubles as the director and lead actress in this humorous political satire. She collaborates with the production company, Ebony Life, which has created a niche for itself in big budget productions.
The audience wants to laugh and forget their sorrows; Your Excellency meets them at their point of need. If you are looking for a movie with a serious political slant, Your Excellency is not the movie for you. But if you want something to help you de-stress from being a Nigerian living in Nigeria, this is a good one to spend your time and resources watching.
NollyRated Score: Great Movie (4/5)
Join Our Tribe on Twitter: For updates on new Nollywood movie reviews, cinema reviews, and Nigerian movie personalities, join our tribe on Twitter @NollyRated.