Synopsis: In You are So Not Invited to My Bat Mitzvah, Stacy and Lydia are BFFs who've always dreamed about having epic Bat Mitzvahs. However, things start to go comically awry when a popular boy and middle school drama threatens their friendship and their rite of passage.
Table of Contents
The Cast 
Idina Menzel: Bree Friedman
Jackie Sandler: Gabi Rodriguez Katz
Adam Sandler: Danny Friedman
Sadie Sandler: Ronnie Friedman
Sunny Sandler: Stacy Friedman
Samantha Lorraine: Lydia Rodriguez Katz
Dylan Hoffman: Andy Goldfarb
Sarah Sherman: Rabbi Rebecca
Dan Bulla: Cantor Jerry
Ido Mosseri: DJ Schmuley
The Crew
Director – Sammi Cohen
Writers – Alison Peck, Fiona Rosenbloom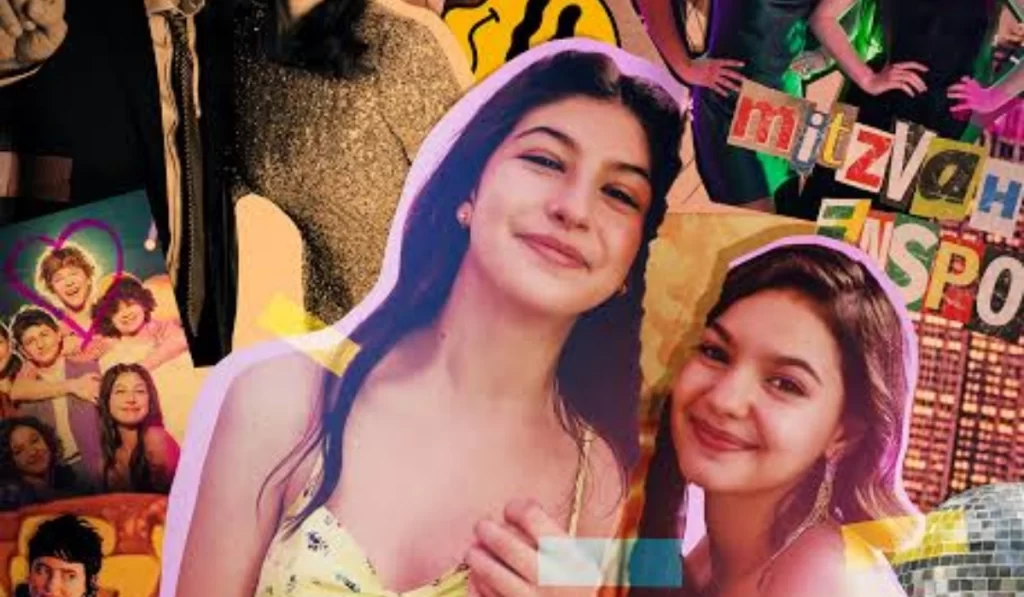 The Review: Is "You are So Not Invited to My Bat Mitzvah" Good?
Adam Sandler is mostly known for slapstick comedy, but this is a different kind of movie – one focused on pre-teens, a coming-of-age movie. The movie features the whole family, and they did not do too badly.
The movie centers on the Jewish tradition of Bar Mitzvah; a Bar or Bat Mitzvah is a coming-of-age ceremony for Jewish boys and girls when they reach the age of 12 or 13. This ceremony marks the time when a boy or girl becomes a Jewish adult. This means that they are now responsible for their own actions and can decide for themselves how they would like to practice Judaism. However, this movie features the Americanized version of this tradition in which a large party is added at the end of it. 
Susan and Lydia had been planning their Bat Mitzvah since they could talk, as best friends, but their mutual crush on a boy almost destroyed their friendship, and their planned parties. As it is usual in romantic comedies, their love eventually triumphs, and they treat us to a great celebration.
You are So Not Invited to My Bat Mitzvah is completely led by the pre-teen cast, while the adults play a supporting role. Adam Sandler, usually known to take the lead in his movies, played a second fiddle to his real-life daughter and let her shine.
This is not a fantastic movie or a film that you want to watch all the time, but it is good for passing the time with and getting some laughs. Some jokes lean towards the adult end, but they are the kind of jokes that you would expect from teenagers and pre-teens.
NollyRated Score
Score: 3/5 (Okay Movie)
NollyRated uses a 5-level scoring system, as follows:
Poor
Sub Par
Okay
Great
Outstanding
Join Our Tribe on Twitter: For updates on new Nollywood and Hollywood movies, reviews, cinema reviews, and Nigerian and American movie personalities, join our tribe on Twitter @NollyRated.