Synopsis: In Hidden Strike, an ex-special forces soldier (Jackie Chan) turned private security operative leads an evacuation of civilians through the notorious Highway of Death to the Green Zone, a task that pits him against an old colleague (John Cena) along the way.
Table of Contents
The Cast
Jackie Chan as "Dragon" Luo Feng
John Cena as Chris Van Horne
Pilou Asbaek
Ma Chunrui
The Crew
Director: Scott Waugh
Writer: Arash Amel
Producer: Esmond Ren
Co-Producers: Hans Canosa, Jackie Chan, Joe Tam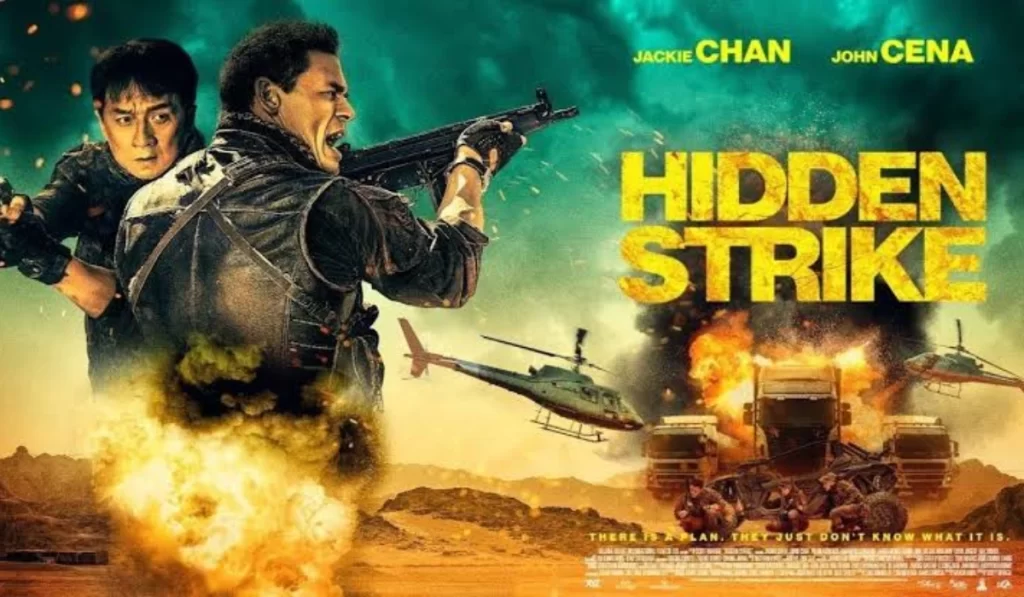 I am a lover of Jackie Chan movies and have seen plenty in my lifetime. As such, when I saw the name on the cast of Hidden Strike, I jumped at the first chance I got to see the movie.
In the opening scene, helicopters fly in to get trapped oil workers out of an oil refinery in Iraq. "Dragon" Luo Feng (Jackie Chan) leads the team of security operatives that volunteered to get the trapped workers out of the area through the fastest route – the Highway Of Death.
Quite a number of things in Hidden Strike leave one with questions. For example, why do the security team's helicopters not stay with the convoy to provide close air support on the trip through the Highway Of Death? They were called back in when things got tough, after all, and they arrived in good time. Come on.
Apart from things that didn't add up like the above example, I kept wondering exactly what else about the movie was off. Then it hit me: the lines. The lines in Hidden Strike are very ho-hum. Drab. Maybe even lame. It is an action film with characters trying to talk tough but it mostly comes across as drab. Chris Van's humour is dry; he was trying too much to be funny.
John Cena, who acts this character, looks like a much younger Arnold Schwarzenegger, from head to toe. But his acting suggests that he could do better to actualize the fullness of the swashbuckling action hero persona.
At 69, Jackie Chan is ageing and it is understandable that he is slowing down. This is not unexpected. The same can be said for Arnold, Morgan Freeman, Bruce Willis, Denzel Washington, and others. Still, his acting here is noticeably below what he is still capable of. I am convinced that he was limited by the script and directing. A much more sterling script and a more capable director would have made a much more coherent film out of Hidden Strike.
The plot is sound, but the story line and execution do not hit the spot. This means that what could have been an extra-ordinary movie ended up just narrowly missing the sub-par mark and getting a pass from me. It is the type of movie to watch to pass time, not one you watch for a memorable experience. It would get a score of 2.5, if we could make that happen.
NollyRated Score
Score: 3/5 (Okay Movie)
NollyRated uses a 5-level scoring system, as follows:
Poor
Sub Par
Okay
Great
Outstanding
Join Our Tribe on Twitter: For updates on new Nollywood and Hollywood movies, reviews, cinema reviews, and Nigerian and American movie personalities, join our tribe on Twitter @NollyRated.