Viva Cinemas at Jara Mall, situated along Simbiat Abiola Way (formerly Medical Road) in Ikeja, Lagos state, is one of the cinemas in the Viva franchise. It is also currently the only one in Lagos. I have visited the cinema twice now, the latest visit being on Friday, 1 January 2021. During this second visit, I saw the movie, Omo Ghetto the Saga.
How did it go, and what was the experience at Viva Cinemas at Jara Mall like? I share the details below.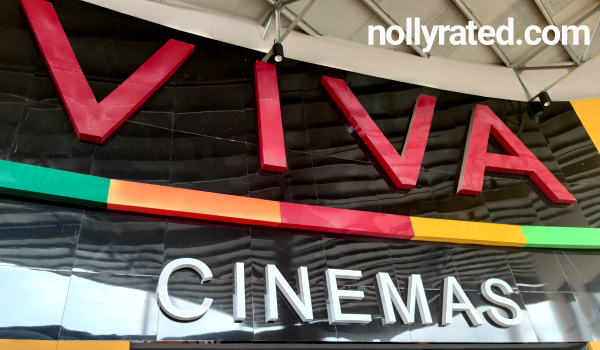 Movie Schedule: A schedule of movies is available on the Viva Cinemas website, so you can conveniently get a picture of what movies are available, along with showing times, before making the trip to the location.
Number of screens:  The cinema has four screens laid out in a semi circular layout. The screening hall is not too large; it has just one side aisle, with blue wall lighting to guide patrons in the dark. However, people still needed to use their phone torches. 
Covid protocol signs were put on the seats. They were obeyed the first time I went there, but the second time, all seats were occupied. All the seats tickets were sold, perhaps due to the festive season crowd. I sat at the topmost row, and it had a wall in between that reduced the number seats in that row. 
Ambience: The cinema is located in a strip mall close to a major bus terminal, so you get the feel of being outside and in open space at the tickets and refreshment points. There are seats for patrons to sit while waiting for their movies to start. 
Hygiene: The environment was clean. The cinema does not have its dedicated convenience; patrons have to use the mall's general convenience. The mall restrooms were not too hygienic. There was some dampness on the floor and it stank. I had to hold my breath for the duration of my using the restroom.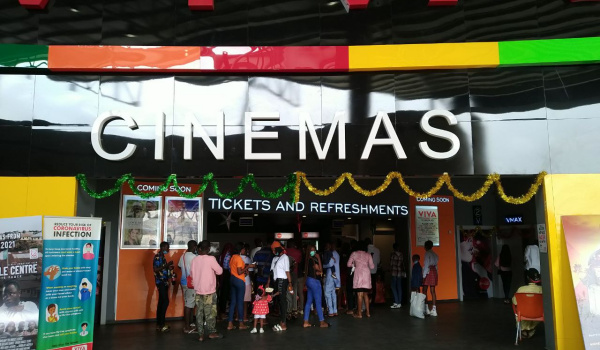 Movie food: The concession stand offered large-sized popcorn, served in cardboard boxes, as well as Coca-cola products, the first time I visited. I was given both popcorn and small chops for the movie I saw (Ratnik), but on the second visit, I got only popcorn and a drink, though the small chops were on display.  
Quality of service: The staff were courteous and polite. However, they looked razzled due to the number of people they were serving at the time. Polite, but too busy to give a smile. 
You can visit the Viva Cinemas website HERE.
Related: NollyRated's list of cinemas in Lagos.
We Are Social
Engage with us on Twitter, where we rock as @NollyRated.